I don't know how you feel about it… but when someone tells me they love my home It makes me happy!
So, when Debbie asked me to be part of her fantastic home tour…I was thrilled!
My name is Cynthia, my husband and I run a custom interiors business and write a design & Lifestyle blog called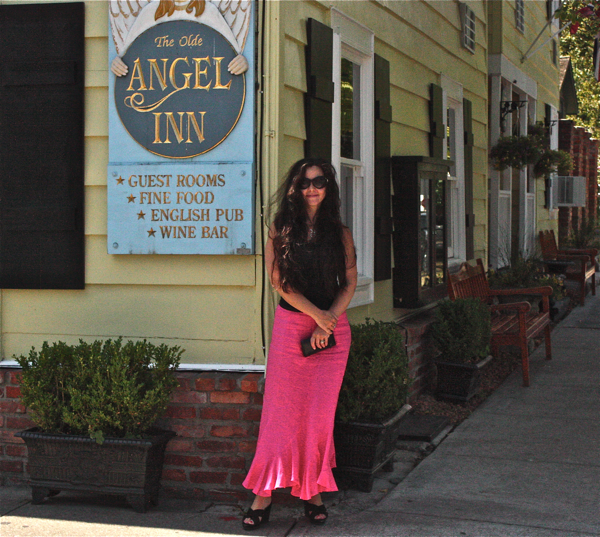 We love to help people make their homes everything they want them to be… doing that together is a great blessing that I am thankful for every day.
OK, Lets start the tour…
We custom built this home about four years ago.
We designed it around a salvaged antique 8′ hoop top door… so naturally, I call it Hoop Top House.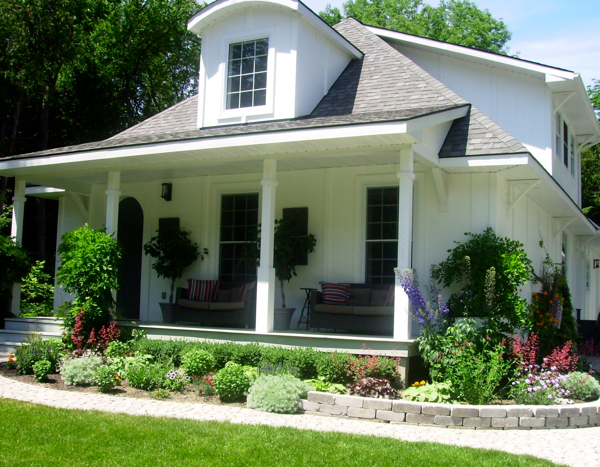 The door seems to be happy in it's new home… we certainly love it.
The dormers on the house and garage echo the curve of the door, we also curved the lane and back patios.
Kent and I laid every one of those paving cobbles ourselves… It was a huge job but I love how it turned out… we are actually planning to extend the patio this summer so I will be on my hands and knees again very soon!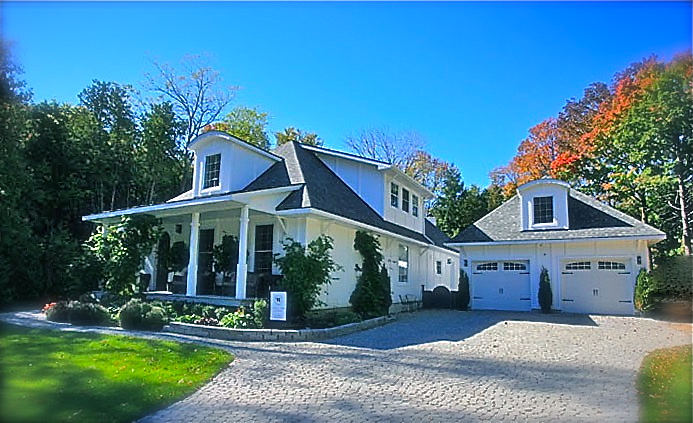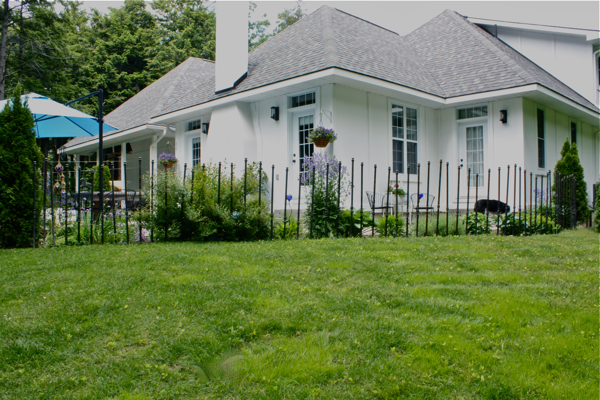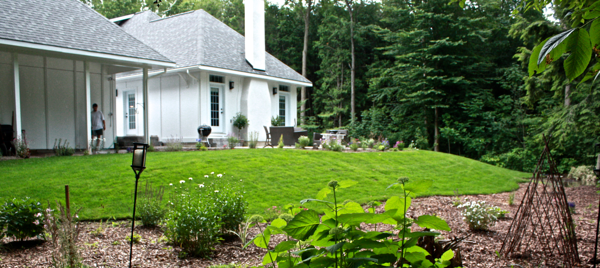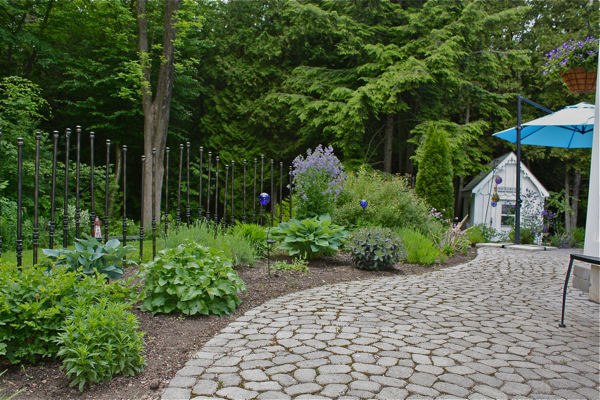 Our lot has beautiful 60′ trees, lots of privacy and plenty of animal friends… birds, chipmunks, squirrels…
we love to sit back there and listen to their conversations.
O.K., lets go inside now…
When you come in the front door you enter the living room. The staircase leads up to my studio.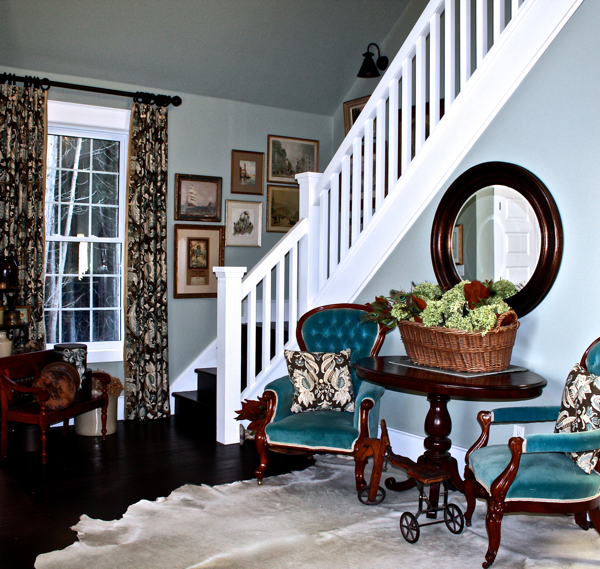 Kent and I have been collecting antiques most of our married life. We love giving a new home to these treasures.
Some of the pieces we have purchased have come and gone over the years finding homes with clients, but some pieces have become part of our family history and I can't imagine parting with them.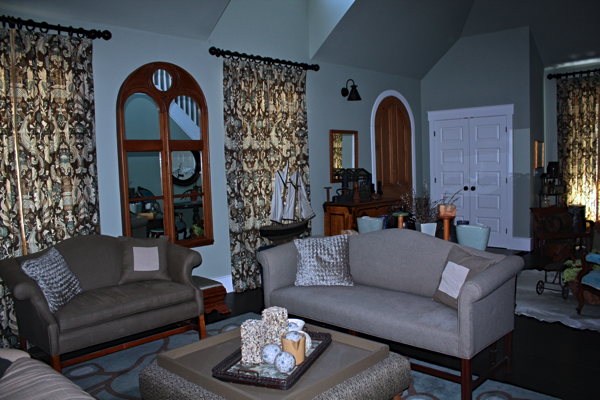 That hoop top mirror is a new find… we had quite an auction adventure over it, if you are curious you can read about it here.
The ottoman in this room was made by us, we often make custom pieces for ourselves or clients.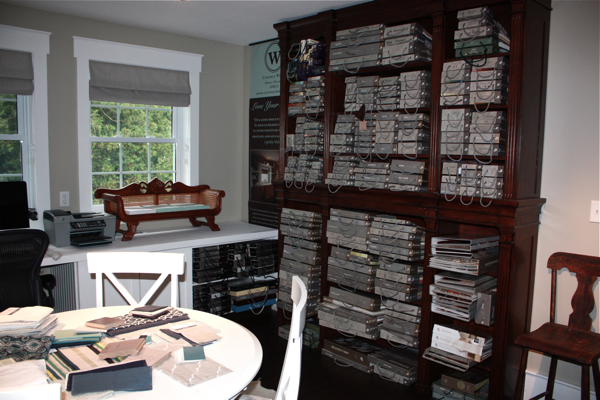 I won't spend too much time showing you the upstairs, but I thought you might like to see a few photos of my studio.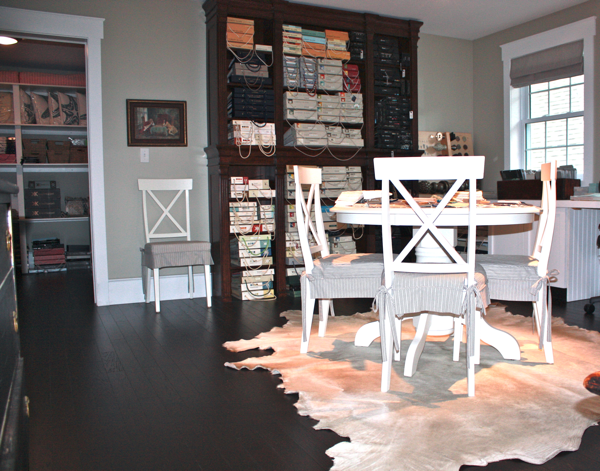 Since our business is home based, having a functional space to work in is key.
Clients can come have a tour of the house and get to know who we are as people. I find this a huge asset.
Decorating a home is personal, and I want my clients to feel comfortable in my home so they can feel confident having me work in their home.
O.K., lets go back downstairs now…
Entertaining is very important to us, we love having people over.
I wanted the dining room to be a comfortable place to sit and linger…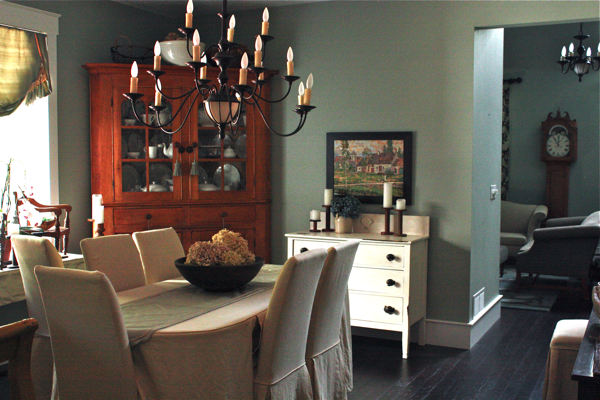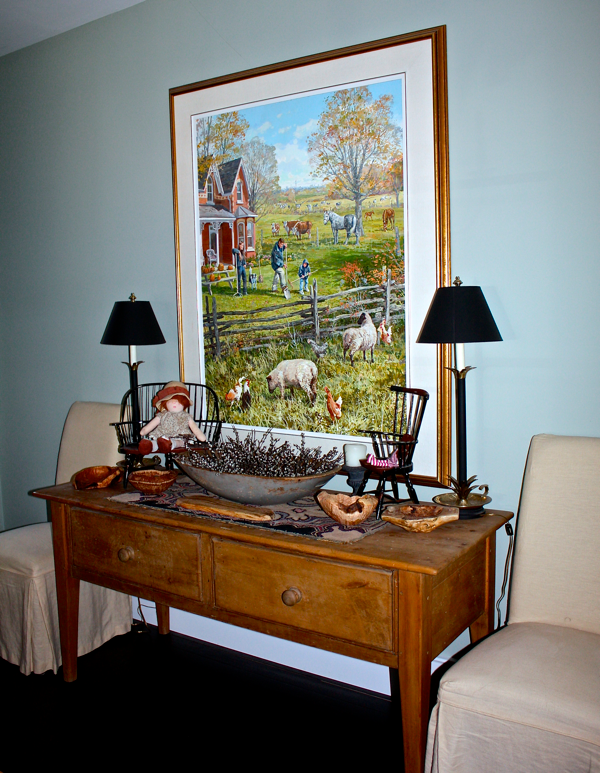 This painting is by my uncle artist Peter Etril Snyder. He is a wonderful man and this piece will always be a treasured part of our family… Pete painted it for the Royal Winter Fair many years ago. He asked Kent, our son Spencer and I to pose for it.
I smile every time I walk by because it reminds me of when Spencer was little… now he is 21 and six feet tall… my little boy is all grown up but for me he will always live in this painting.
Where shall we go next?
How about the kitchen?
The Kitchen is the heartbeat of our home. I wanted to design a space that would be both functional and a little different.
I drew some sketches and found a cabinetmaker to work with. It took some time but I am pleased with the results.
The island base is a salvaged dresser and the top is also reclaimed.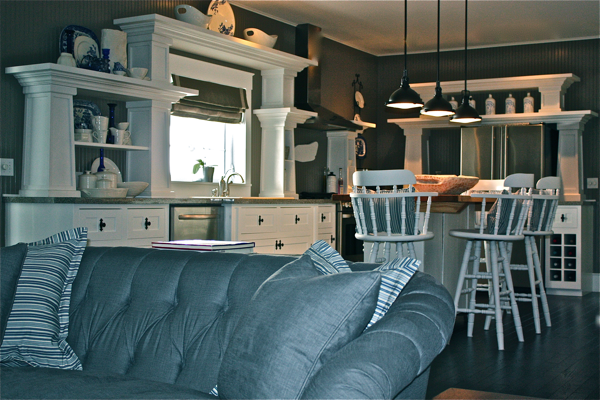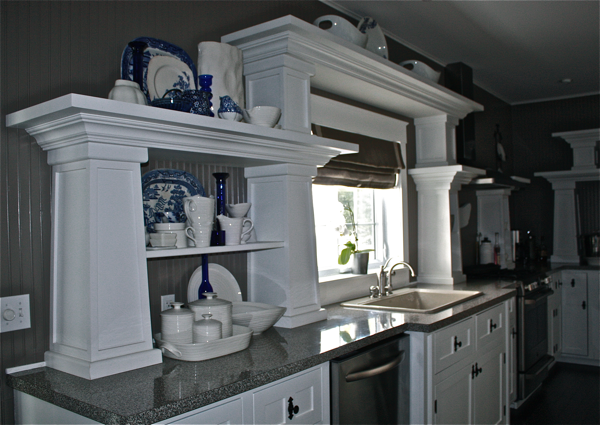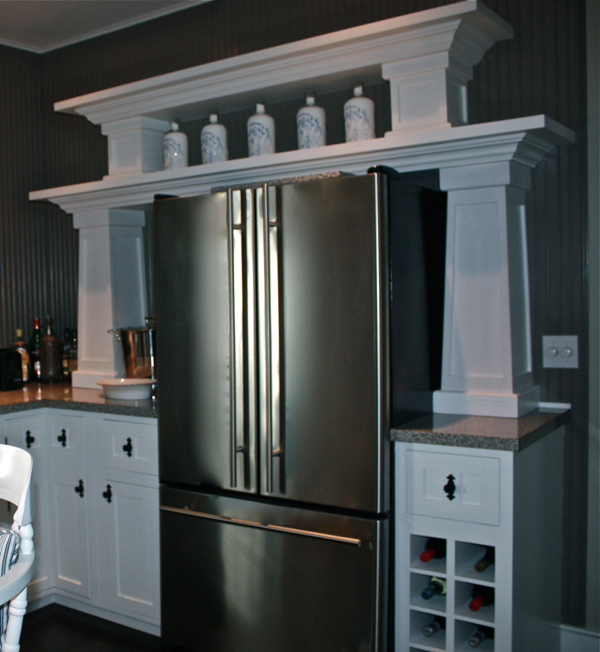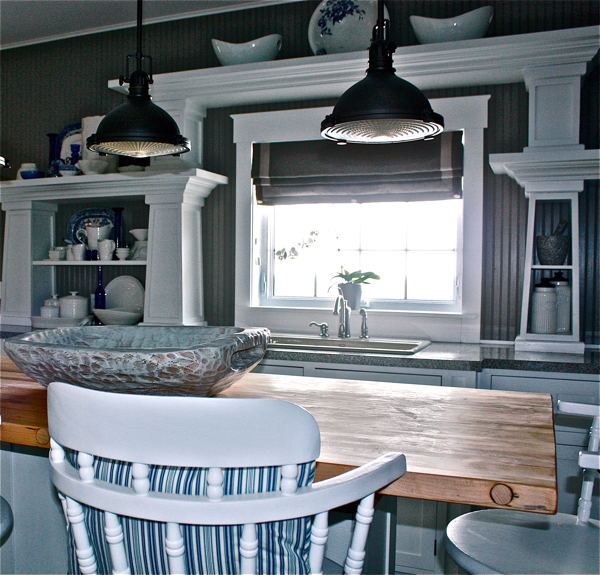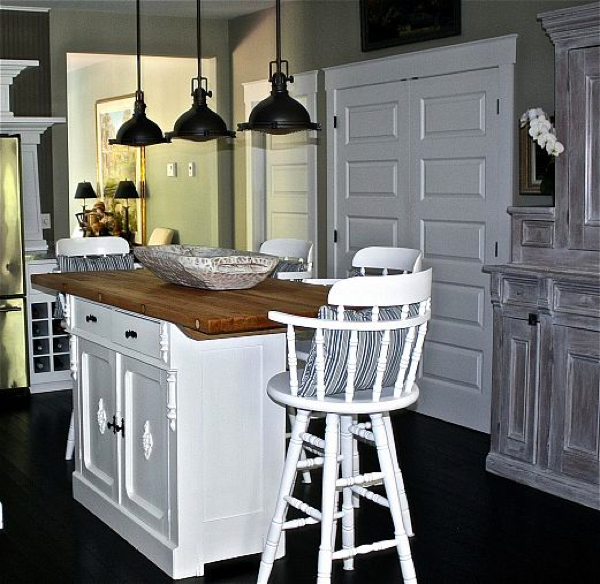 The kitchen opens up to the family room.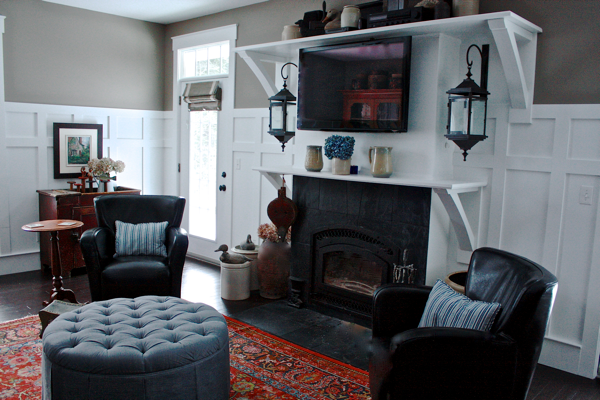 We spend a lot of time here, being able to view the gardens and patio from these rooms makes me happy!
The wainscotting was a recent project, it added a wrap around effect that extends the feeling of the kitchen millwork…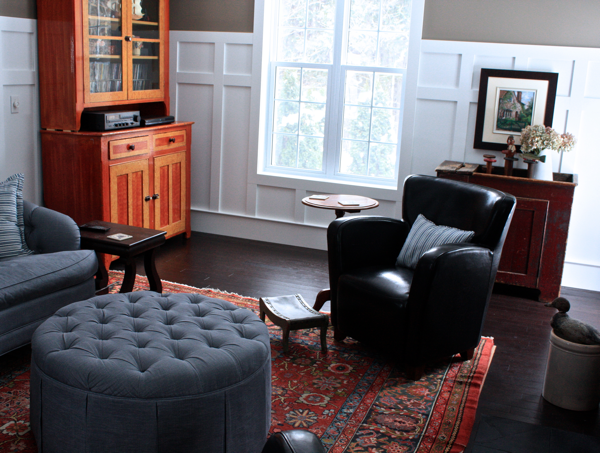 Our last stop on the tour will be the master bedroom.
Kent and I wanted a space to have just for us.
Located just off the kitchen/family room it is handy and functional.
A transom door leads out to another patio that also has nice views of the gardens, ( can you tall, I am all about the gardens?!?)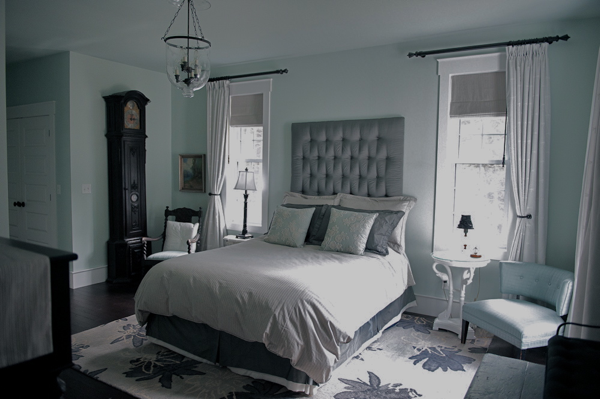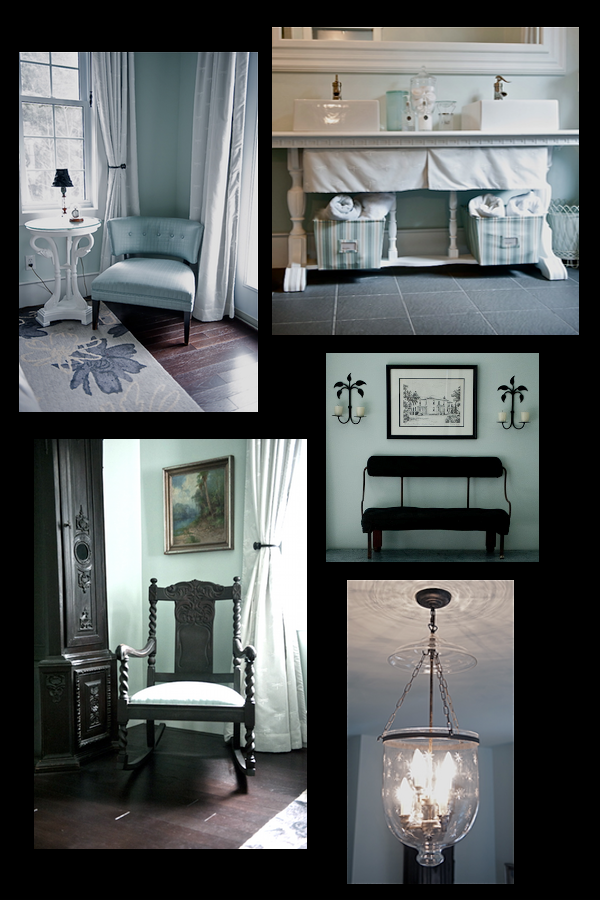 Light as air whispy blue walls change colour as the light shifts throughout the day (as you can tell from the differences in some of the photos).
It is a restful place for me.
There is some drama here though… Accents of black move throughout the room bringing interest and a masculine touch.
Building this home was a labour of love for Kent and I.
We enjoyed the creative process and working together.
I hope you liked the little tour, and please pop over and visit me anytime at A Button Tufted Life… I would love to spend some time with you!
And thank you again Debbie for asking me to be a part of your fantastic Home Tour series!
Thank you Cynthia Weber for having us over.
If you have never been over to Cynthia's blog, she is full of eye candy!
Hop on over and say hello.
Happy Friday everyone.