Infinity scarf and burlap wreath
Hello there friends! To infinity and beyond! Here is a real quickie dollar tree diy wreath that you can make today. If you're feeling you want just a little touch of the season, for any reason you can whip this wreath up in no time.
Let me tell ya, this week I needed some craft therapy. If it wasn't one thing, only came another around here for us. All l mini tidal waves. I will spare you the details. You come here for your happy place, and I come here for the same exact reason.
For this project all you will need is a mini wire form wreath, a roll of burlap, and an infinity scarf. All these supplies came from the Dollar tree.
The tin heart came of my last project: Love sign and pallet board HERE.
This wreath took me all of five minutes. First wrap one side of the wire wreath with burlap. Wrap as you would an ace bandage. I dabbed a little hot glue on the end to keep it adhered on the wire wreath. I used about half roll of burlap. These mini wreaths are so fun to make and you can create them all each a different style and per season. Again, they are just a little touch of the season to sprinkle about when you don't want to go all out.
You can also hang these little wreaths on the back of chairs, and on cabinets. These are an example of how I hung my twig Spring Dollar tree wreaths
If you missed the eleven Christmas mini wire wreaths I made you can find those HERE. They may inspire you to give them a try.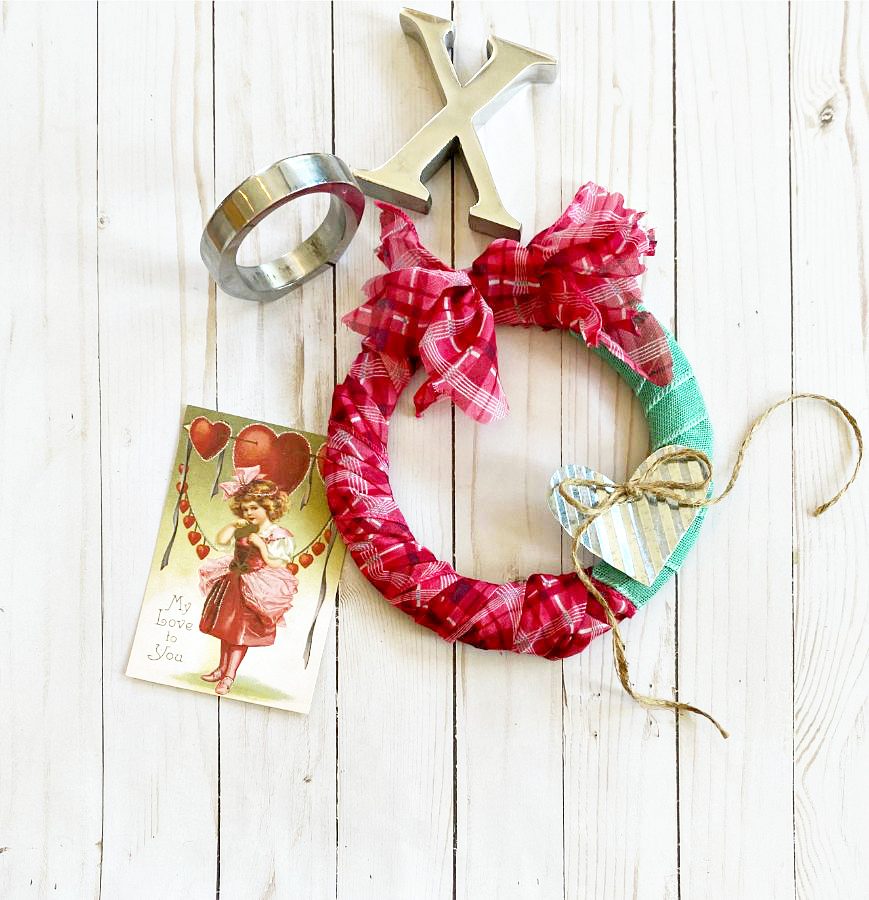 After I wrapped one side with burlap I then cut my infinity scarf in half and wrapped the other side of the wreath then hot glued the end to the wreath. The left over scarf I had I made a bow and hot glued it. Then I took the tin heart, hot glue it, made a twine bow, and hot glued to the tin heart. That is all there is to it.
My mini wreath found a nice little home that I created a simple Valentine vignette around.
Pin it, make it, enjoy!
Thanks for stopping by today. Love wreaths?
Thanks for stopping by today. Hope to see you back again.
Debbie