;
Happy Wednesday!
Is it Wednesday already? Really is hard to believe how fast the days go by.
My Mom said now she knows why old people get up so early, they want the days to be longer.
I must be getting old too.
First, let me say a HUGE thank you to all the lovely comments on my sisters wedding day pics.
I have more to come.
My new party idea went pretty well too, and I will be trying it out for  few more weeks.
ONE thing, I can't stress enough…I say often, and I will continue to say it.
The NEWBIE party is for you to mix and mingle and make new friends.
It is NOT a link up and see who comes by to visit party.
It is NOT a  huge traffic driven party either.
Most of my reader have their connections, and friendships made. Not that they don't want more, however, this party is for YOU, to build the same time of relationships that it has taken some of us a year or two to get.
So with that being said, I will go onto some features for the week.
Meet Catherine, from Paisley & Polka Dot Thread.
Catherine took a really drab ugly looking chair and made it fabulous!
You know I am loving this burlap too.
Next meet Kat from Boulder Dam Cottage.
She redid a vintage couch.
LOVE, LOVE, LOVE..is about all I can say!
Now I will go onto some other participants from the Newbie graduates and the DIY/CRAFT section.
Kathy  from Petticoat junction is a very old timer Newbie graduate.
In fact, her blog just moved over to wordpress, and she lost a few things in the transition including followers and readers.
Her blog is fabulous.
Check out her first paint job with MMS milk paint.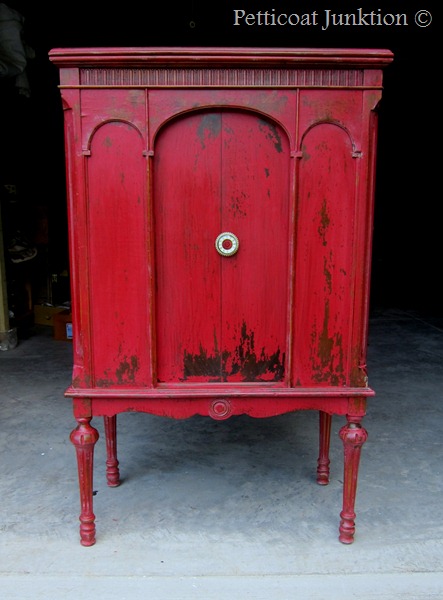 Really turned out fabulous!
Next,
Sharon from Mrs. Hines class, shared some Living room tweaking.
Sharon has some great taste and style!
NOW onto the CRAFT/DIY section.
Meet Laura from Our Prairie Home.
Get ready to be wowed when you stop over to her place.
Laura has 6 children, and manages to still do fabulous projects, that just knock your socks off.
Today she shares Freezer paper transfer tutorials to create your own beautiful graphics on pillows.
I have always wanted to do this.
Last feature of the day…because I have LOTs to do, and seriously could sit here all day and night.
Pam from House of Hawthornes.
Pam took an ordinary plain Jane stool and made it fabuolous!
Go on over and see how she achieved it!
THANK YOU all for your participation, support and readership.
Really means a lot to me.
Oh and to my familyas well, because they ask me all the time these days about my blog, who reads it, if I made new friends, etc etc.
So that is nice to chit chat with them about it too.
Have a great day!
XO
Feel free to grab a feature button…either Newbie spotlight or you have been featured on my side bar.
ALSO…you can find me on

Facebook

where I am always chatting it up!