I really don't think there will be any building of snowmen here in the South!
Although, we have had snow here in the past. Sadly, it melts before the boys can even get to that point of completion. I love snowmen!
In fact, this year, I think my good ole Charlie Brown Christmas tree is going to be in the theme of Snowmen.
Last year I made some cute snowman balls out of foam.
I have had a snowman or two before incorporated in my Christmas decorating.
I believe one year on our Christmas porch.
I also have made a cute snowman printable in the past.
Well sort of, it was Let it snow, Let it snow, Let it snow… with a cute snowman on it.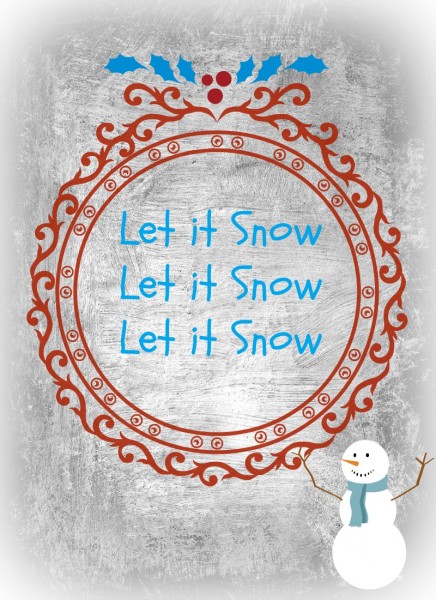 (8×10)
PRINT HERE
(8×10)
There is no man like a snowman free printable. I just made this one for you fresh for 2014. Not sure if Mr. Mike would agree:)
Today I am sharing a quickie snowman craft idea. In fact, I was inspired after I saw a 30 Minute Snowman holiday craft idea on Wholesome Mommy.
Snowman burlap art.
I have mentioned a time or two thousand I always have my craft supplies on hand. At this point, I have built up quite a collection of supplies. Which is nice, because when I get in the mood I can just pull them out and make something cute.
Pardon the pics, this was me crafting at night. I usually get the spark around midnight:)
Small burlap canvas
paint brushes
chalky paint and
black craft paint. I actually only had the chalkboard black paint on hand but it works just the same for today.
I thought I would use the sharpie but I did not!
Start in the far right corner of your burlap canvas and paint the snowman silhouette. No need for major art skillz here. I am certainly not an artist, in case you didn't know.
But you get the gist.
I used some craft foam/ rubber paper, I guess that is what it is called?? My boys had that in their craft cabinet. I cut out the shape of a hat and hot glued it.
Stenciled Let it snow randomly. Found some sticks in the yard for the hands and embellished the hat with some greenery I had on hand from a swag.
And there you have some simple snowman Christmas crafts and printables for your Holiday decor this year.
I will show you soon where I will put this cutie pie!
Enjoy.
If you are not a regular here, I sure would love to see you back again.
XO
Feel free to stay a while and rummage through my Christmas archives.