Oh my funny Valentine!
The title sounds funny, right?
How do you take a Christmas wreath and turn it into a Valentine wreath?
Actually it is quite simple.
Come with me and I will show you the way!~
My friends and I had a blast making our Christmas wreaths together.
I knew I liked this in our kitchen window and was not ready to rid of it just yet.
So with Valentine's day coming, I thought I would make a conversion to a Valentine wreath
I had already made a bunch of cupcake liner carnation flowers.
These cupcake liners also came with cute heart toothpicks.
So I stuck a few of those in the wreath as well as you can see.
As you can see I kept the burlap and wooden spoon. Added a few fun Valentine embellishments.
and BAM, in a blink of an eye
it is
a Valentine's wreath
And it looks just as happy in the window as the Christmas wreath did.
Thanks for stopping by today.
Hope you are enjoying my thrifty ways to decorate, repurpose and recycle for
Valentine's day.
The Dollar tree Valentine decor party
has only a few days left.
OVER 75 participants…and WOW there are some awesome Cheap and easy ideas.
XO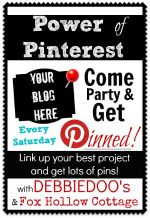 Easy peasy gig here.
Link your favorite project…
get pinned.
Only catch is, You have to pin thy neighbor.
Pin as you may, as many as you wish.
I can tell you Shannon and I wind up pinning lots!~
Please add our button to your post and PIN on!
ONLY ONE POST per party! Let's keep it even Steven for everyone:)
Would love if you followed me along on
Facebook,

and of course why NOT pinterest too

And you may find Shannon too…
********************************

P.S. Monday is the copy cat challenge and I sure hope to see you back for that! Check out my gallery for past Knock off decor ideas.