Hey everybody – 
Have you all been enjoying your summer?
Today, I am sharing how to paper mache pears using paper sack and mod podge.
It is all in the details, and those details include these paper mache pears –
They are super easy to make!
I just started out with a bunch of plastic pears, which you can find anywhere.
Next, tear up some paper bags or packaging paper.
Just small pieces to layer over each other.
Then, pour some Mod Podge out onto a paper plate and get started..
You will work in small sections at a time.
A little MP, then a piece of paper.
Over, and over and over again.
You will need to get your hands messy to smooth and mold the papers around the pear.
Remember – layers are important.
When you are done, it should look like this…
I found the best way to let them dry is to put them on waxed paper since they won't stick.
And when they are dry, you will have this…
The perfect way to update an "old staple" in home décor.
I'll be using these as a staging accessory with my fall decor.
Be inspired,
Thank you so much for visiting with me today.
If you are new here, welcome! I am also very excited to share my new stencil line with you.
[envira-gallery id="32693″]
Thank you for your visit today!
To view my stencil gallery projects you may check out my Debcreates.com page.
I share all things, thrifty home decor, crafts and a recipe or two on occasion.
Sign up today and receive a few freebies. 12 months of seasonal printable art.
I have also created my own custom apron. "I work by the flour" logo on linen deep front pocket. My husband was the witty one with that slogan:)
Sold on Amazon Debbiedoo's custom apron
.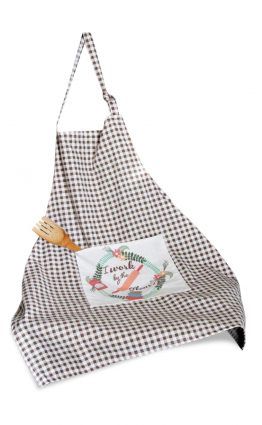 If you would like to commit to becoming a subscriber, I would love for you to join me.