Hey there! Today, I am sharing how to paint a plain white door to look like wood.  While our house was under the bathroom construction I had to stay home every day.  After I was finished with all the Christmas decorating I found something else I have been wanting to do for years.  I knew my husband would not mind me experimenting in this room because the door was pretty shot regardless.  The boys used to have a basketball hoop set up over it and they banged the heck out of the door.  So it was either paint it white or try my experiment.  I am sure this has been done before but I didn't even look up how to do it.  I just winged it.  It worked! The workers I had here happened to go in the room that day and they asked if I had done that.  I said, yes, they were impressed lol!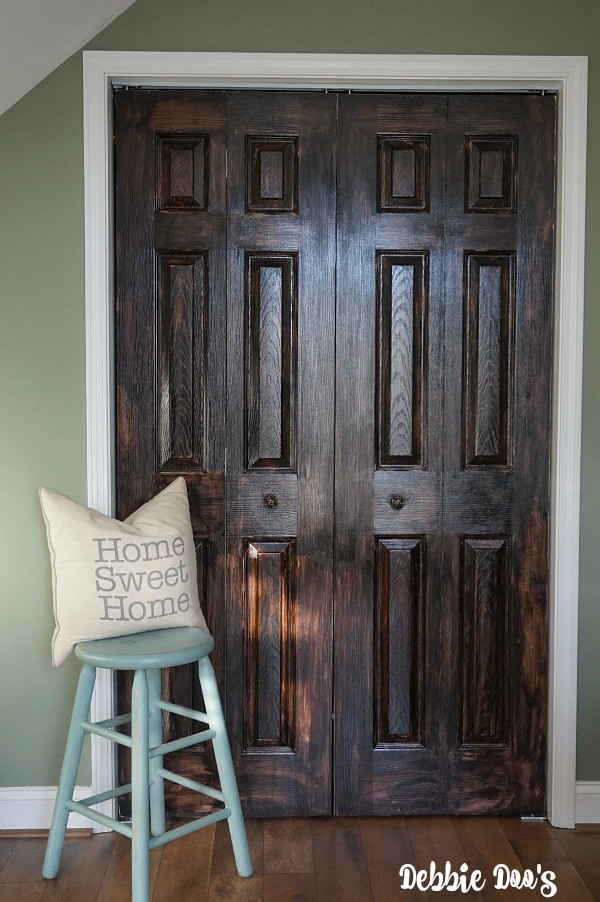 This was not a hard project at all.  In fact, I was really happy at how easy it truly was. Start with your basic supplies.  This was the first time I ever worked with gel stain, and I loved it.  No drip, no mess. I did use traditional Minwax stain to go over it and that is where the job can get a little messy. You want to be sure to cover your work area.  The plastic drop cloths were great. NOTE: The only reason I went over it with another stain was for one, it was an experiment, and for two, I wanted to have a two-toned color, which in fact, I did achieve with using both the gel and regular stain:)
Here is the before:
Be sure to use your gloves.  Stain can be messy.  The nice thing about gel stain is there is no drip.  However, there is a traditional stain that I used to go over it.
The door required two good coats of the gel stain.  I then let it dry overnight.
The next morning I went over it with my color choice of stain with just a rag. I wiped in some areas to get the somewhat weathered look.  The nice thing about applying the gel as an undercoat is that when I did wipe, it appeared as though it was real wood underneath. I did not use varnish or sealer. The doors have held up well. However, they are not used every day, so use your own judgment.
I changed the hardware too.  There you see my goodwill table I made over a few months ago. Compliments the door nicely, I would say. That's all there is to that project! I think this would look super on a pantry door as well.
Back in the day, I painted our pantry door red and loved it for years.  That was up until this past year when we actually had a custom tobacco wood barn door.  I love that rustic look.  Plus, it takes the wear and tears that my boys tend to give everything around here.
I guess it was all about doors today! Now go tackle one.
Pin it, do it!
How to paint a plain white door to look like wood
Supplies to purchase for the project: (Affiliate links)
Gel stain
minwax
rubber gloves
plastic drop cloth
stain brush
cheese cloth
Thank you for your visit today!
I share all things, thrifty home decor, crafts, and a recipe or two on occasion.
If you would like to become a subscriber, I would love for you to join me.
Thanks so much for stopping over today.  If you are new to me, WELCOME!