Hi there everyone!  You may remember back at Christmas I made my own Holiday dinner napkins? If not, you can check those out later.
Very simple and you can't beat the price. Plus, they are washable, permanent and super cheap to make.
You can buy the two pack of white napkins at Walmart, I believe they are $2.00 a pack.
The fabric markers I have had, and to date
have used them on several project
my burlap fabric marker pillow is holding up very well.
I have washed my Holiday napkins and not a drop of the marker faded, so I it is true, they are permanent on fabric.
Tied with a simple white ribbon, and embellished with some roses make for the perfect Valentine's diy napkins.
 Now to set a table with them.
Thanks for stopping over today.
pin for later:)
Hope you come again, and if you like you can follow me around.
If you like stenciling, I have a Stenciling gallery full of ideas!
Follow me around  if you like!
Check out my All things Valentines archives of ideas!
And if you LOVE dollar tree…
70+ Dollar tree Valentine's decor ideas and crafts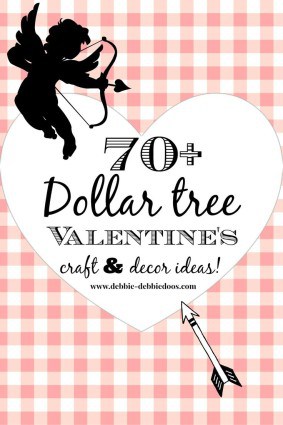 Thank you so much for visiting with me today. If you are new here, welcome! I am also very excited to share my new stencil line with you.

Thank you for your visit today! To view my stencil gallery projects you may check out my Debcreates.com page. I share all things, thrifty home decor, crafts and a recipe or two on occasion.
I also have an Etsy shop!

Sign up today and receive a few freebies. 12 months of seasonal printable art.
If you would like to commit to becoming a subscriber, I would love for you to join me.