How to make Valentines' day button framed art work
Hi there friends! Today, I have another creative, thrifty crafty gal over. She is sharing how to make Valentine's day button framed art work.  Her name is Rachel and she is creator over at Holy craft. Holy Craft is a home and family blog written by a stay at home mom of three. It's Rachel's hope that she can help you to live well on less, share tips and tricks to make you more efficient around the house and bring you inspiration for your every day life all without breaking the bank!
My kind of gal! Meet Rachel.
Red is my absolute favorite color. I just love the energy that it brings and how it automatically livens things up a bit. Maybe that's why I gravitate towards all things hearts and Valentine's.  I created this Valentine's Day framed button art with a clearance frame, some striped scrapbook paper and some buttons I had collected in my button jar.
Well, inspiration struck me in a Target aisle the other day when I found these frames on clearance for $1. I knew Valentine's Day was just around the corner, and I knew these frames would be the perfect backdrop for a new project.

I sorted through my buttons knowing I only wanted red and white ones and then I cut my scrapbook paper down to size.
I tried a few different patterns and designs using my buttons. I had enough of the same kind of red button to make this simple heart.  I simply used hot glue and glued the buttons right onto the glass.
I knew I wanted to also have a heart pattern all filled in with buttons so I thought I would use a heart shaped cookie cutter as my guide. It was the perfect size! I took a q-tip that I had dipped in craft glue and rubbed it around the edges and inside the cookie cutter.
I left the cookie cutter in place and put my buttons inside and stuck them down to the glue. I shifted a few around to make sure they were laying flat, but mostly I left them in the most random pattern.
I really love how they turned out and they weren't very expensive to craft and create. Those are my favorite kinds of projects!
If you want to see more projects that look like a million bucks, but didn't cost nearly that much to create, head on over to my blog, Holy Craft, and spend some time looking around.
Grab a cup of coffee; it's what we do in Seattle. I hope you will find some inspiration there!  Thanks so much Debbie for having me over today!
Check out my All things Valentine's gallery of budget friendly ideas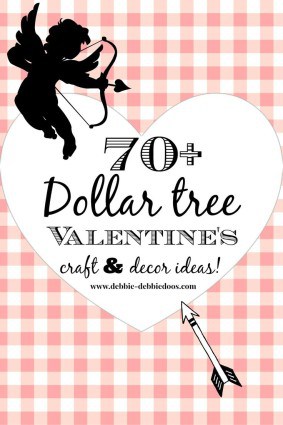 xoxo
Pin it, make it:)
How to make Valentines' day button framed art work
Thank you so much for visiting with me today.
If you are new here, welcome! I am also very excited to share some cute stencils lines with you.
[envira-gallery id="32693″]
Thank you for your visit today!
I share all things, thrifty home decor, crafts and a recipe or two on occasion.
Sign up today and receive a few freebies. 12 months of seasonal printable art.
I have also created my own custom apron. "I work by the flour" logo on linen deep front pocket. My husband was the witty one with that slogan:)
you would like to commit to becoming a subscriber, I would love for you to join me.