Hey there!
Today, I am sharing how to make a spooky Halloween recycled bottle craft.
if you are a regular here you KNOW, Halloween is my favorite.
Actually, September, and October are my favorite months of the year.
I love to decorate per season, but Fall and Halloween hands down have it all over the rest of the year.
My friend gave me an empty Jack Daniels bottle thinking I could craft with it.
Well of course I can. I don't drink the stuff so there would be no empty bottles around my house of that stuff.
I think I drank it once, and let's just say, it wasn't a pretty experience.
So, out came some simple craft supplies.
Purple rit dye
gesso
and my recycled Jack bottle.
First I painted the bottle with my gesso.
I lightly pat the bottle as you can see closely here with my artist brush so I get somewhat of a texture.
I then paint on the rit dye after letting the gesso, ALMOST dry completely.
It does not have to be 100 percent dry.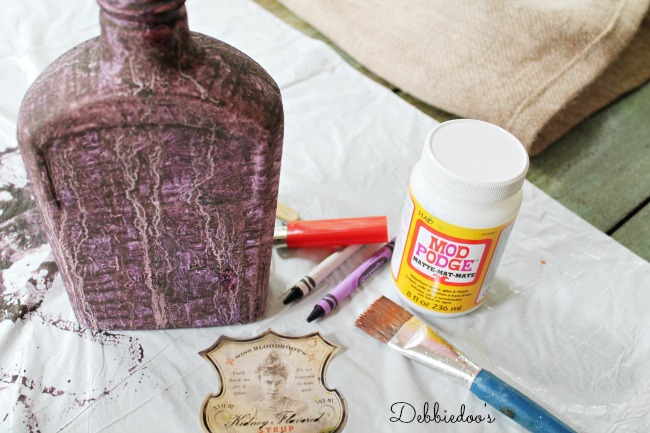 This here is completely dry.
Then I decided to melt some crayons on top of the bottle and let drip down for a cool effect.
Looks pretty spooktacular.
I mod podged a label I had that I bought a pack of at Michaels last year.
I plan on putting a candle in it and I think it will look neat on the coffee table come Halloween time.
Thanks for stopping over today.
Check out the other fun Halloween crafts, recipes and decor down below.
You can follow me anywhere
anytime!
If you like Recycled bottle crafts, I have plenty of ideas for you!
Check it out.
Recycled jars too!