Hi there everyone!  Today, I am sharing how to make something new look old. I'm taking a break from the garden for a few days. You may ask, why does one want to make something new look old?  Well, because I really don't care for new shiny things, unless it's a diamond ring or something:) Most of the decor around our house is old, antique, vintage, chippy, and worn.   We don't typically go into regular stores and just pick things on a showroom floor. Unless it's a new couch or something.  Just about everything we own  has been collected over time, and has some kind of meaning to us.  For the most, that is I would say in our family room, pub and kitchen area.
I found this cute tray at Walmart the other day.  Price was right  at $7.00 bucks.  I thought, I know exactly what I want to do with that.  My son Jack was with me, and he said I know what you are going to do with that tray.  Smartie pants, thinks he knows it all.
Funny thing, was he was right.  He knew I would paint it, and add a rooster to it.
This was a fun little quick project.
This is the before tray.  Nice to begin with, but as you can see, shiny and new.
 I painted the tray with 3 coats of chalky paint by Americana decor.  You must wonder if I have every color.
I do in fact! Check out all my projects while you are here.
 After the chalky paint dried I rubbed a little Annie Sloan clear soft wax on it the bottom and sides of the tray.
Out came my handy dandy rooster stencil.  I have had this guy for a long time.  You can check out my Stencil gallery and I am sure you will spy him a half dozen times.  Sort of like my recipe stencil.  I used them over and over again.
I found some chalk pens at Michaels and thought I would just do a silhouette of the rooster instead of using craft paint.
Worked out just perfect!
Now I have a cute new/old tray in the kitchen next to the stove.
Thanks for stopping over today.
 You can check out my gallery of diy ideas.  If you are not a regular here, I sure would love to see you back again.
XO
 You may also check out my DIY gallery of Stenciling ideas, burlap and more projects!
If stenciling is new to you, check out my video.  Keep in mind this was done on facebook live, so I promise, I am not talking to myself:)
I plan on making a simpler version soon.
[adthrive-in-post-video-player video-id="CQs0yH52″ upload-date="2016-06-24T13:59:54.000Z" name="Debbiedoo's – How To Stencil For Newbies" description="How To Stencil For Newbies by Debbiedoo's" player-type="default" override-embed="default"]
I am also planning on my own stencil line soon and would love your input.  See an example of my Stencil line here.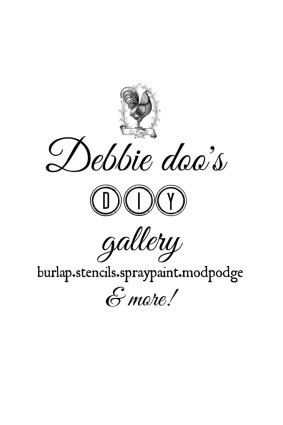 Or if you like some Roosters, I have plenty of those too!
Thank you for your visit today!
I share all things, thrifty home decor, crafts and a recipe or two on occasion.
If you would like to commit to becoming a subscriber, I would love for you to join me.