Welcome friends!
I would like to introduce you to Matt and Jacque the dynamic duo from
Matt and Jacque will be joining me once a month to share their creativity and their home. I am super excited for you to get to know them as I have this past year through my newbie party.
******************
Hi everyone I am Jacque of  theDIYvillage.com.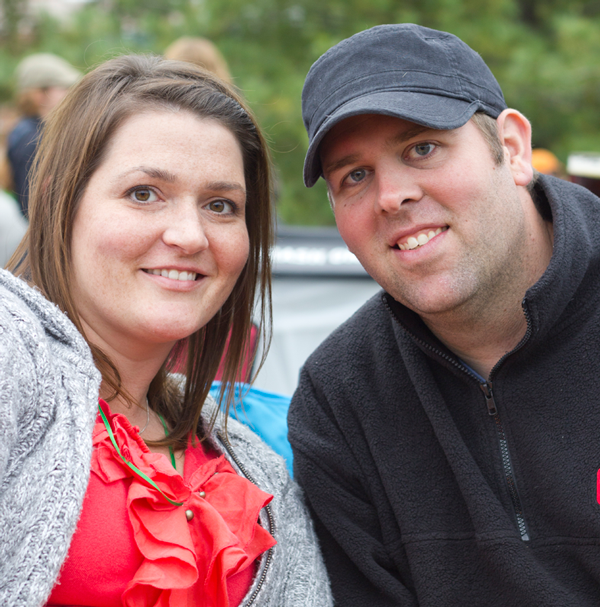 I am one-half of a husband and wife DIY team who
are constantly working on our never ending to-do list!

You might remember me from last month when you all toured
our home here at Debbiedoo's.
Every month either myself or Matt (the other
half) will be here with you at Debbiedoo's.
We are over the moon to be contributors to such a wonderful site.
We hope you will continue to join us each month as we do our best to provide you
with the best inspiration that we can!
WELCOME Jacque and Matt.
Often late at night while Matt sleeps I search
CraigsList for my latest find.
One night I stumbled upon an ad that had at least 50 old marquee letters.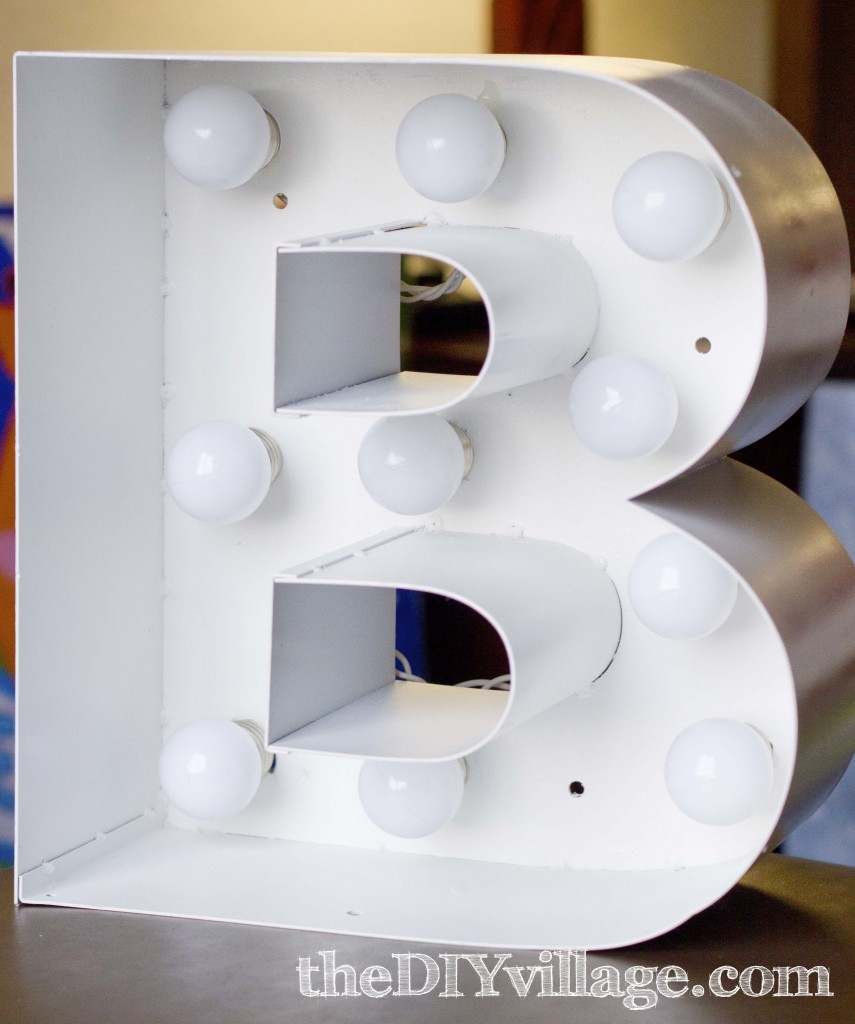 The seller had them all laid out in his yard spelling out different words and
the price could not be beat.
So I do what I always do and forwarded the listing to Matt with a little
note, "What do you think?"

Much to my surprise I woke up the next morning to the response "Awesome,
call them!"
I called the gentleman and Matt and I went out intending to buy 5 maybe 6
letters and ended up coming home with a car full.
Matt's family has an annual Christmas tradition
called "Make a Gift" It is so fun every year you get a different person's name
to make a gift for.
It can be anything you want from homemade cleaning products to a violin (yup I
said violin) anything goes, only rule you have to make it yourself! This year
my make a gift victim was Matt's sister Sarah. As soon as I saw the metal "B"
on the lawn I knew I had to get it for her and give it a makeover.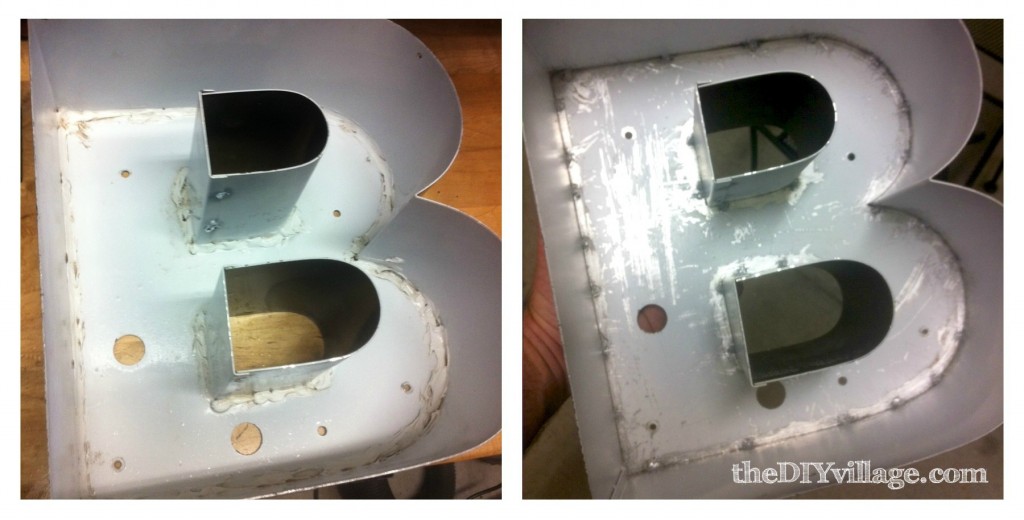 The letter had old dirty caulking, even after a
cleaning it was still grungy. Matt helped me out by using a heat gun and a
speckle knife to clean all of the old gunk out.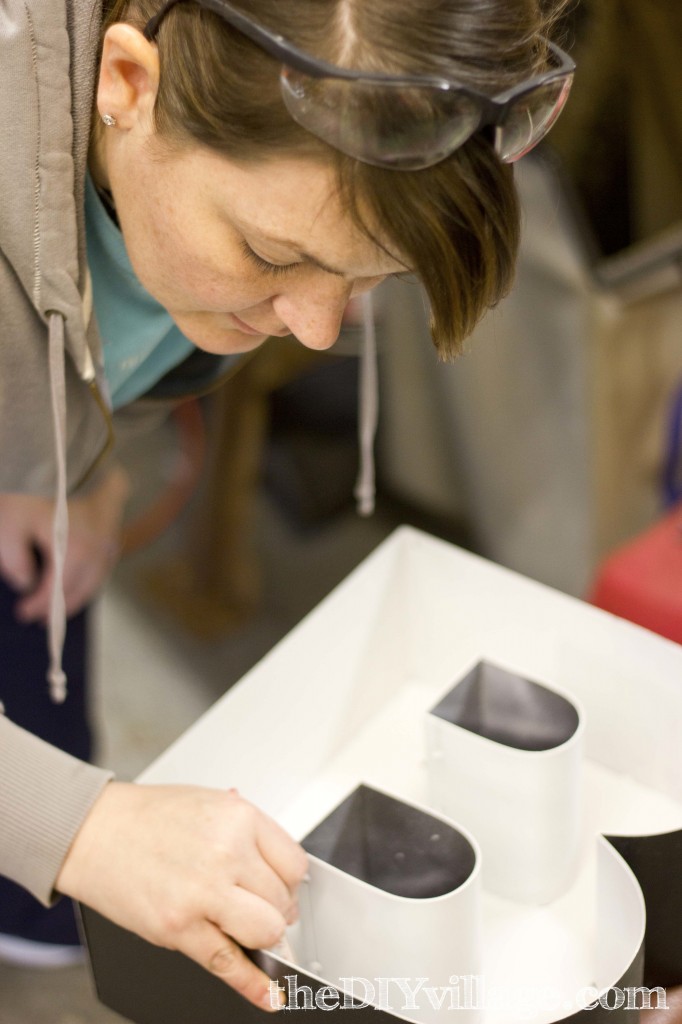 I wanted the B to light up like the old fashioned
marquee signs, meaning I would need to drill holes in the aluminum.
Before I started drilling I marked out my holes, trying to use some of the
existing holes.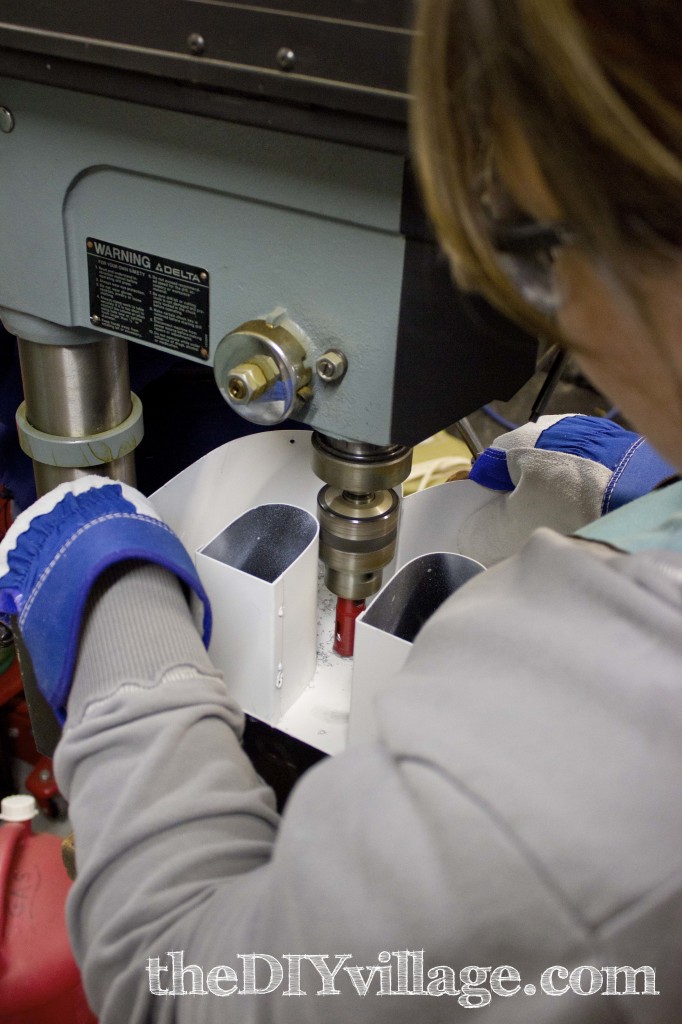 I used a drill press to cut the holes.
I steadied the B while my father operated the drill.
Once all of the holes were cut out I used a Dremel to smooth down the sides.

I wanted to do a dry fit of the lights to make
sure the placement was right.
I took the lights apart, reassembled them in the B and realized I had too many
holes.

No worries though that is what BONDO is for!
After the bondo was set up (about 20 min) it was ready for sanding and painting.
But I had a big problem, it had gotten cold VERY cold and super windy.
And I needed to spray paint my B white so I could finish.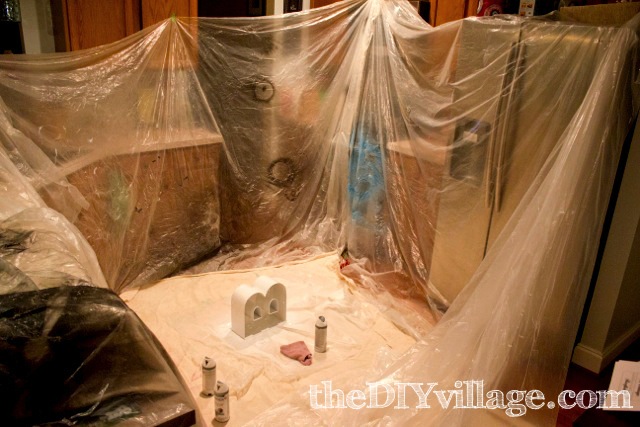 So I did want any insane normal person
does and I created a spray paint booth in my kitchen.
While this did solve my problem I do NOT recommend anyone do this.
Even though we had ample ventilation it was still had huge risk of the over
spray going
EVERYWHERE!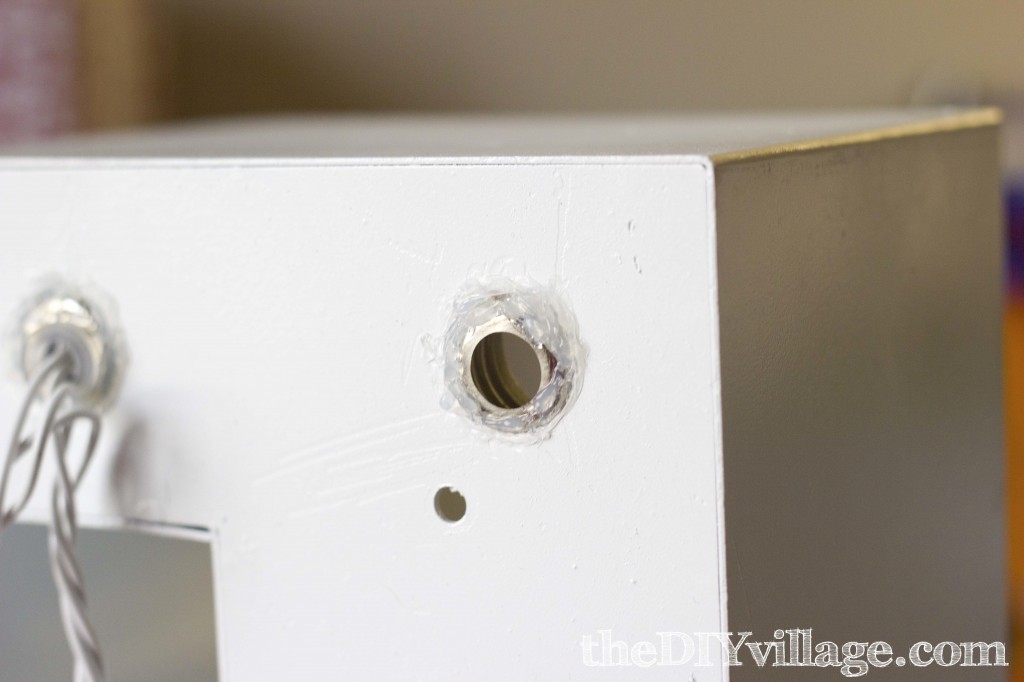 Once I had the B painted (and paint cured)
I used
a silicone type product to hold the light socket in place.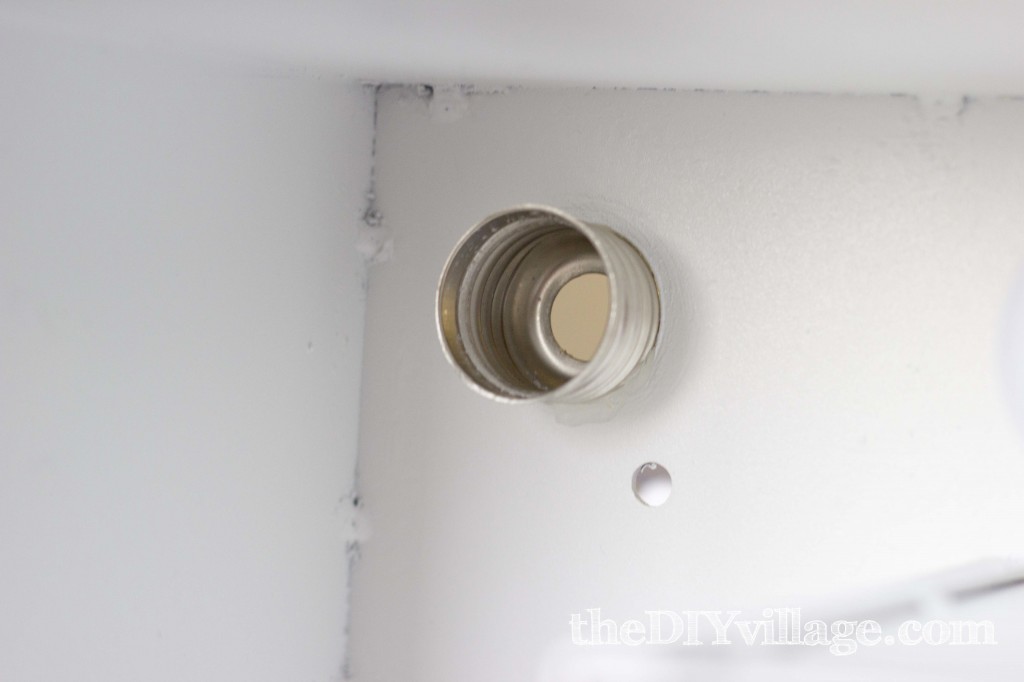 After 16 hours of dry time the letter was ready
to be put together and plugged in!
Time for Lights OFF!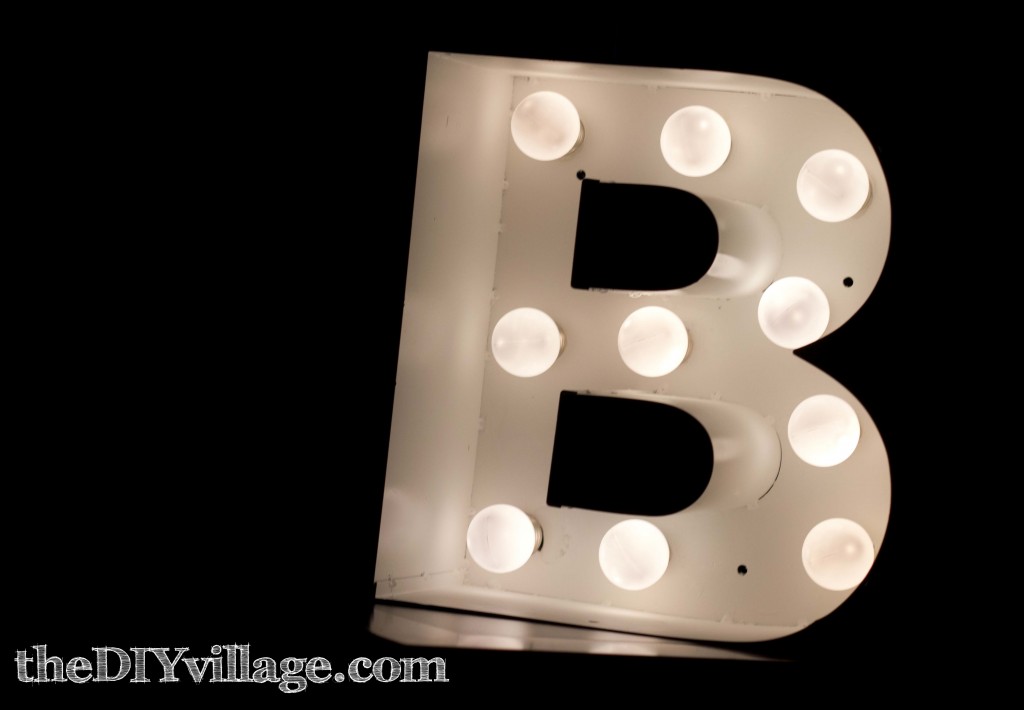 The B turned out great, you can hardly see the
places I filled in with Bondo, and the glow is SOFT.
The light are a set of 10 Christmas lights I picked up this summer at Target,
best part is if they burn out they are easily replaced!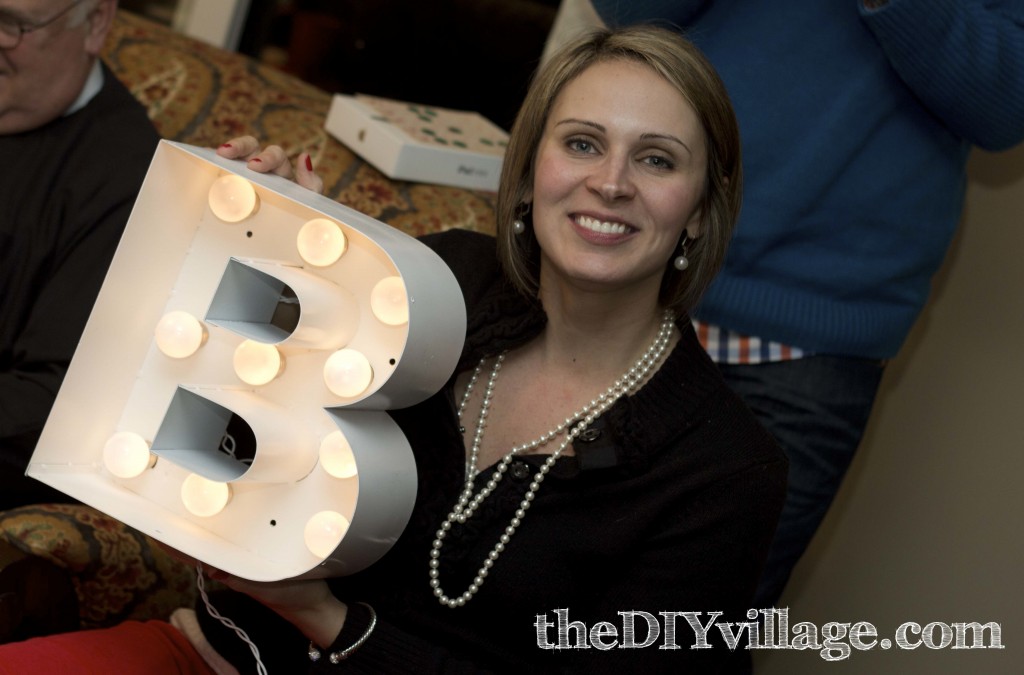 Sarah opened her Make a Gift on Christmas Eve and
told me she loved it (yay!)
Now I just have to make one for myself and I will be set!
VERY COOL!
and a girl that can use power tools, even cooler.
I must learn in 2013 myself.
Thanks guys.
My friends, go on over and say hello to the DIY village.
You will be happy you did.