Hi there!
This crock pot lasagna is a family favorite.
You know when your husband and kids tell you a thousand times over at dinner how good it is,
it's that good!

Today I am sharing how to make crock pot lasagna.
We had family coming in from out of town and I was not sure as to exact time of arrival.
The crock had to come out. Which you know I love anyhow. If you missed my Buffalo crockpot chicken, Turkey in the crockpot
or my cheaterchicken noodle soup, yummy, check those out while you are here.
Easy to print and save for later.
Truly a no brainer and very little clean up and prep work.
In fact, I will never make it in the oven again.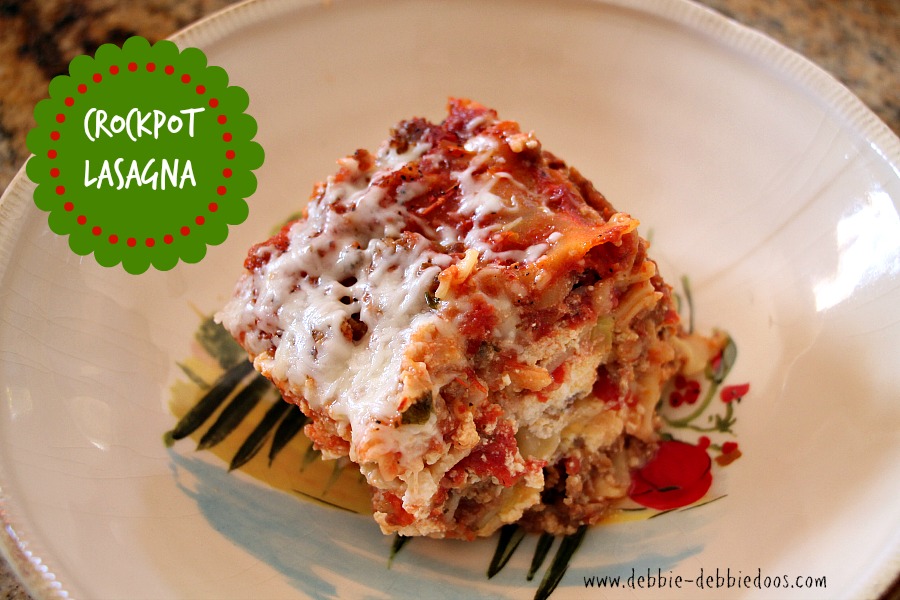 I hope you are not too hungry, because this is not going to help the cause.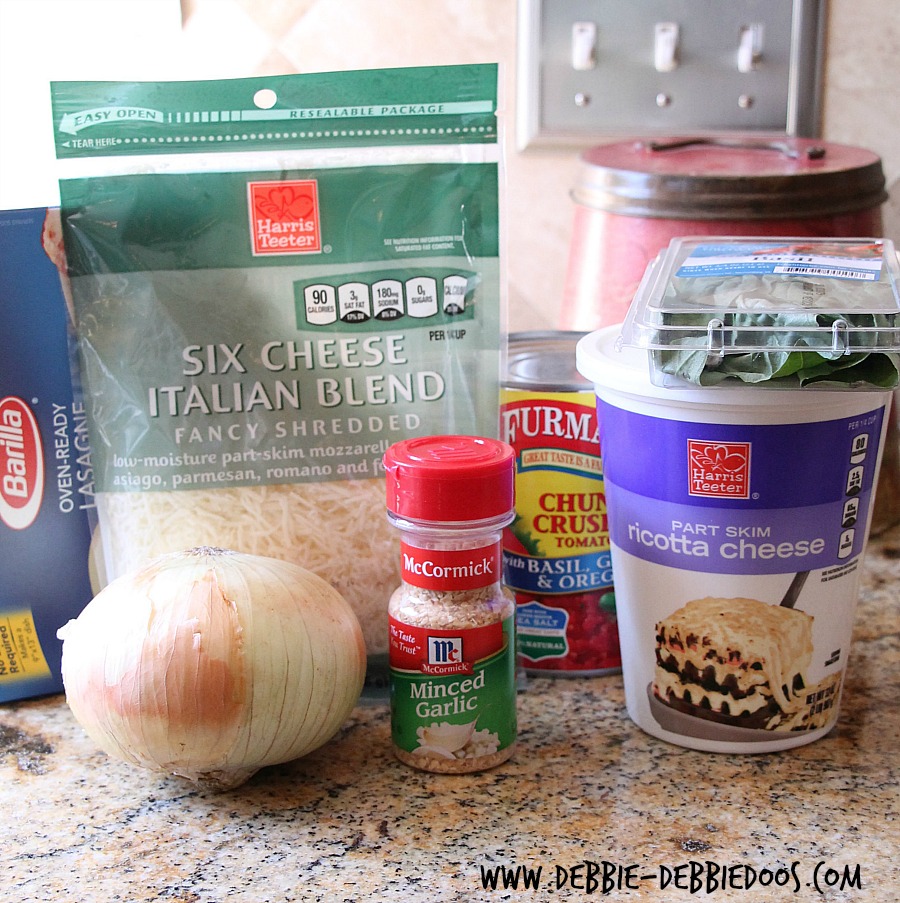 Standard ingredients you would use in your oven baked lasagna.
I made this lasagna with ground sausage instead of beef.
It gave it such a nice flavor with the hint of fennel.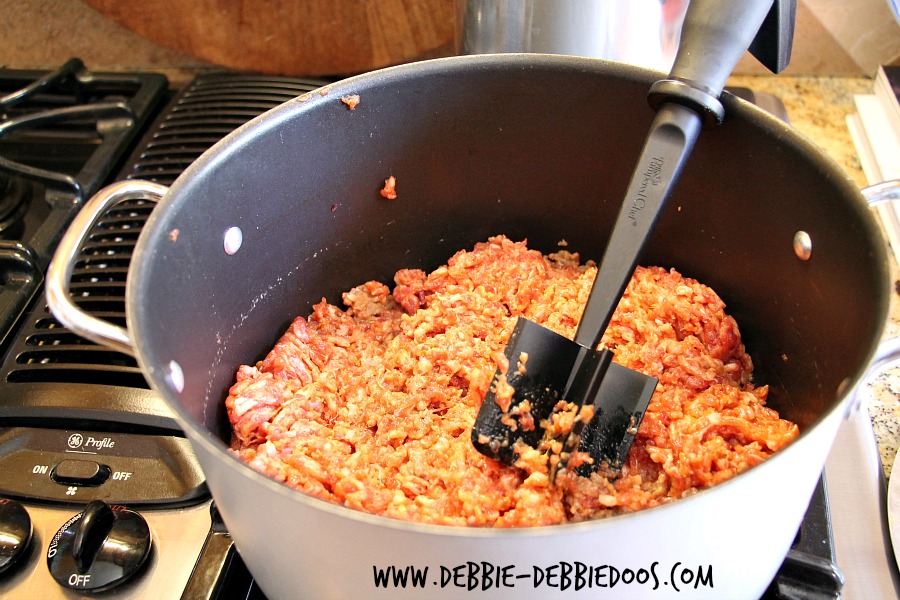 I love my pampered chef hamburger meat chopper. I have had this thing for years.
It is one of my favorite kitchen gadgets.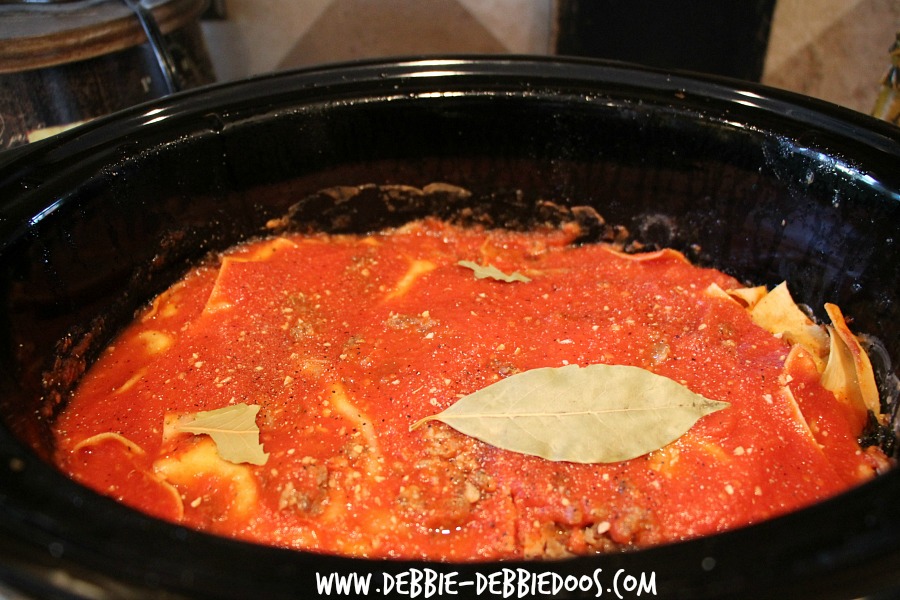 I suppose you are looking for the recipe now.
I think you may want to run out today and get all your ingredients. I would suggest going in the morning, as it does take all day to cook.
First, I brown my meat in a pot, adding half an onion, a few dashes of minced garlic, a few snips of basil. These ingredients are all to taste. We love basil so I probably wind up snipping off more than norm. Make sure meat is brown.

Coat the bottom of the crock pot with sauce. I used the crushed tomatoe sauce as mentioned in the ingredients., However, you can use any sauce you like. Jarred will do as well.

Layer with noodles. You can break a few to make them fit, it won't matter what it looks like as far as neatness goes.

Spread a layer of meat, a layer of ricotta cheese, sprinkle with cheese, layer with sauce

Repeat. I used all but 5 noodles in the box. At the end I added more sauce and a few bay leaves, added a half cup of water.

Turn on low setting and let simmer for about 6 hours. If you see your noodles are getting dry, add more sauce and a dribble of water here and there.

Add some more shredded cheese the last 5 minutes and turn off crock pot. Before cutting let stand for 10 minutes. I simmered some sauce on the side to top the lasagna.
You can use ground beef or sirloin.
Get a loaf of garlic bread and enjoy, yum, yum, yum! You're welcome!
DO NOT cook noodles no matter what kind you buy.