Hey y'all! Today I am sharing how to make bacon crackers. My friend Laurian has been making these for years.
I tell ya this friend of mine knows the good stuff!
These bacon crackers will leave your party guests oohhing ahhing and asking what are these tasty little bites?
Laurian is the same friend that turned me on to the dump cakes, fried green tomatoes and dorito casserole.
These bacon crackers are always a huge request. Rightfully so, we like to call them the crack crackers.
Joking of course, but they are just that addicting.
Try them and let me know what a huge hit they were! You can check out my recipe archives while you are here.
I RECOMMEND a wire rack for this recipe.
RECIPE:
Ingredients:
Townhouse butter crackers OR Keebler butter crackers are fine too. Square or oval type.
1 package of bacon
Brown sugar
Cayenne pepper
Directions:
Butter Crackers (1) pkg regular bacon Brown Sugar Cayenne Pepper. Heat the oven to 350°F. Place crackers end to end on a wire rack set into a rimmed cookie sheet.Slice the bacon into thirds. Place a sliver of the cut bacon lengthwise on each cracker, Sprinkle a generous amount of brown sugar onto the bacon topped crackers. Then lightly sprinkle with cayenne pepper (be careful!!! Gets HOT quick!!) Bake until the sugar begins to melt & the bacon becomes crisp. Remove the pan from the oven and allow the crackers to cool on the rack before eating. These go quick!!! Best to make a double or even three batches!! ALWAYS A HIT AT ANY PARTY OR AT HOME WITH A NICE CRISP SALAD!! ENJOY!!!
NOTES: Cut the bacon into third or fourths and use the less expensive thinner bacon! (I know I know….GASP!!) make sure it is the length of the cracker and doesn't overlap. The brown sugar should be a good layer….the weight, as it melts into the bacon, helps it lay flat! bacon crackers also make an awesome light lunch or dinner with a good crisp salad!
New recipe reveal that took me 7 years to get..yes 7 years people. ENJOY!!!
I also share lots of fun Diy, budget friendly home decor and crafts.
I love the Dollar tree too!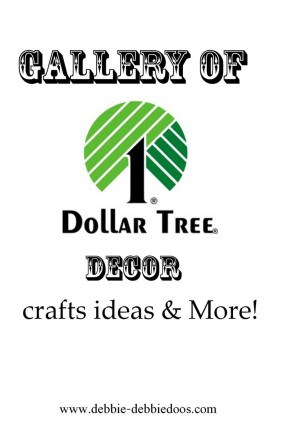 You can't believe all that you can come up with there. Oh and if you like Home tours,
you may as just stay the day here! Lots of awesome ideas there. Hope you sign up to be a regular here. I would LOVE to see you back again. XO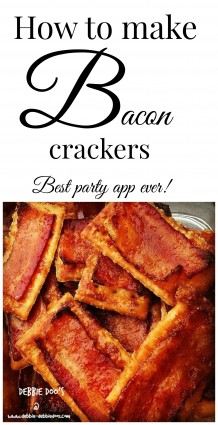 If you are new here, welcome! I would love to see you back again.
Thank you so much for visiting with me today. Everything you need you can find down below:
(Debbiedoo's) is a participant in the Amazon Services LLC Associates Program, an affiliate advertising program designed to provide a means for sites to earn advertising fees by advertising and linking to (Debbiedoo's) (amazon.com).
Sign up today and receive a few freebies. 12 months of seasonal printable art.
If you would like to commit to becoming a subscriber, I would love for you to join me.