Hold on to your pants on this one!  It's so simple, yet so delicious you will want to try every combination known to man.  Sort of like the dump cake recipes I share. You can't go wrong with any combo.
I think this would be a delightful recipe for Mother's day.
 We had a little dinner party last weekend.  Mike and I were cooking up some curry and the guests asked what shall they bring.  Our friend Lynnea offered up a salad and our friend Jen offered up yogurt pie.  Sounds good to me.
This recipe is so easy I am not even going to use the recipe card in my post.
Ready?!
 Ingredients:
Two containers of yogurt, 4-6 oz. in this recipe Peach was my choice.
1 Container of  8 0z. cool whip
Graham cracker pie crust
pecans as many or little as you like
canned peaches or fresh will do, again to your liking on the amount.
Add your two containers of yogurt to a bowl, and half the tub of cool whip.
Mix well with a spoon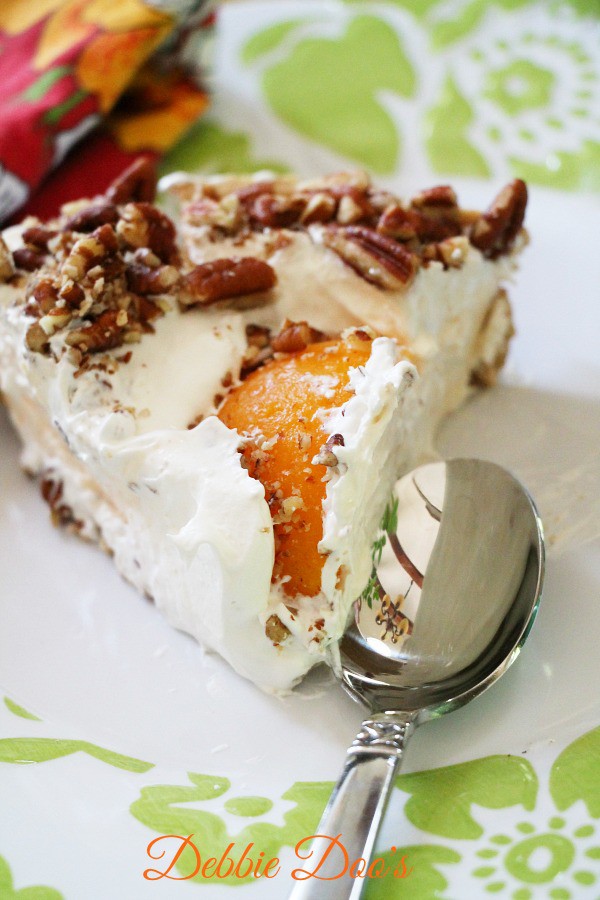 Add the combination to your pie crust, top with remaining cool whip.  I added the peaches and pecans to the top as well.
Freeze for approximately 4 hours.
Before you are ready to serve let the pie sit out for about 20 minutes.  Delicious!  Hahaha I just noticed the peaches look like egg yolks. Promise, those are peaches.
If you enjoy fast, easy and tasty, I have plenty more recipes for you
Thank you so much for visiting with me today.
If you are new here, welcome! I am also very excited to share my new stencil line with you.
[envira-gallery id="32693″]
Thank you for your visit today!
To view my stencil gallery projects you may check out my Debcreates.com page.
I share all things, thrifty home decor, crafts and a recipe or two on occasion.
Sign up today and receive a few freebies. 12 months of seasonal printable art.
I have also created my own custom apron. "I work by the flour" logo on linen deep front pocket. My husband was the witty one with that slogan:)
Sold on Amazon Debbiedoo's custom apron
.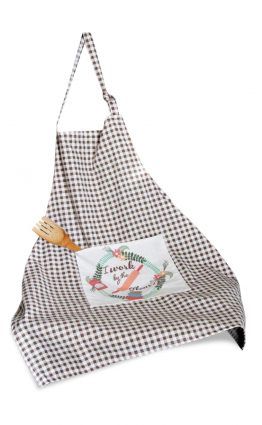 If you would like to commit to becoming a subscriber, I would love for you to join me.