Hi there everyone!  Hope all is well and you are gearing up and inspired for the fall season.  This time of year  always seems my husband and I tackle some big projects.  This year it was about refreshing rooms with paint. Today, I am sharing how to create a unisex bedroom. I have mentioned several times now, that this room will be occupied by my Mom this winter season, and then our son when he is home on College break.   Along with just refreshing some rooms with paint, we will be remodeling two bathrooms. We have been in our home for 10 years and our master bathroom shower is literally falling apart. The builder put slate tile in the shower, which is not the best choice. Slate and water are not compatible unless maintained on a regular basis. Who knew we were suppose to seal it every 6 months?  Not us! It's been a process of doing our home work and getting a lot of different opinions.  I think we narrowed everything down and will be starting on that project soon.
 I shared with you in the past few months our  family room and kitchen paint makeover.
We were holding off on the upstairs until our son went off to college.  Our younger son wanted to switch rooms because his brothers room was a tad larger and a very quiet room set more in the back of the house.  Jack's room was in the front of the house and even with the blinds the sun managed to peek through, and now that he is a teenager too he wants to be able to sleep in.  Go figure!
The color I chose for upstairs is called Silver sage by restoration hardware.  Awesome color and very universal with warm tones that go with just about everything.
I already shared my tablecloth monogrammed pillow with you.  As I mentioned in that post this will only be set out when my Mom is here.  I will have a few more girlie things in there as well.
 This was Jack's bedroom for the past 10 years.  I have not changed or fluffed a thing in over 4 years.  Not even the comforter. It was definitely time for a change regardless of the room swap.
 I will share more on  Jack's new room another time.  Jack is pretty darn happy though.  He has a larger room, that is set towards the back of the house. It is much quieter for him to sleep in when he wants to.  Which trust me, is not that often.  Jack has always been my early bird.
Now back to the room swap.
This was just a little dollar tree silver tray I made into a chalkboard Mom tray.  She can put her jewelry or personal items on it.   
Life is beautiful and sometimes we all need a little reminder of that.  I loved this picture and quote.  It may be a tad too small but for now it will do until I find something I really love.  I think it is universal/unisex and fitting for the room overall.
This clock I have had for about 15 years.  It was a purchased through Ballard catalogs many years ago.  I had it tucked away because I never had just the right spot to fit it.  Bingo, it fits perfect here.
 Along with some family pics and some of Alex's treasures in the basket.
These curtain panels were a score.  They are Tommy Hilfinger and came in a twin package at 2 for $29.99 at Home goods.  They are pretty universal as well with the soft muted earth tones.
Ralph Lauren simple white full size plush and soft comforter.  That was $79.99.  A little more than I wanted to spend but again, it spoke unisex to me and I don't have to change it out depending whether it is Alex or my Mom occupying the room.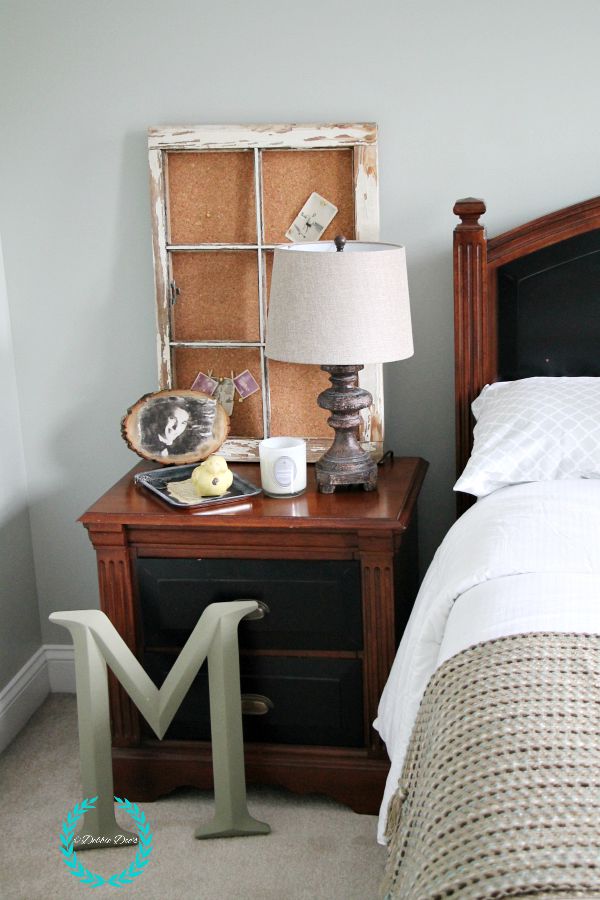 M for Mom, or Manno, our last name:) Had that initial for years.  It used to be in Alex's room.
And there I displayed my old chippy window bulletin board.
 Now to share some of the pics that add the girly factor for my Mom.
When I shared the toy box makeover I mention how the hydrangeas and dried roses in the burlap basket will only be out when my Mom is occupying the room.
My Mom put in a special request for the bird blanket that was downstairs in the guest room.  She loves birds.
And she loved her paisley print monogrammed pillow. I sent her some pics already.
I think that about covers this small but cozy unisex bedroom.
 Since writing this post , I changed one little something that will be a unisex swap as well. I found this recycled pallet sign on line and loved it.  It was only $29.99 and I thought there is no way I could even make it for that price.
As you can see I keep switching in up here and there.  Alex, is actually home this weekend, so he has first dibs on the room before my Mom gets here in the Winter time.
Thanks for stopping over today.  If you are not a regular here, I sure would love to see you back again.
P.S. Here is the kicker my friends. Our son is home as I mentioned.  He slept in his new room for the first time and when he woke up in the morning, I asked him how he liked the new color, decor, etc?  His response, "Mom I didn't even notice decor and the color, I am all about comfort, can I take my bed back to College with me"?  Sigh, and there you have it, a typical male made!
If you liked some of the items in this post I found some of the same or similar at Amazon.  Have the ease of shopping from home, with free shipping.
Affiliate links:
Rustic pallet sign
 Chalkworthy paint
(sheets, bedding and more)
Burlap basket
Burlap pillows
Floor reading lamp
Club chair
Thank you so much for visiting with me today.
If you are new here, welcome! I am also very excited to share my new stencil line with you.
Thank you for your visit today!
I share all things, thrifty home decor, crafts and a recipe or two on occasion.
I have also created my own custom apron. "I work by the flour" logo on linen deep front pocket. My husband was the witty one with that slogan:)
Sold on Amazon Debbiedoo's custom apron
.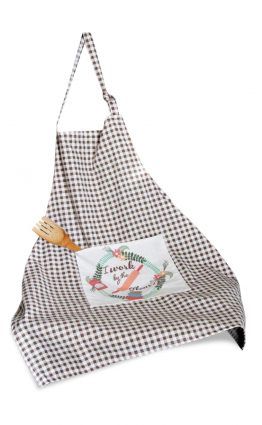 If you would like to commit to becoming a subscriber, I would love for you to join me.