Hey there folks!
I recently shared my Halloween Harlequin Pillow with you.
I love that pattern. Always have.  It's classy, can be whimsical and always makes a statement!
I decided I would make a Harlequin burlap Halloween canvas. I have a feeling I will be getting a lot of use out of this stencil!
Our cozy Fall porch went quickly from Fall to Halloween with just a few small changes in decor.  I will show you that next week sometime.
I had another canvas from the pack I bought at Michaels back few weeks ago.  I made the Burlap kitchen art work for our shelf.
I will be sharing the porch very soon with you. I just have a few finishing Halloween touches and it will be ready to share.
Start with simple craft supplies.
Paint
embellisments
and some ribbon.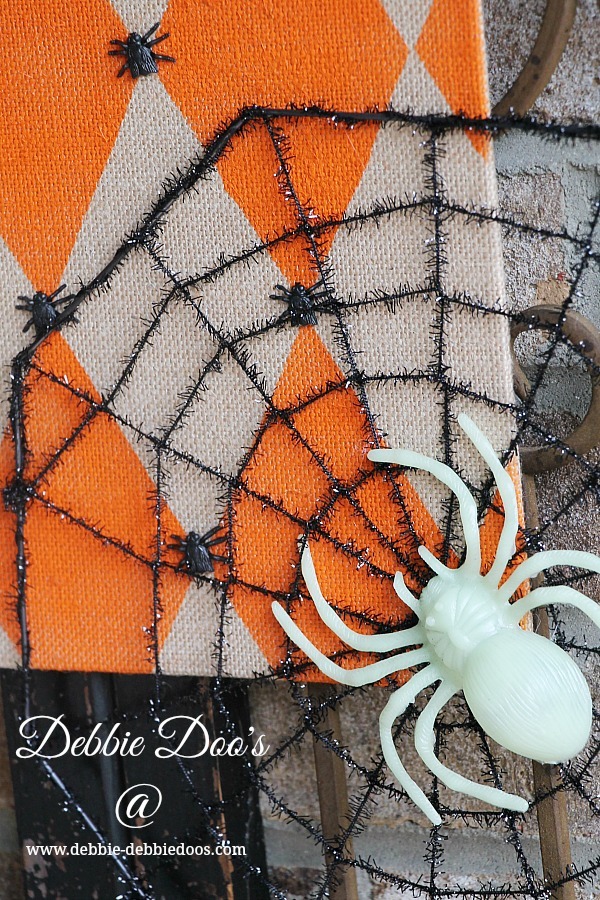 Dollar tree of course!
Creepy little critters and the spider web.
I stenciled on my canvas using the foam roller, as I demonstrated on my Paint-A-Pillow.
Hot glued by spiders, and hot glued the web on the bottom.
I added the bling ribbon for simple hanging on our wall iron gate on the porch entry.
Thanks for stopping over today.  Always a pleasure to have you.
If you are not a  regular here, I sure would love to see you back again.
XO
Check out my all things Fall gallery HERE