I guess that was a mouthful of a title! Fun, festive, easy and cheap fall wreath. I wanted to be sure you got the gist of it. It certainly is all of the above.
Yesterday I found a square wire wreath form at Walmart. I picked it up for $2.97. They also had a heart and a circle. The square was new to me though and I wanted to make a cute universal wreath that would last me until Halloween. I love Halloween decorating, but truthfully not sure how much I will do this year. I only have one son at home now and he could care less about Halloween. He still wants the candy though of course. It was fun while the boys were little, but the season of life is changing. I must change with it I suppose.
Not all wreaths have to be round. I wanted something different for a change.
I bought one yard of pumpkin fabric. I had the orange and white mesh on hand. I am not a big fan of mesh to tell you the honest truth. It's way too done over and over. And what they charge for those mesh wreaths is insane. Although, I do realize the time they take to make. But still. A wreath doesn't have to cost you a kidney to be beautiful.
Make your own!
I cut my fabric and mesh in about 6 inch pieces each.
Assuming you know how to tie…that's all you do to create this wreath. Tie, and tie, and tie, being sure you fill in your spaces. I alternated on the wire from bottom to middle, bottom to middle.
Adding the mesh in between simply for more texture and color.
Burlap would have been cute as well. Or simply another fabric print.
Full and fluffy.  But you know me, I need another little something-something.
I bought one piece of hounds-tooth fabric sold int he fabric section of Walmart. It was like 98 cents.
I used my gather here stencil. Using orange craft paint and then going over it with a dab of black after the orange dried.
I took a piece of foam poster board I bought at the dollar tree. I had used the back of this board to test out my stencils but I hung onto the piece just in case.
I wrapped the foam board in the fabric like a present.
Flipped my wreath around and hot glued the board to the back of my wreath.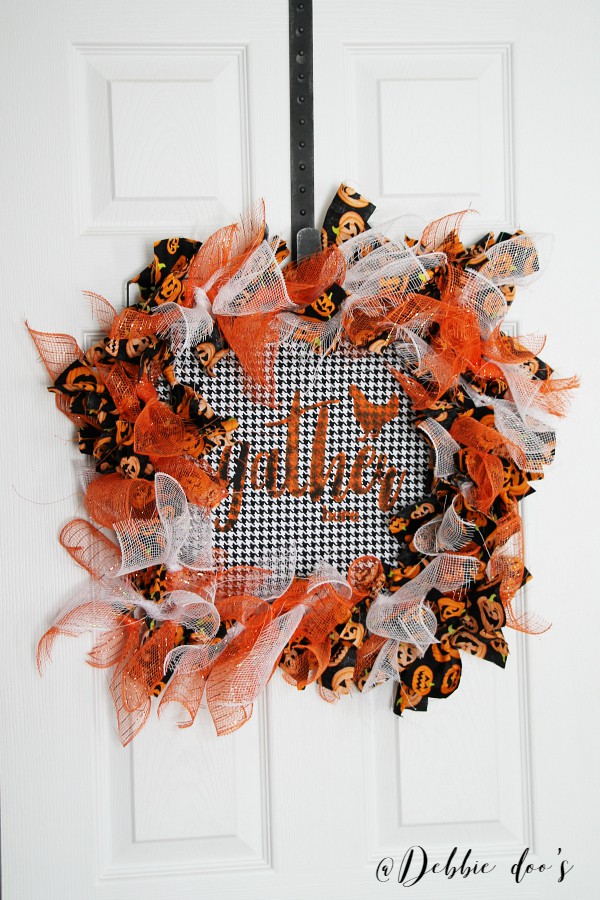 I may have fluffified it a tad too much, but I still love it! It may be my favorite wreath ever:)
For about $10.00, yes it sure is.  Enjoy. Glad you stopped over today. I actually jumped on Facebook live and started crafting this wreath. I chatted with some ladies that came in and they had some awesome ideas as well. You could add a chalkboard in the back of the wreath and write your own saying. Make it your own and reflective of you.
Thank you so much for visiting with me today.
Pin it, make it:) Have fun.
If you are new here, I am also very excited to share my new stencil line with you.
SOLD on Amazon.
Farmhouse/rustic stencil line by Debbiedoo's HERE
Thank you for your visit today!
If you like fall decor, I have years worth of ideas.
I share all things, thrifty home decor, crafts and a recipe or two on occasion.
If you would like to commit to becoming a subscriber, I would love for you to join me.