Hi there friends! Today, I am sharing our family room fall decor. Friends and family gather here for fall was the only title I could think of considering fall mantel has been done over and over. Not to mention, I have yet another gather here sign I made for the mantel. I think everyone is getting the gist of gathering around here.
I shared my Chalkboard gather here sign a few weeks ago.
There it is in my personal packaging!
Just come on in. I don't feel like all the chatter today. I am sure the pictures will be pretty self-explanatory.
Those are cards I cut and hot glued to twine. I liked the texture and simple colors. Along with my sparkly sunflower swag, I didn't need too much more decor.
Here is something I added to my rustic sign as an after thought. I felt the sign needed a pumpkin!
After my try at being an artist on my Mason jar rustic sign, I knew good and well, I needed to find me a pumpkin stencil.
Which btw, that sign will be getting a partial makeover with my pumpkin stencil. I could not stand to look at my botched up pumpkins another day. Whew, thank goodness for stencils.
Painted dollar tree vases here
Switched out the foliage from the wildflower burlap wreaths I made in spring.
Love me some owl decor!
I thought my Dollar tree clipboard craft looked cute just sitting on the vintage typewriter.
I fell for fall in a big way in the family room! I absolutely love this time of year.
Hope you enjoyed the tour and got some ideas of your own.
I made a rustic gather here sign for my friend. Ironically, she chose to add it to her mantel as well.
I chose to do her sign with the layered look, like I did my rustic kitchen sign with the that's how I roll stencil HERE.
And if you are into fall…check out my All things fall gallery of past ideas. I have years worth!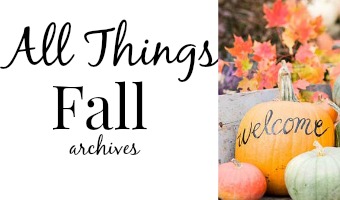 Don't forget to pin to your fall inspiration boards:)
Thank you for your visit today!
I share all things, thrifty home decor, crafts and a recipe or two on occasion.
If you would like to commit to becoming a subscriber, I would love for you to join me.