Hi I am Anne from White Lace Cottage I am honored and thrilled that Debbie asked me to share my home.
Welcome Anne, and thank you for sharing your Farmhouse shabby romantic style home tour with us….
Last year I started my blog and that is when I found my true style.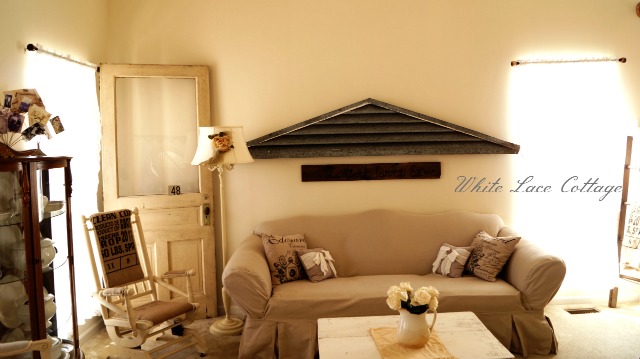 I have always been drawn to vintage items.But when we first moved in I thought I needed to change my style.
So I did and it was not me at all.
I really did not realize it until I saw photos of my home.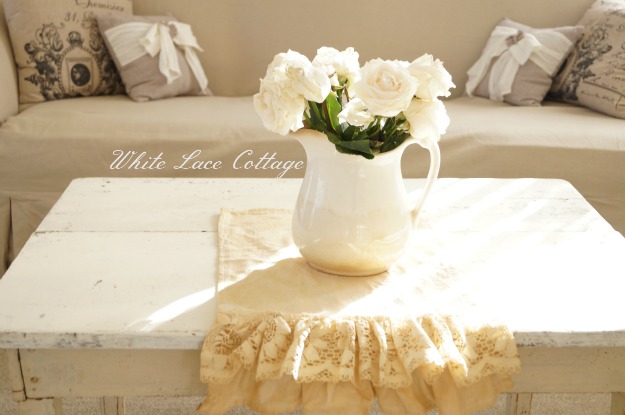 I have a thing for painted farm tables.Big or small.This one was taller and I cut the legs down to make it a coffee table.
That piece on the wall is a vent dormer.I love that bit of industrial look!And I love bits of lace too!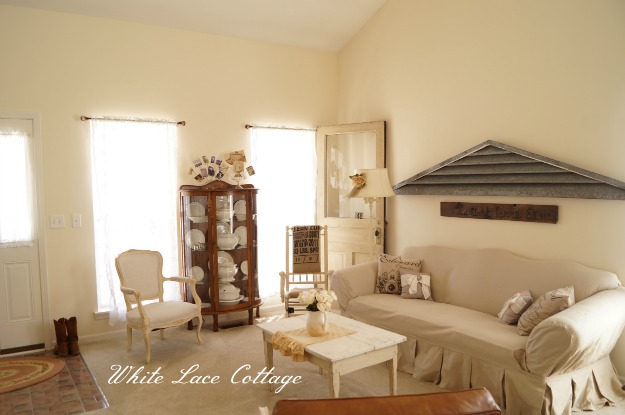 I also love finding old doors,windows or interesting architectural pieces.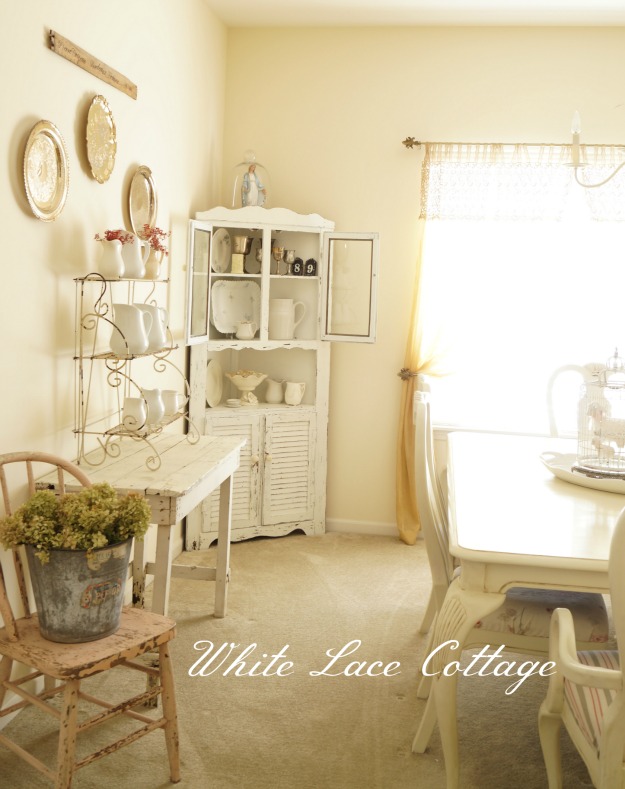 Last year I updated my dining room set too.It was from the 90's and needed to be freshened up.
I painted the tables,chairs and hutch with chalk paint and updated the chair cushions from fabric found at a thrift store.
You can see another farm table and I also love finding those sweet vintage chairs with chippy paint.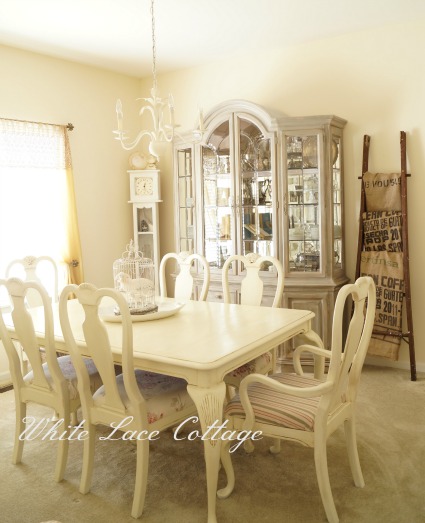 That chandelier was given an update with chalk paint too.I decided to paint it while it was still up!
Our kitchen cabinets are painted with Annie Sloan chalk paint.I love how it brightened up this room
I added a ladder between the two cabinets .The doors were taken off of those two cabinets.I love being able to reach in and get what we need and I love the cottage farmhouse look it gives too!
We spend lots of time in our kitchen and family room.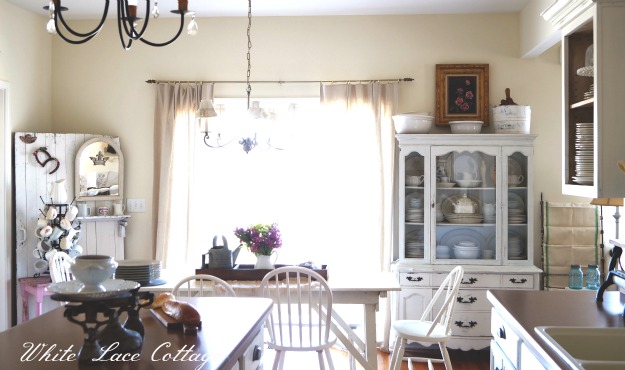 I am lucky to have a big kitchen it allows be to have a small china cabinet to display my white ironstone collection.
Another farm table that one is my favorite!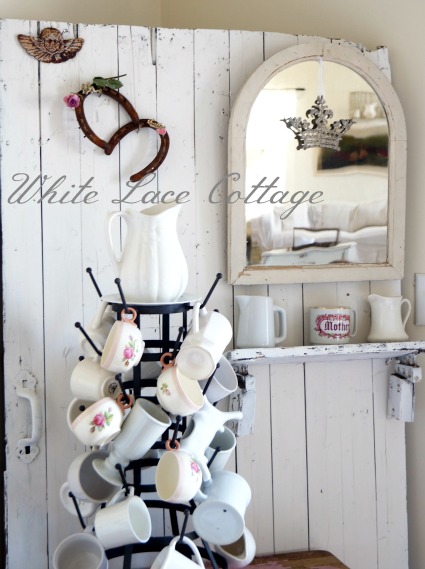 This old barn door helps balance out the room and gives it a bit of interest too!
My French bottle rack is great to use for my white ironstone cup collection.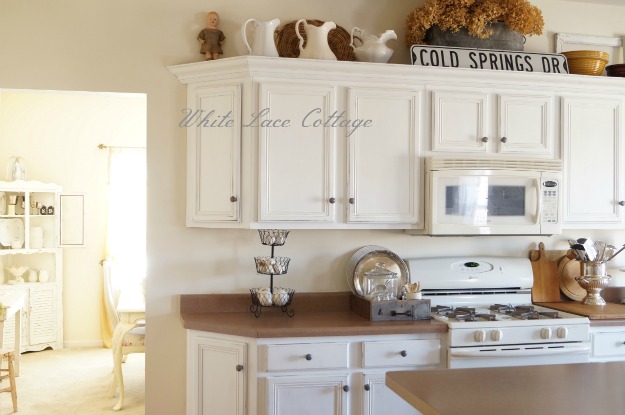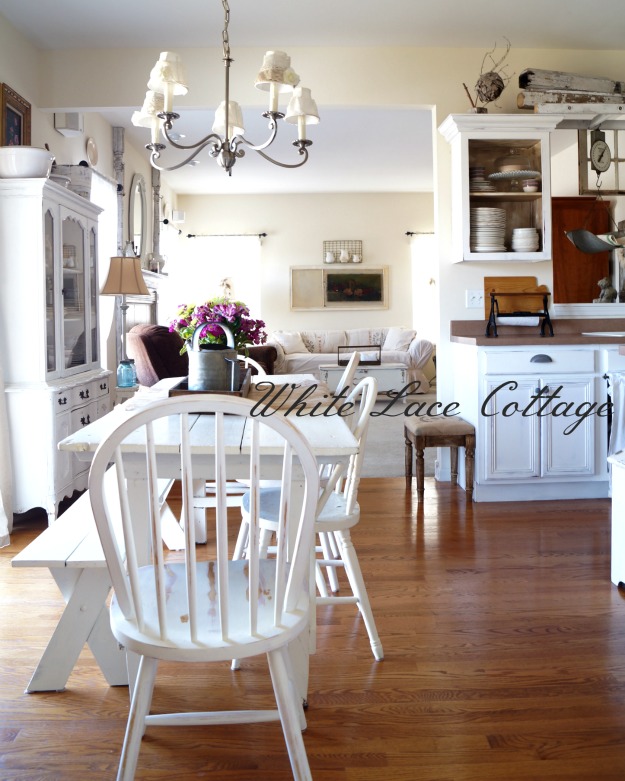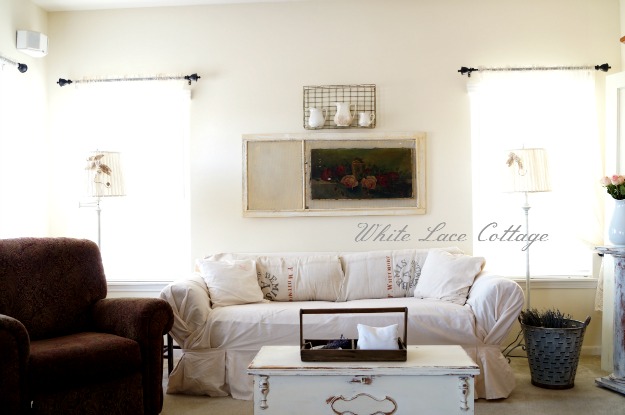 I love the light that filters in the room with lace curtains.
A vintage screen from an old window is hung above my sofa.
I just hung it sideways and added an antique oil painting.
A vintage metal basket holds some of my white ironstone collection.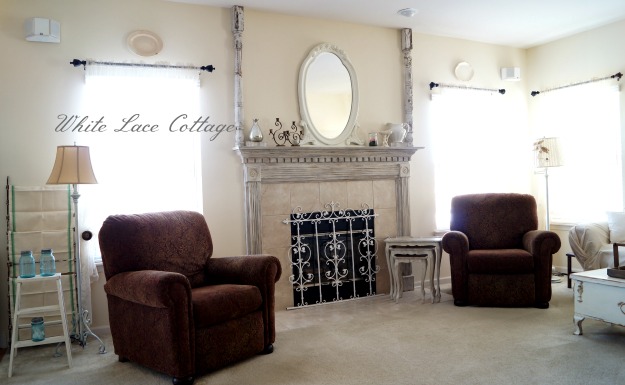 Our mantle was given a paint treatment of chalk paint and milk paint.Used together it created a vintage chippy look.
Those posts were cut to fit on both sides of the mantle.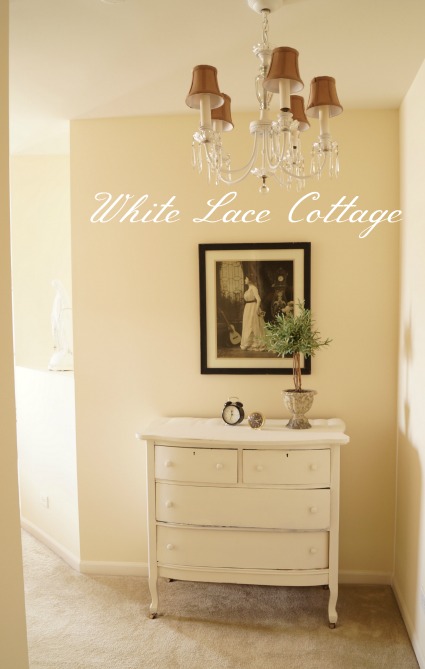 I shop mostly at thrift stores,garage sales and antique shops.
That chandelier was found at a thrift shop for $10.00.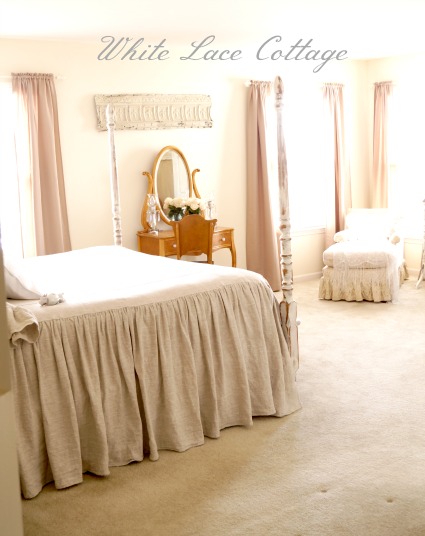 I have a pretty neutral palette but I do like adding a few wood pieces.It adds a bit of warmth.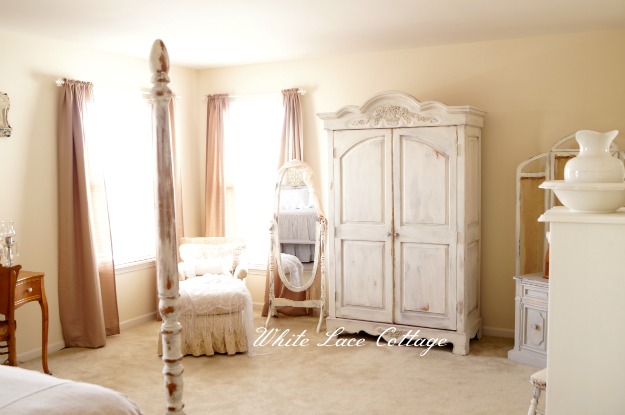 My armoire and bed were painted with Miss Mustard Seeds milk paint.I love how it updated it but also gives it a vintage look.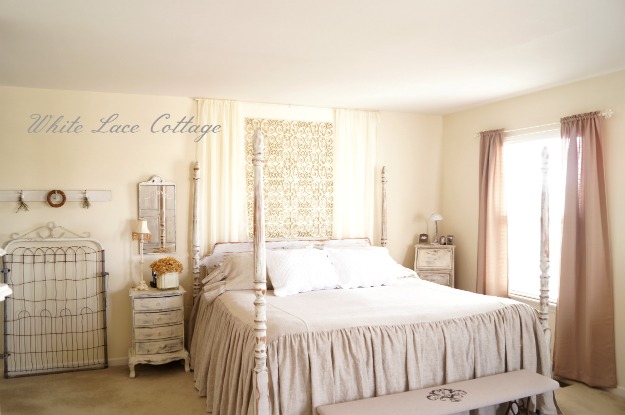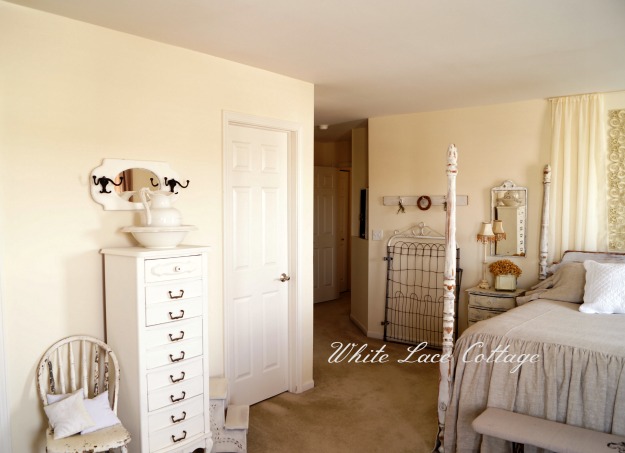 My daughters room was recently updated she wanted a Shabby Paris look.
Using mostly whites with a bit of pink.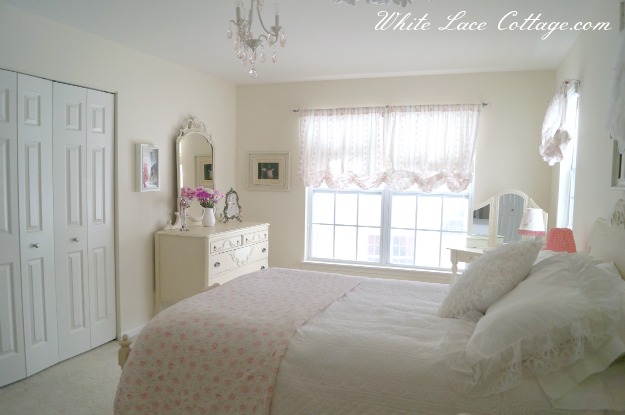 I found her bed and dresser at a thrift store.
They were both in poor condition and were perfect for a paint transformation.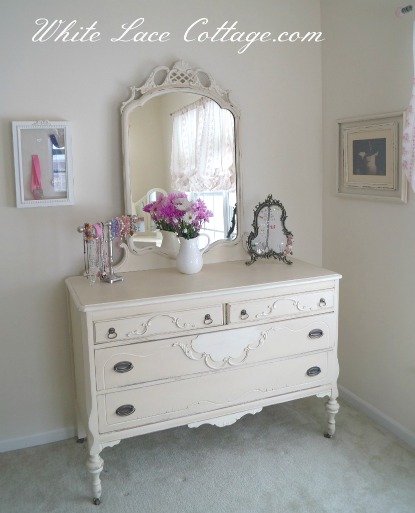 Using a towel bar for her jewelry and frame turned into a earring holder.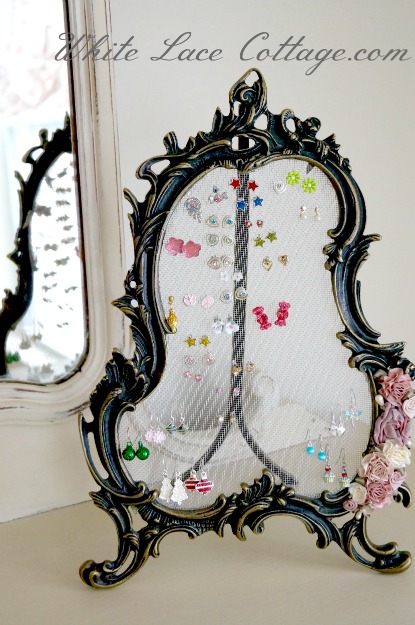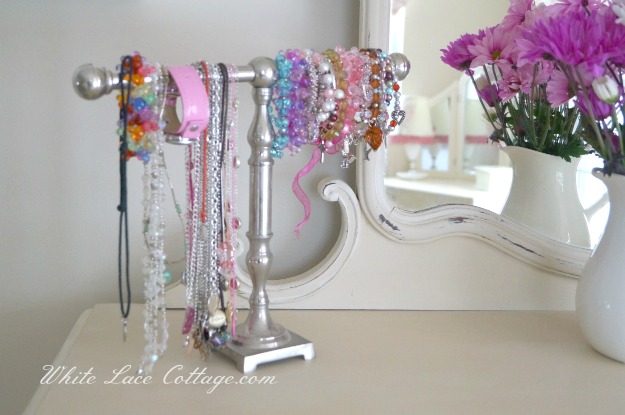 Her vanity table was freshened up with paint and then I added some vintage looking Paris fabric.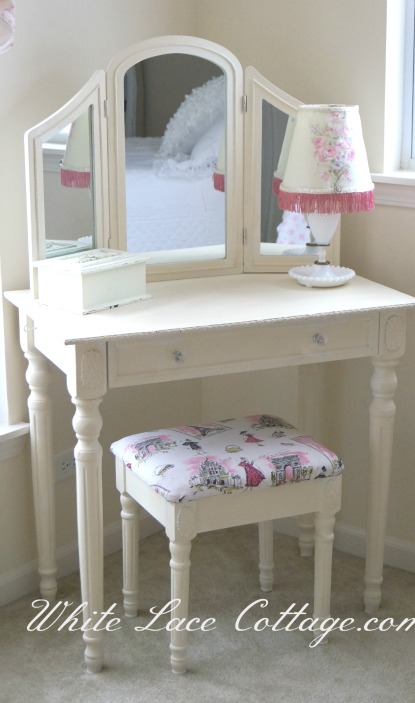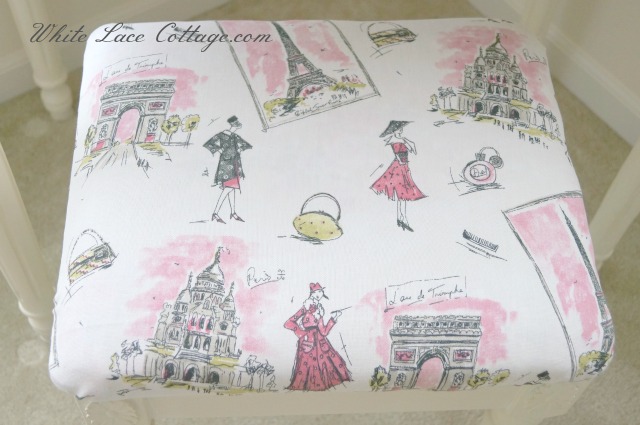 We also added a chandelier for extra light.This was found on clearance.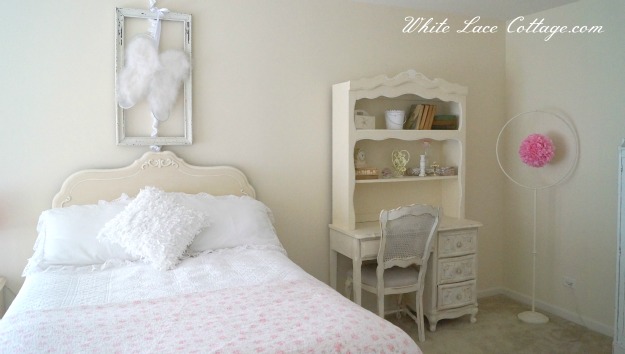 Hope you enjoyed your tour! Thank you so much for letting me share our home with you!
Thank you Anne for having us over today.
Your home is just awesome, so tastefully and thoughtfully done!
Don't know Anne from White Lace cottage?
Head on over and say Hi! You will be glad you did.
Check out some more fabulous home tours I share here!