Getting kinda spooky around Enter if you dare…Halloween house decor.
Ok, it's not really that scary. Just sort of whimsical scary and fun!
Not long ago, I shared how to create a warm welcoming Harvest entry.
Well, today, I am sharing the same entry, only a bit spookified.
In no time at all there was a quick turn around for a Spooky entry way.
Of course, Dollar tree is my go to place for seasonal decor.
Halloween is my fave as I will be sharing more in the upcoming weeks.
The printable sets the spooky, whimsical tone. The hand, the eyeballs in the jar, and crow
surround the entry.
My boys did get a kick out of the hand typing.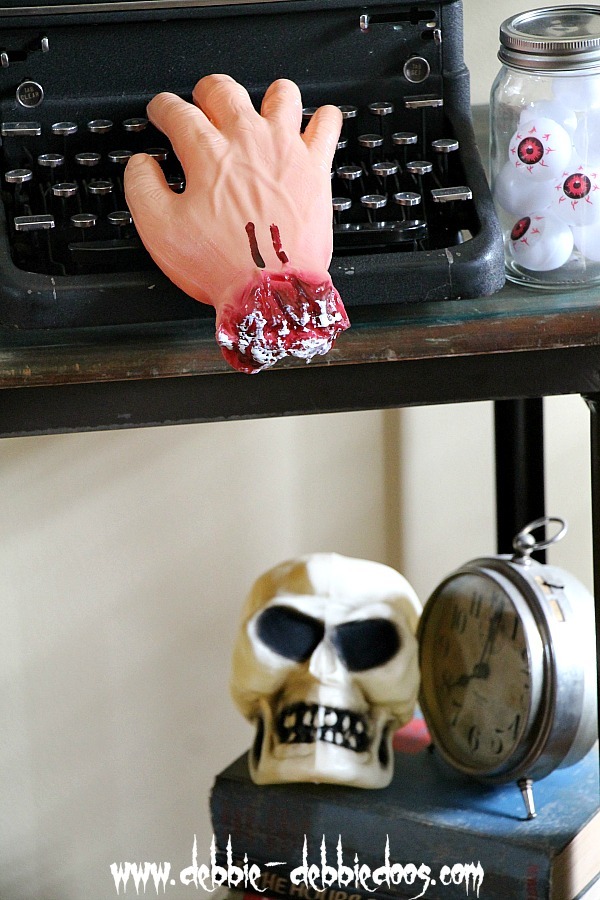 I can so relate to this hand sometimes after a day on the computer:)
I like to play with my photos to go along with the theme.
Spooky and dark.
Loving the rug, as I mentioned It will be an all year round entry rug. It just goes with everything, for all four season.
You can find the rug at lamps.com
Thanks for creeping on me today!
There surely is more spooky fun to come.
I can't wait to share our Halloween tree soon.
If you are not a regular here, I sure would love to see you back again.
XO