Valentine Craft of the season #3 coming up!
Today, I am sharing an easy diy Dollar tree Valentine tray.
First, I would like to express my thanks for all your thoughts and prayers that have been going out for my Mom.  She is still in a critical state and the Doctor had to put the ventilator back on temporarily due to her distress and anxiety.  Mom was not resting, and her breathing was becoming extremely labored.  Her blood gases also rose to a critical number.  We are trusting in God for her healing and recovery. I woke up early this morning to gather my thoughts and get into my site to post something new.  My blog is a gem to my Mom and I know she does not want me to neglect it.  Truth is, my head is not in it right now, but I am going to keep plugging along what I can here.
I shared with you my easy diy Valentine salt and pepper shakers.
And my easy Ribbon Valentine cupcake liner wreath.
You really have to enjoy crafting to do these easy budget friendly ideas.  I truly do love crafting now.  I can't say I always have because quite frankly, I stunk at it.
After 5 years of blogging I suppose you get a little better as you go along.  Plus, I love even more so of coming up with the ideas.  I am not saying all of my ideas are one of a kind. I will say though, some are, and some are even a bit quirky.   I tend to google my ideas after I come up with them to see if anyone else has.  A lot of times much to my surprise I have not seen them done before.  And then of course, there are the times you do do see a bazillion of the same thing that you thought was so unique and clever. Apparently, so do others.  Oh well, that should never kill your joy! Move on, make it your own.
Start with a silver platter from the dollar tree and some chalky paint.  Actually any craft paint will do.  I just happen to have a lot of this paint so it is the first thing I grab when ready for crafting.  It goes a long way.
You will need a stencil, or if you happen to have nice penmanship that will look just as nice with a sharpie.
The stencil came from Hobby lobby.
I do NOT have nice penmanship so stencils are always my friend.
This stencil adhesive is the bomb! I love it, and it works so well.  Simply spray the back of your stencil lightly and adhere the stencil to the surface.
Using another color of choice I stenciled Love on my platter.  As you can see I used a sponge brush.  You only need a dab and always be sure NOT to saturate your brush or sponge.  This will cause bleeding through the stencil and it will look like a botched up mess.  I always dab out my brush or sponge on a paper towel before I start stenciling.  In this case I just dabbed the top of the stencil and made sure I filled all the spaces.
After that was completely dried, I lightly sanded it, and added some Sparkle mod podge and some diamond dust on top.
Oh and of course some heart stickers.
LOVE!
Thanks for stopping over today.
if you are not a regular here, I sure would love to see you back again.
You can check out my
and more Dollar tree Valentines LOVE!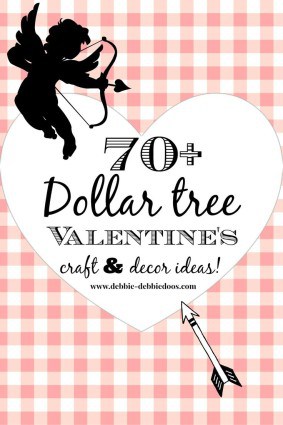 Thank you so much for visiting with me today.
If you are new here, welcome! I am also very excited to share my new stencil line with you.

[envira-gallery id="32693″]
Thank you for your visit today!
To view my stencil gallery projects you may check out my Debcreates.com page.
I share all things, thrifty home decor, crafts and a recipe or two on occasion.
Sign up today and receive a few freebies. 12 months of seasonal printable art.
I have also created my own custom apron. "I work by the flour" logo on linen deep front pocket. My husband was the witty one with that slogan:)
Sold on Amazon Debbiedoo's custom apron
.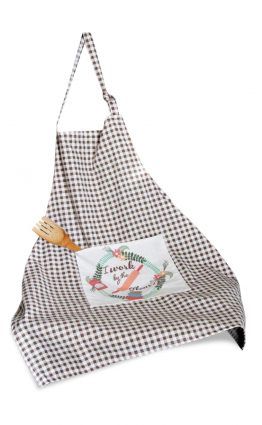 If you would like to commit to becoming a subscriber, I would love for you to join me.