So let the crafting begin!
Hope you rang in the New Year with a bang and whole lot of attitude moving forward.
Of course a good attitude that is.
Today, I am sharing a dollar tree Valentine tray.
I made the Valentine printable and thought
hmmmm…I really loved my Subway art dollar tree plate and I could do something similar with this silver little dollar tree tray.
My ink is running low so it did not print out as dark as I would have liked.
Still cute though.
I simply cut around the circle
Mod podged the platter
and smoothed it out with my finger.
 Added a little diamond dust, or glitter would do as well.
Added a red little bow and called it day!
Getting ready for Valentines day.
 You may notice my little chalkboard labels. I picked those up at Walmart. You get a variety pack for $4.97.  They are so cute and you will be seeing them scattered about this year. I like that they are removable.
You can check out my Valentine archives of ideas. I am sure there will be plenty more this year.
 You can follow me around if you like!
Thank you so much for visiting with me today.
If you are new here, welcome! I am also very excited to share my new stencil line with you.

[envira-gallery id="32693″]
Thank you for your visit today!
To view my stencil gallery projects you may check out my Debcreates.com page.
I share all things, thrifty home decor, crafts and a recipe or two on occasion.
Sign up today and receive a few freebies. 12 months of seasonal printable art.
I have also created my own custom apron. "I work by the flour" logo on linen deep front pocket. My husband was the witty one with that slogan:)
Sold on Amazon Debbiedoo's custom apron
.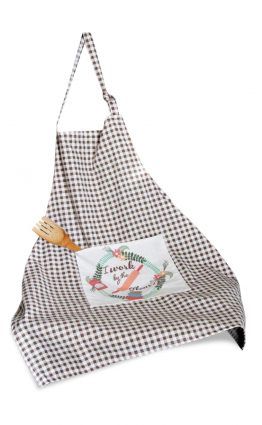 If you would like to commit to becoming a subscriber, I would love for you to join me.