Happy Fall!
I told you, I love Autumn, and I told you, I share and do a lot.
Today, I am sharing some Dollar tree pumpkin makeovers.
Dollar tree is full of seasonal decor so it makes it quite simple and budget friendly just to pop in there and grab a few things.
This year Dollar tree had small orange pumpkins.
Right now Dollar tree has a ton of Halloween decor out as well.
 No need for these little cuties to stay orange.  Although, cute as is, I love to craft so why not change them up a bit.
All you need is craft paint, I used Chalky paint because I have a ton of it it.
twine
and some sticks from your yard.
You will be seeing a lot of sunflowers around here for the next few weeks.
In fact, did you see my Sunflower fall mantel and  Fall side table vignettes?
Yes, full of sunflowers.
 I forgot to take some snaps as I went along.
However, it is pretty self explanatory.
Paint your little pumpkins.  Let them dry
Stencil or leave plain.
I chose to stencil and spell out F A L L.
I lightly sanded the pumpkins for a more distressed weathered look.
I pulled out the original plastic stem and added a stick, and tied a bow of twine around the stem.
 Cute and cheap.
I also found some faux flowers and changed out my summer wreath in the kitchen
to an Autumn wreath.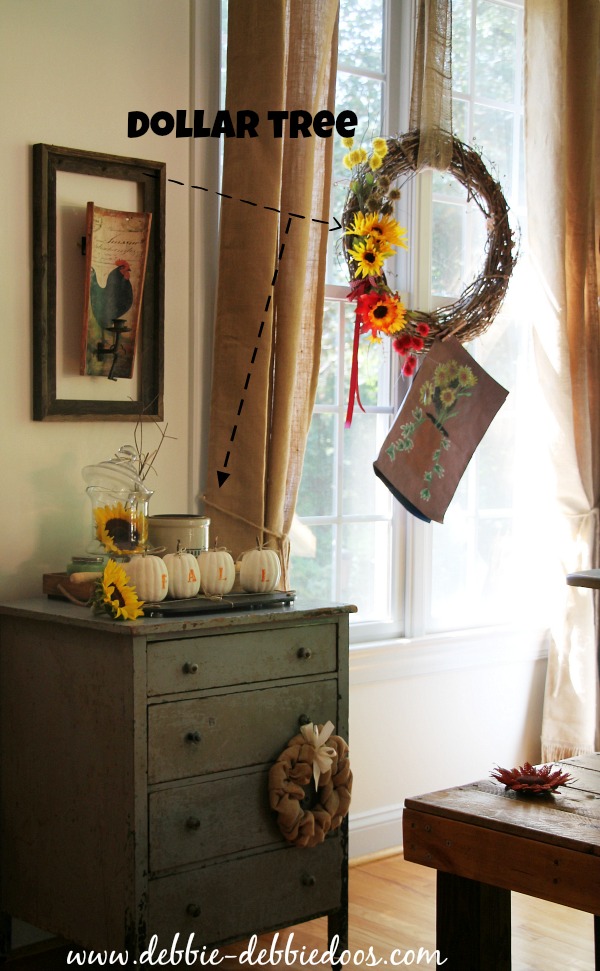 For less than 10.00 I completely changed up this area with Dollar tree decor.
Thanks for stopping over today!
XO
If you are not a regular, I sure would love to see you back again.
If you have a minute or two you may also enjoy
Tons of unique ideas.
But please, don't stop there.  I have plenty more for you to gawk at.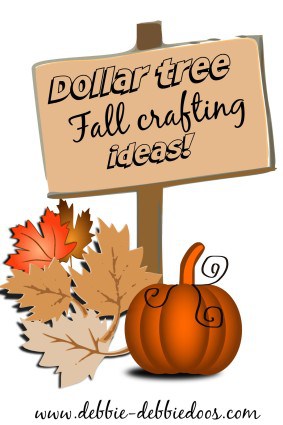 Thank you for your visit today!
I share all things, thrifty home decor, crafts and a recipe or two on occasion.
And I now have my own One-of-a-kind stencil line
If you would like to commit to becoming a subscriber, I would love for you to join me.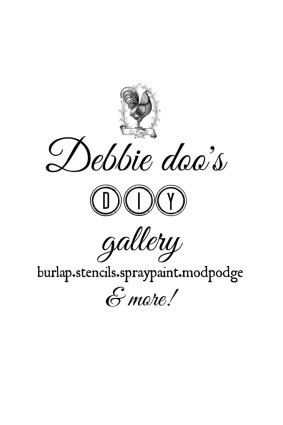 And if you love easy, tasty recipes…I have plenty of those.
I am also a huge Dollar tree fan and do lots of fun crafts per season.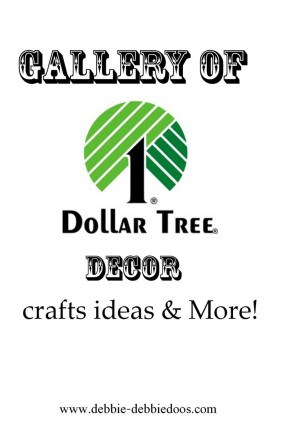 And if you are in the mood to house gawk.  Check out my