Hello there everyone:)
How are you doing?
Today, I am sharing some diy dollar tree glitter vases.
I took a trip to the dollar tree the other day for some plain glass vases.
I recently freshened up our bedroom and made it Springy and garden like.
All I really did was buy a new comforter. It was time for a change.
You may remember a little over a year ago I freshened up our master bedroom
and it was about that time again.
I believe I have mentioned this a time or two to y'all and that is ALWAYS have mod podge on hand.
There are so many crafts and fun things you can make with it, and when the creativity strikes it is nice to pull it out and start crafting away.
These little glitters are great by Amy from Mod podge rocks.
Very easy to use.
In fact, she sent them to me along with my peel and stick stencil that I recently used for my drop cloth napkins.
After I painted one coat of mod podge on two of the vases,
I got out the glitter and started sprinkling away.
While the mod podge was still wet, I lightly sprinkled all around.
The other day I shared a comforter I liked that I found at Bed Bath and Beyond.
I did wind up buying it and these little vases are the perfect accessory touch.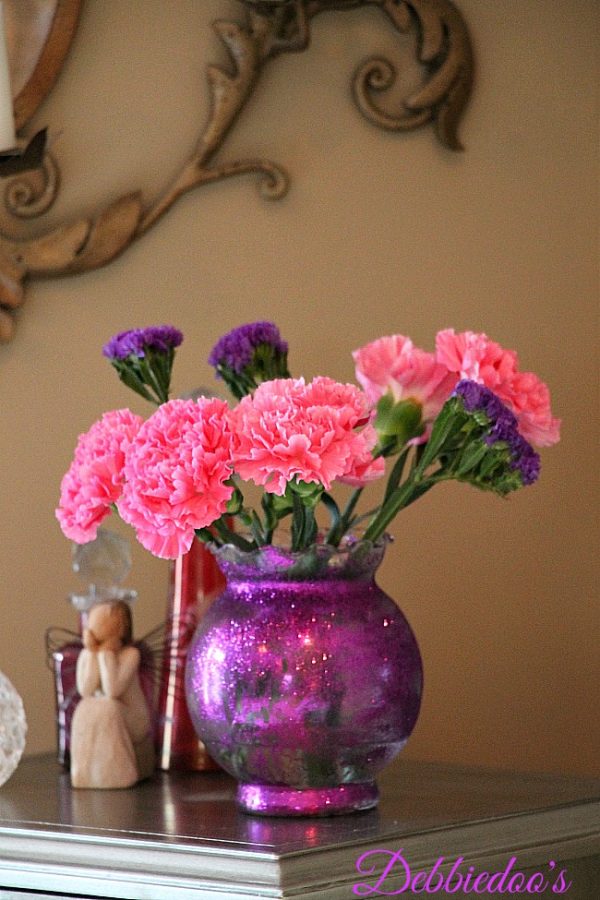 I will be sharing the rest soon.
I have another vase I did and I will show you when I share the Garden Spring bedroom.
Thanks for stopping over today.
Always happy to see you.
You may also enjoy my