Nothing remains the same. That is when I purchase any dollar tree seasonal decor.  Typically that is. I just can't keep it in its natural state. Even though most of the time it's pretty cute to begin with. Today, I am sharing some dollar tree fall craft makeovers I have done recently.
It all started with these two Halloween signs for a buck a piece.
Then some chalky paint.
gather stencil here
Then my stencils.
Each sign received two coats of chalky paint.
After that dried completely in about an hour or so is when I came in with my stencils.
I used smaller fall stencils for the layering look. I have a pumpkin on one sign, and the pine cone branches on the other.
I tied some twine to fill in the holes that were originally on the sign.
Pretty fun for a few bucks wouldn't you say?!~ I would also like to mention, you can add a clear wax or a poly coat to protect them. I did not because I do not mind if they get a little weathered looking. If you keep them under an area that is covered you won't have to be concerned with that extra step either way.
And check out this Dollar pumpkin makeover
My friend picked up a purple pumpkin from Walmart and gave it a makeover with hammered copper spray paint and of course my gather here stencil. That indeed is the cutest pumpkin ever!
She did not use spray adhesive to keep the stencil in place. She was concerned the spray paint would come off. So instead she traced it out with a sharpie and hand painted it. I told her the 3m tape probably would have worked and not removed the spray paint. She said she wished she would have asked me first HA. But regardless, it worked.
Affiliate links for supplies:
Mini pumpkin stencil
Stencil spray adhesive
Twine
Stencil brushes
Chalky paint by Americana decor
Now I want to do this next. OYE!!~ There sure is a lot of gatherings going on around here:)
Check out more Dollar tree fall craft ideas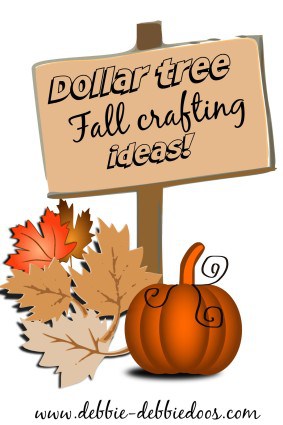 Thank you so much for visiting with me today.
If you are new here, I am also very excited to share my new stencil line with you.
Farmhouse/rustic stencil line by Debbiedoo's HERE
I share all things, thrifty home decor, crafts and a recipe or two on occasion.
If you would like to commit to becoming a subscriber, I would love for you to join me.