Hello there!~
Hope you all are enjoying the weekend!
Today I am sharing my $4.00 diy vintage art, created with some Goodwill finds.
I like to gander in Goodwill at least once a week or so.
You never know what junk you may find there.  The other day, I kinda left uninspired, as all their junk was picked over.
I did however, come home with a nice chunky wood frame and some pretty butter knives.
Now what I was going to do with them….as per usual NO CLUE!
The frame was $1.99 and the butter knives were 25 cents each.  I liked that they had texture and a pretty design.
First thing I did was spray paint the utensils. After they dried, I applied dark wax, let it dry, then dry brushed some of the Anitbes green Annie Sloan chalk paint.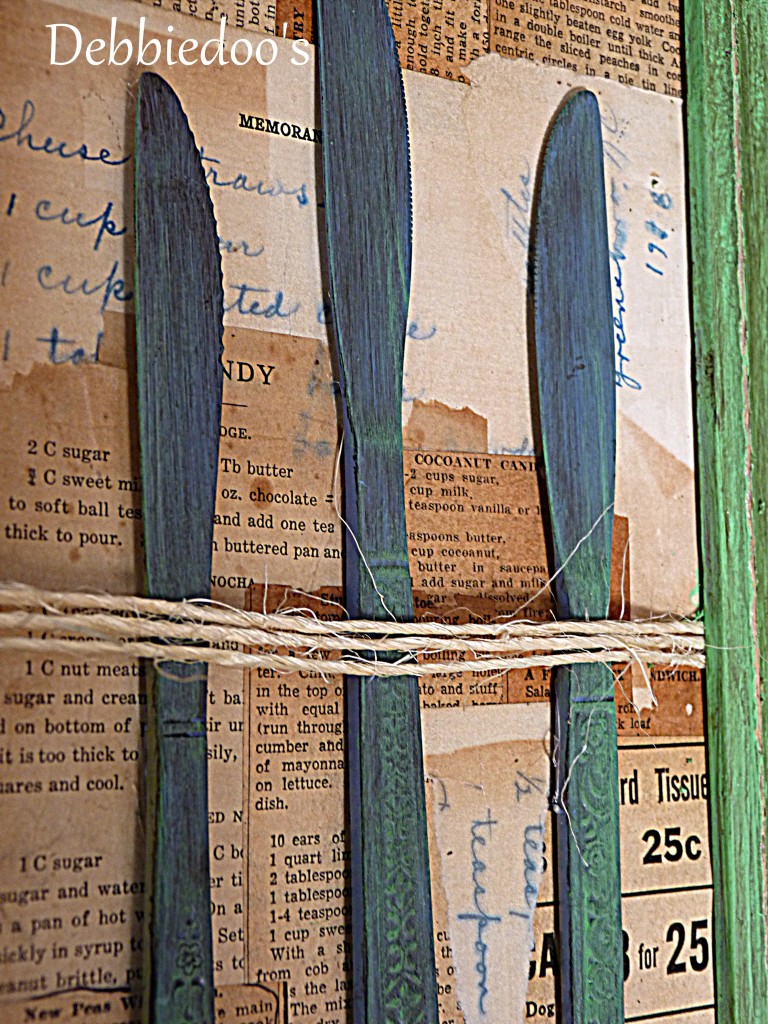 Painted the frame with Antibes green as well.
It was a step by step process, but when all was said and done, it turned out pretty cute.
At least that is what Mike said, and you know, he knows!
Here you can see the pretty design on the knives.  I did not sand the frame, I used a butter knife and scraped it instead.
I have a vintage cookbook with lots of loose pages…
so I used them for the backdrop, and out came my mod podge.
Let that dry completely. Nice thing about mod podge is there really are no mistakes..you just go with it, and keep layering.
I applied the mod podge on half the canvas and then just started applying the recipes and painting over them with the mod podge, layer after layer. You can smooth out the wrinkles if you want with your finger.
I then randomly hot glued the butter knives to my backdrop, and wrapped some twine around them.
And there you have $4.00 diy vintage art work!
I found a new home for my Rooster copper mold too!
If you are new here, WELCOME.  I have plenty more to see.