Hey there!
Hope all is well!~ I am just a crafting fool these days.
Loving it too if I might add.
I had some burlap scraps left in red from a few years ago.
I do not throw out even my scraps, you never know.
Today, I am sharing a diy burlap Valentine banner with a splash of whimsy.
I double and triple layered the burlaps. I just free handed cutting out the hearts.
I am NOT that everything needs to be perfect crafter.
In fact, I like it a little wonky and different.
I used some of my vintage cook book pages and mod podged the burlap hearts on to it.
These little tooth picks came with my cupcake liners from the dollar tree.
I did not have bakers twine, however I had white and red knitting thread so I just twined that together to get me by.
Throwing around these pretty paper Valentine shreds is just an easy Valentine touch.
I found a bag at Walmart.
As you can see it adds just a touch of whimsy I was looking for.
And as you can see my stenciled rooster tea towel likes it too.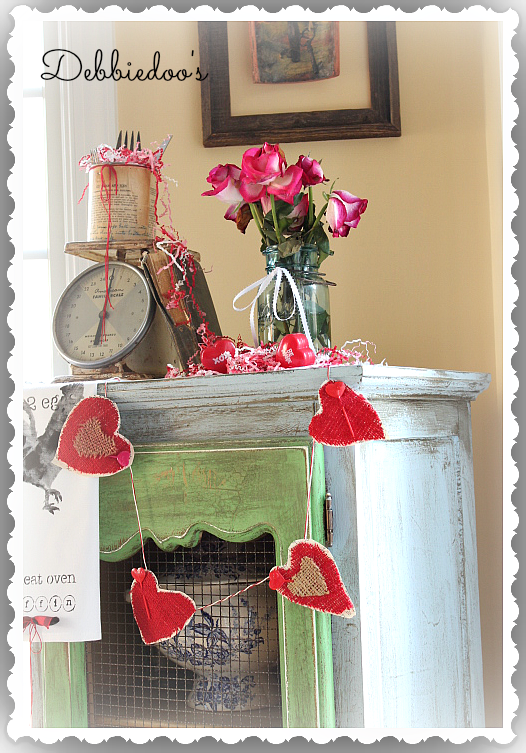 If you like burlap and want to see more of my diy burlap projects,
you may check out my Burlap project page
or if your not a big fan of burlap but love Stenciling
well, I have a Stenciling gallery as well. Oh wait you say you LOVE mod podge the best…
well I have a Mod podge gallery as well.
Have a great day!
My husband is off this weekend, so YAY, I will see you later on tomorrow night when the Copy cat party starts.