DIY Sunflower Wreath video included
Hi there friends. Today I have a special guest that made a special video just for us on how to DIY a Sunflower wreath. There are a few simple tricks and hacks to this wreath that I know you will enjoy and any one of us can do.
Featuring Laurie Franklin, founder & CEO of Unique in the Creek. Laurie will be showing us how to create your very own DIY Sunflower Wreath that's perfect for the spring and summer months ahead – it will instantly add a touch of cheer and brightness to your space!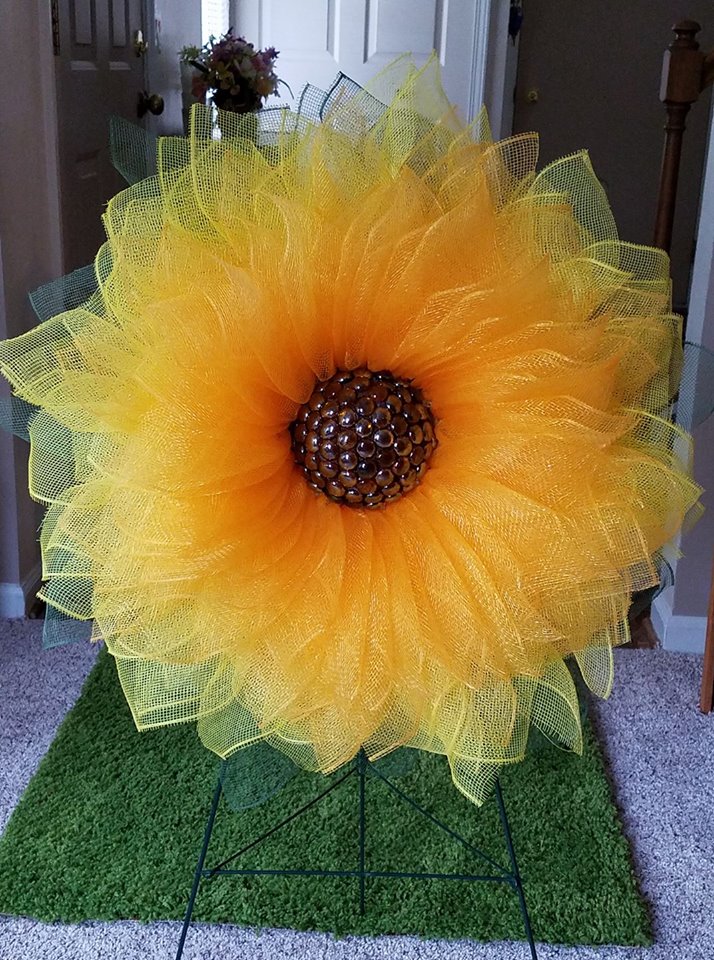 This Sunflower Wreath is made using a Large Wreath Board from Unique in the Creek, which can be found in Michael's craft stores nationwide and Amazon which I will link below some supplies needed. The Large Wreath can also be reused for countless other wreath projects! Along with the wreath board, this project will require a few other inexpensive materials you may already have in your stash, including:
1 Roll of 10 inch Yellow Fabric Mesh
1 Roll Green Decomesh
1 Pack of 100 Zip Ties
1 Wire cutter
1 Styrofoam Flower Center
2 Pipe Cleaners
1 Measuring Tool
2 Clothespins
Hot Glue Sticks
Scissors
To make this wreath, simply load up the board with zip ties and secure the scrunched yellow mesh fabric, clipping away the excess zip tie. Continue doing this around the entire board. When you've reached the middle of the board, top it off with the styrofoam flower center that's fastened with pipe cleaners!
There are tons of other flower designs you can make with the wreath board. Freestyle your own design, or follow along to the other video tutorials on Unique in the Creek's Youtube channel. The boards have a super simple design, allowing anyone with any skill level to make a gorgeous wreath every time using fewer materials and less time than traditional methods.
If you like Sunflowers, you can also find my free custom printable Sunflowers HERE and my recent recycled cutting board sunflower art HERE
Debbie Manno (Debbiedoo's) is a participant in the Amazon Services LLC Associates Program, an affiliate advertising program designed to provide a means for sites to earn advertising fees by advertising and linking to (Debbiedoo's) (amazon.com)