Diy projects out of drop cloths
Hey,hey there!  Today, I am sharing some projects I have done in the past out of drop cloths. At the end you can find all the supplies needed to create your own pillows, curtains and more.
Drop cloths are an inexpensive way to make curtains, pillows, tabletop and more projects. JUST one drop cloth can get you far. You can stencil them, paint them, and even embellish with a decorative trim. Make them your own and impress even yourself!
 They are diy projects out of drop cloths you can do inexpensively and they look great! Did I mention they are NO-Sew?
You know how inexpensive drop clothes, better known as Painters tarps are?
Pretty Cheap!
You can get a lot of mileage out of one.
I will start with some of my most recent ones…
Next up
Then a  kitchen stenciled drop cloth pillow from way back when
WOW,that was two years ago already!
These diy drop cloth curtains I did for my older boy Alex's room a few years back
when I gave his Teenage bedroom a makeover
These drop cloth curtains were inspired from my
initial makeover of Jack's tween bedroom makeover
These too as well, were painted and stenciled.
Both rooms pretty much remain the same.
No need for changing these drop cloth curtains out, as they go with everything!
I found another drop cloth project I did a few years back
an easy diy memo board facelift.
And my most recent diy placemats with drop cloths
Drop cloth curtains for the porch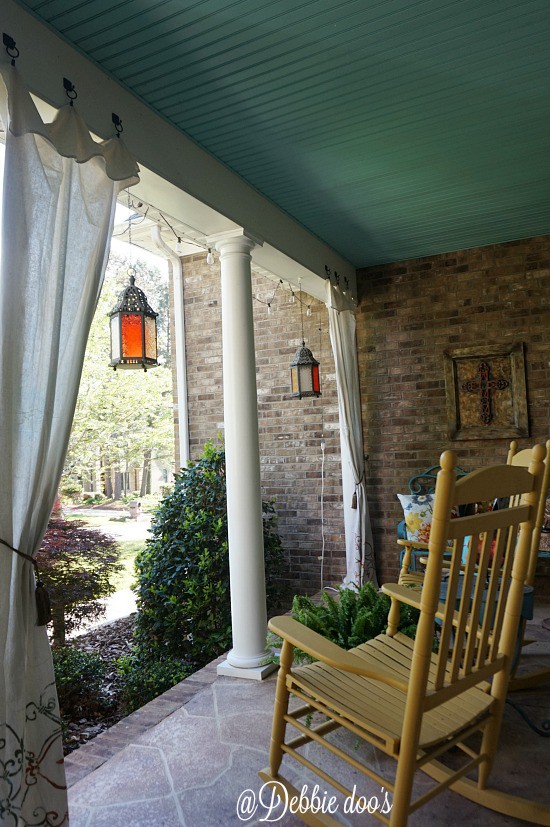 ALL things DROP CLOTH curtain projects HERE
Thank you for your visit today!
I share all things, thrifty home decor, crafts and a recipe or two on occasion.
If you would like to commit to becoming a subscriber, I would love for you to join me.