Disclosure:  My husband is not an electrician.  This project is done at your own risk.  He is still alive and there was no electrocution and the lights are all working. We take no liability for diy electrical work. Importantly, I was contacted by a concerned blog reader who is a retired electrician.  She voiced concerns regarding the splices.  Her recommendation is to use small metal and plastic splices that can be crimped using an inexpensive tool and to use shrink tubing and plastic electrical tape to protect your splices. She said while this would not be to code it would be more safe. We will be taking her advice and hope you do the same.  No project is worth your safety. Thanks and have a great 4th.
Now onto the project.  DIY hanging outdoor string lights.
We live in an heavily wooded area as you can see.  It's dark, it's spooky, and never anyplace I wanted to step foot out alone in the night.
For all I know Jack the Ripper could have been hiding back there.  I have always adored outdoor string lights hung from tree to tree, or from gazebo's etc.  We just don't have any of those options.
 It was time to fix that.  About a month ago I was away with a friend and our boys and we went out to eat on the inter-coastal.  They had beautiful outdoor lighting along the rails of the outdoor deck.  I thought to myself, Mike can do that.  They however used 2×4's along the rails and little screw in hooks to drape the lights to and from each 2×4.
For this project you can use the 2×4's, galvanized pipes, plastic piping, etc.
We chose copper piping.  I want that aged patina look eventually.
4- ¾ inch x 5ft. copper pipes
3 packages of Edison string lights
Electrical wire
Friction tape
2- ¾ inch Copper push elbows
2 -¾ inch copper push tee
1 inch. two hole EMT straps
small metal and plastic splices
plastic electrical tape
First the easy part.  Setting up the copper pipes accordingly with the elbows attached.
Second mounting all the copper pipes to the deck as shown. This was done on the back side of the upper rails. Note: used friction tape on bottom of tube to improve grip.
Third:  Snipping all three string lights at the end and splicing together using electrical wire, and small metal and plastic splices that can be crimped then use shrink tubing and plastic electrical tape to protect your splices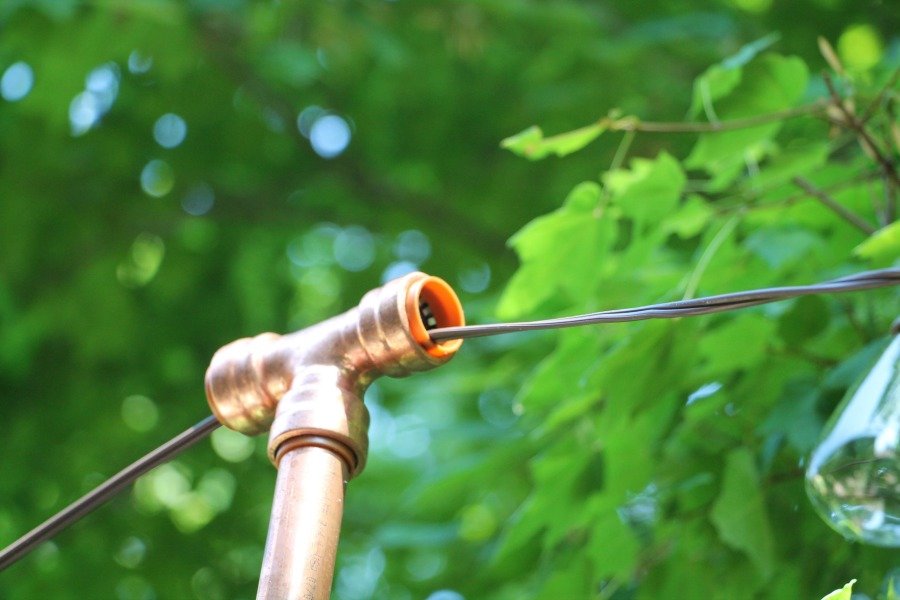 Connecting through all the copper elbows for a seamless flow.
The Edison bulbs look fantastic lit up at night.  Certainly not spooky back here anymore.
Wraps around the deck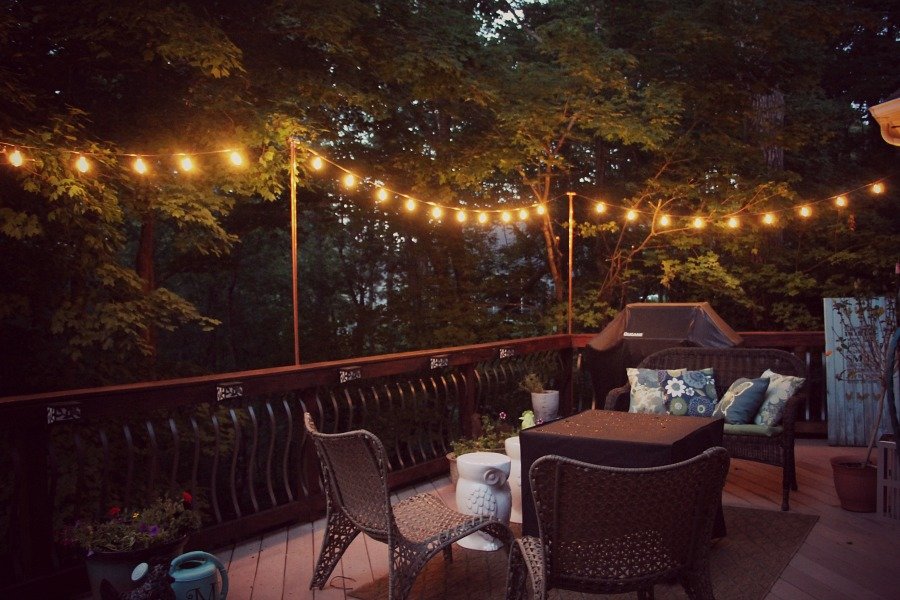 Affiliate links
Edison string lights
Edison line
Hope you enjoyed today's project!
Save it, do it soon:)
Thank you for your visit today!
I share all things, thrifty home decor, crafts and a recipe or two on occasion.
If you would like to commit to becoming a subscriber, I would love for you to join me.