Outdoor string lights are a fantastic way to transform a garden or patio into an enchanting retreat for friends and family. This article shows you how to create a charming ambiance with outdoor string lights using copper pipes and Edison string lights.
1. Gather your supplies
4 ¾ inch x 5 feet copper pipes
3 packages of Edison string lights
Electrical wire
Friction tape
2 ¾ inch copper push elbows
2 ¾ inch copper push tee
1 inch 2-hole EMT straps
Small metal and plastic splices
Plastic electrical tape
2. Set up the copper pipes
To begin, attach the push elbows to the ends of copper pipes. Make sure the angles of the elbows match the corners of the area where you'll hang the lights. For a secure setup, confirm the elbows are tightly fitted to the pipes.
3. Mount the copper pipes to the deck
It's best to place the copper pipes on the back side of the upper rails to provide the best lighting. Use friction tape on the bottom of each tube to improve the grip and secure the copper pipes firmly. The pipes must be safely and securely mounted to prevent any accidents.
4. Prepare the Edison string lights
Snip the ends of all string lights and splice them together with electrical wire. Then protect the splices with shrink tubing and plastic electrical tape to ensure the longevity of your outdoor string lights and protect against potential electrical issues.
5. Connect the string lights through the copper elbows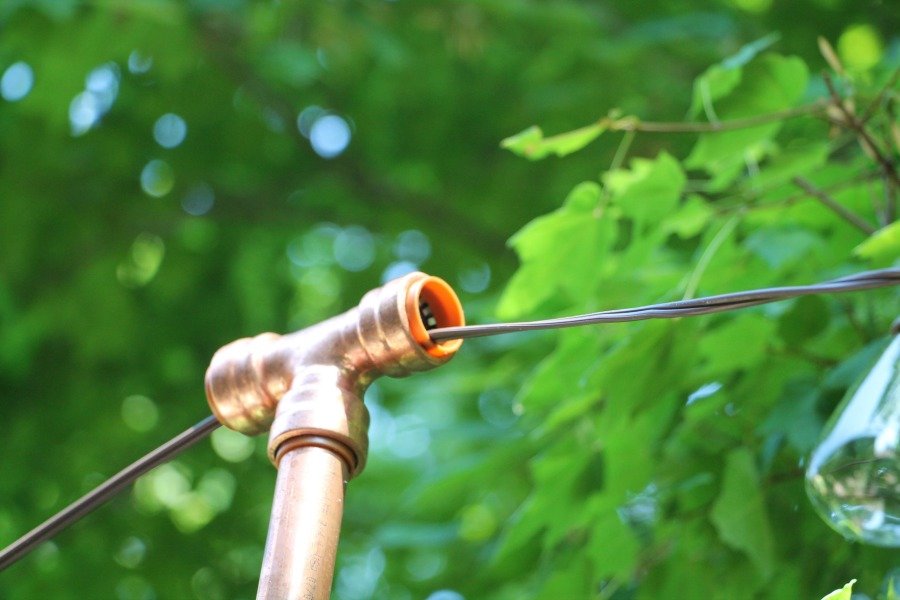 Thread the string lights through the copper elbows, ensuring a seamless flow of lights around the area. Be patient during this step to prevent any damage to the lights.
6. Check your work
Before you flick the switch to check your new illuminated space, it's important to double-check your work. Make sure all connections are secure, and all splices are well-protected with shrink tubing and tape. Once you can confirm all of this, plug in your lights and enjoy the results.