Hi there everyone!
We are officially back from vacation and it is time for me to get back to work!
Today, I am a sharing a diy garden themed wedding.
A few weeks ago I talked about a new friend in our lives Julie.  You can read about her story and how she found true Love.
A few of my friends and I had the honor of helping her create her dream garden wedding come true.
Her venue was at  The Ivy place in South Carolina., circa 1850.  Some neat history there indeed.
 Tucked away sort of in the middle of nowhere.
Enchanting, beautiful and the grounds could not have been more perfect for what her husband to be were looking for.
Weddings sure are costly these days no doubt!
I can tell you things have changed since my husband and I were married twenty years ago.
Things were simple.
Monogrammed napkins, match books, and a simple little champagne bottle with a bell on it.
That's about all the fuss I remember.
Now the ideas are endless.
I thank Pinterest for that.
In fact, a few years back when My sister was getting married her Vintage style wedding was Pinterest inspired.
Julie and Hernan are simple, low key sort of people.
They didn't want fuss.  
They wanted fun, simple and pretty and of course budget friendly.
With a touch of sentiment here and there.
Each table had a painted frame and picture of a family member.  
This one happens to be Julie and her Dad on her first wedding who  has since passed away.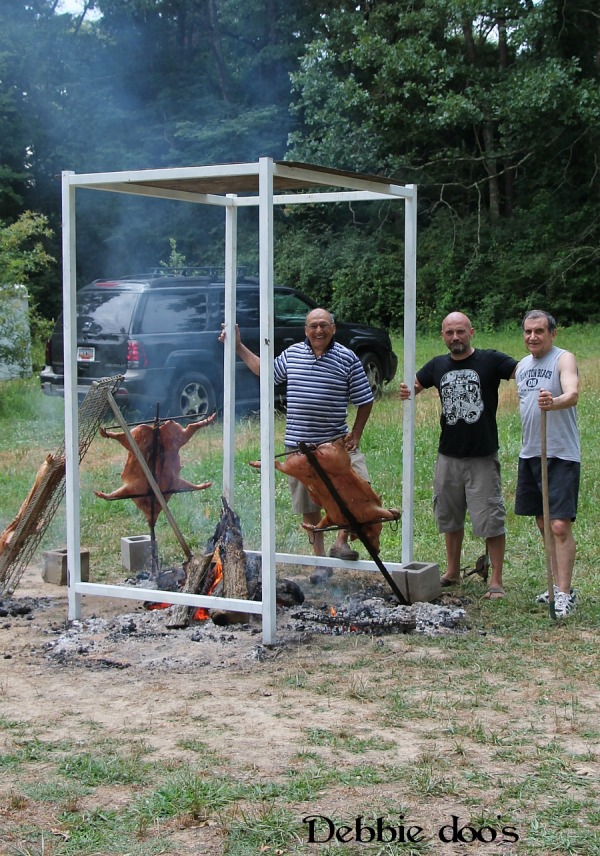 The food was simple, and delicious..well in a sense it was simple,
until it rained for a short time and I saw some boxes thrown on the pigs roasting here.
Julie wanted color and lots of it.  
You know that is right up my alley.
The centerpieces are all upcycled cans, bottles and jars.
Obviously collected over time.  The larger ones were from tomato sauce I believe from the school cafeteria where her Mother-in-law works.
All painted with chalk paint in an array of color.
She had a lot of chalk paint on hand, and I also had some Americana deco art chalky paint on hand.
Each can and bottle was embellished with a touch of burlap, twine, ribbon and some vintage linens that were handed down to her or  that she has had for many years.
The bouquets were all diy and done by our friends Natalie and Laurian.  
They did a beautiful job and I can't imagine how much these would have cost if she had them professionally done.
Some of the flowers were freshly cut from the grounds in which the venue took place.
Julie truly glowed with happiness and beauty!
Hernan was not the usually groom.
He surprised her and wore a Star treck uniform.
Julie, the bride, absolutely loved it.
My husband was the best Man.  
At this point Mike had changed from his dress clothes and got comfy because it sure was a HOT day here in the South.
and NO, he did not where anything TRECKY!
Simple white chairs lined up in the garden with some of our diy cans and flowers also tied in burlap to the end of the chairs.
It looked simply gorgeous.
And what wedding doesn't have a Godzilla cake topper?
Something so angelic about this photo.
All the photos I took here I will be making a little book for them.  I am sure the professional young gal they had will have many many more gorgeous ones.
I think I did OK for a rookie.
Congratulation to Julie and Hernan for many, many years of Happiness, health and Joy!
XO
Thanks for stopping over today.
I suppose I should go unpack now.
Back to life, back to reality!!
Stick around and browse awhile. If you are new here, welcome. I sure hope to see you again.