That's right, you read that correctly.  
A diy foam pallet.
Who knew?  
When I was given this task of creating a pallet out of foam, the first thing my husband said, was uh oh, you don't like being told what to do.
HA, that is true.  I am not a very good instruction girl, and I really don't like being told what to do.
However, I signed up for this, so I had to do what I had to do!!
Little did I know how much fun I would have in the process.
Is it a fast project?
NO, but how it all comes together is truly awww inspiring in my opinion.
So let's check it out shall we?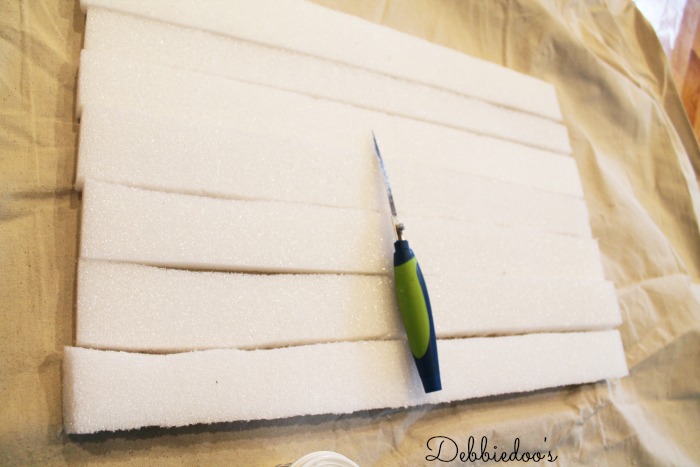 You may recall my Halloween splat board I recently made with Styrofoam.
Same size  foam boards I started out with.
I cut the planks 3′ x 26′ inches.
I cut seven of them roughly the same size each.  I believe the top one is slightly smaller just because it was a piece left over.
I did this on our kitchen floor on a drop cloth. It does get a little messy.
The foam cutting tool knife was awesome and made it a breeze.
Seeing I am a newbie at this, some were slightly uneven but I just went back and trimmed them up a tad.
The smooth finish product was a dream to work with.  Comes almost whipped like
and I used a kitchen spatula to apply to each of the foam planks.
This is to make the painting process easy, and a smooth like finish.
I decided I was using dark wax on mine instead of paint.
Glad I did,because I really love the look in the end.
I also used gold gilding paint. same that I used on my mod podge vase  and just  lightly brushed on for a shimmering rustic look.
 You know,
very few of my projects get a rooster or stencil left behind.  I of course always have those supplies on hand.
I am truly amazed at how FOAM could look like wood, and how this entire project looks like a wood pallet.
A little sunflower and twine added to finish it.
Where oh where to hang it?
It is light as a feather you know.
The foam connectors were the ticket to hold this baby together.
I will tell you I cheated a bit and added white duct tape to the back of it, just in case.  There is also foam glue you can use, but I opted not to.  I didn't feel the need on this with the fasteners and duct tape.
Duct tape works on everything:)
While I was figuring out where to hang it, I kept taking pictures of my masterpiece.
I was pretty proud of myself.
For one, I was told what to do, and actually did it,
and second,
I actually created something really cool out of FOAM!
Seriously, would you know this was foam??
My husband even said WOW!
And as you can see, it found a place to hang proudly.
Best part all I had to use is 3M two way tape. It's light as a feather.
Check out my
DIY Gallery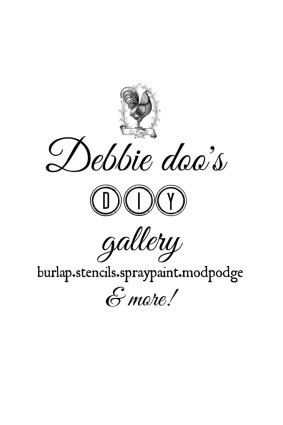 Thank you so much for visiting with me today. If you are new here, welcome! I am also very excited to share my new stencil line with you.

[envira-gallery id="32693″]
Thank you for your visit today!
To view my stencil gallery projects you may check out my Debcreates.com page.
I share all things, thrifty home decor, crafts and a recipe or two on occasion.
I also have an Etsy shop!

Sign up today and receive a few freebies. 12 months of seasonal printable art.
If you would like to commit to becoming a subscriber, I would love for you to join me.