Hi there!
This certainly is not my first rodeo with a diy burlap wedding banner.
I made my sisters burlap banner for her wedding last year.
One of my Bf's actually got married yesterday on the Beach. She asked if I could make her wedding banner.
Why of course I can, did you even have to ask?
This was mostly a diy etsy wedding.
Every last detail is just beautiful and I can't wait to share how it all came together.
Funny, my sister's wedding was all pinterest.
Boy have times changed since we got married.
As you can see her color choices…absolutely beautiful.
I really love the combination.
I chose to do the banner in chocolate brown instead of the traditional buff burlap color.
I wanted the blue to really stand out.
I bought the burlap and Martha Stewart stencil at Michaels.
I bought the burlap in a roll and simply cut into squares.
I then placed the stencil over the squares and used the white Plaid craft paint to stencil randomly on each square.
I made every one a little different.
My friend Laurian, at first wanted "Just married".
I asked if I could change it up and she said sure.
Thinking these are also her bedroom colors and she can drape this on her curtains or dresser mirror after the wedding.
"Love is Kind"
and I am so happy she found the Love of her life.
Thanks for stopping by today!
As you can also see I used the ribbon to attach each burlap square.  I just hot glued a dab onto the burlap each side and ran the ribbon straight across. Pretty simple, makes a pretty statement for a table, gazebo or wherevs.
If you are not a regular here, I sure would love to see you back again.
If you are new here, welcome! I am also very excited to share my new stencil line with you.
Thank you for your visit today!
I share all things, thrifty home decor, crafts and a recipe or two on occasion.
Sign up today and receive a few freebies. 12 months of seasonal printable art.
CHECK out my Gallery of BURLAP ideas too while you are here. There are lots and lots.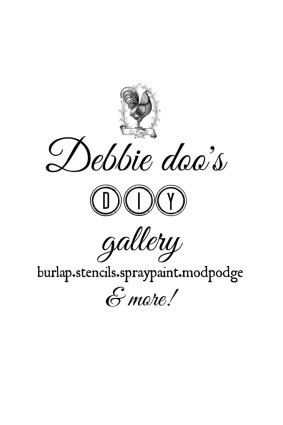 And if you love easy, tasty recipes…I have plenty of those.
I am also a huge Dollar tree fan and do lots of fun crafts per season.