Hi there friends! I'm back again. This is how I roll. You don't see me for a month and then, BAM, you see me several times in a week! After sharing my 20+ DIY Winter and Holiday wreaths HERE, I felt inspired.  Today I am sharing a
DIY Burlap Door Hanger Wreath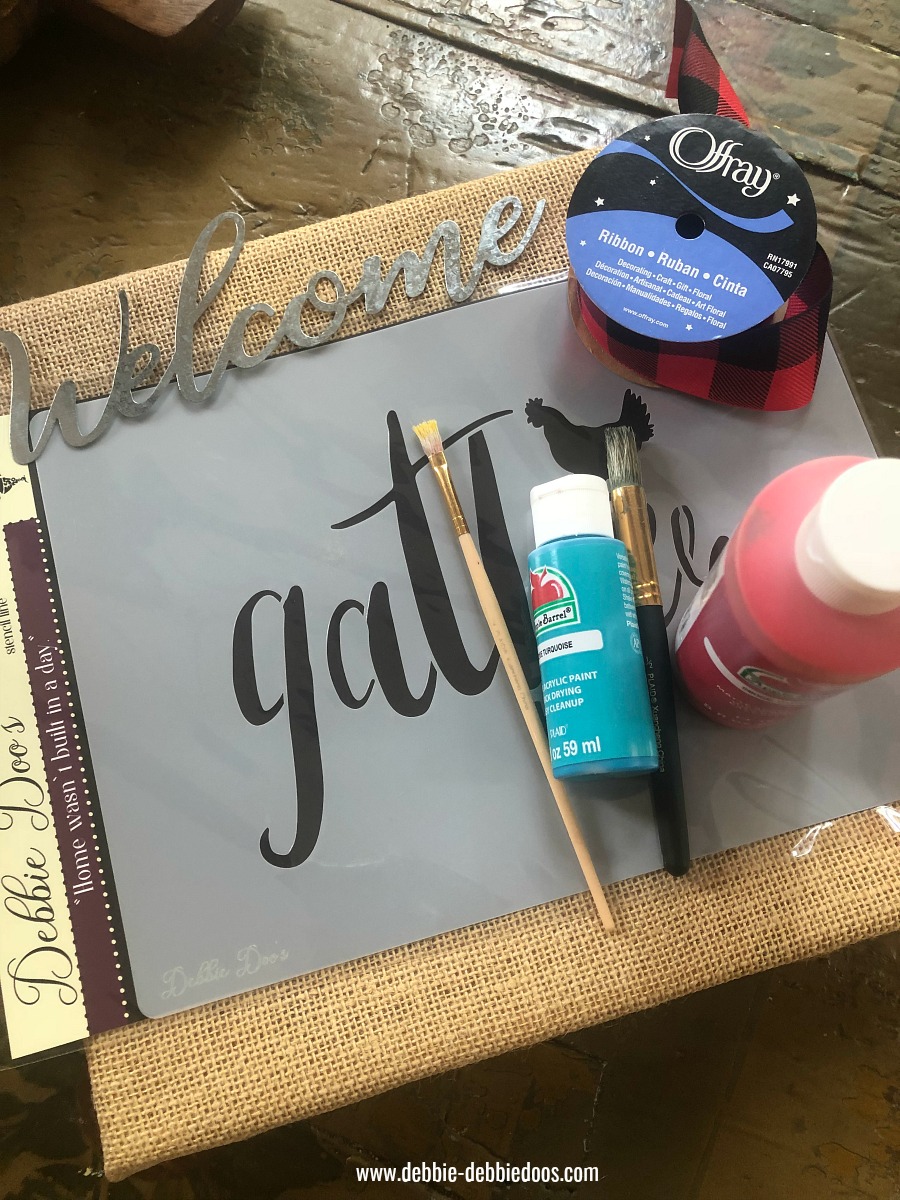 I have had this burlap canvas sitting on my craft table for over a year now. Every time I walk in the room, I would look at it and say I must make something with that burlap canvas. I just didn't know what I wanted to make though. I am not as impulsive as I used to be. In the past I think I would make things, just to make things. Most I really enjoyed, while other crafts I would look at and say what was I thinking?
If you have been around for a while, you already know I am the stencil queen. I have done these sort of projects time and time again. You can check out my Stencil page HERE, and find a ton of tutorials. My method is simple to stenciling. A little dip, a little dop, a little dab. Anyone can do it. As you can see I use Craft bond adhesive spray on the back of my stencils. I find it to be the best to adhere to your canvas or wood and ensure the stencil is flat. Once you start dipping, dopping an dabbing you don't want your stencil to be moving. I also recommend bristle stencil brushes in lieu of sponge dabbers. I think you get a cleaner line and it looks more hand painted.
The metal Welcome words came in a three pack at the Dollar Tree. Welcome, Harvest, and Thankful were all in a pack. I love adding different textures and colors to my projects. I always say though, make it your own. I am simply here to give the idea and inspire you to try it yourself.
You can find my gather here stencil
on Amazon HERE
I had just a little on smidge of  the red and black ribbon, so I figured I would add another texture and Christmas color to the burlap door hanger wreath. I am excited to get decorating soon for Christmas. I am hoping this looks pretty on our door. Since I painted it in the Spring, I am not sure how things will be looking in the winter months. I will tell you though, I get a TON of compliments on that front door. You can check my front door painted Tiffany blue HERE.   My husband still doesn't love it. But there is no arguing with logic, which is ME of course. HA!
That's all for today folks. See you back soon. My Mom and sister will be here in a few weeks. I am sure I will be getting them to craft or cook something with me. These days I spend most of my time over at Home Pressure Cooking.
I am now in love with the(Affiliate links included)  NINJA FOODI
! WOW, that kitchen appliance is the most innovative thing on the market right now. I LOVE IT!
Here are some of the project supplies you will need on hand. I always recommend having them just in case you are in the mood for crafting.
Stencil brushes
–Adhesive spray
–craft paints
–burlap canvas
.
Hope to see you back soon. Feel free to subscribe and be the first notified with any new projects I share. Hope you enjoyed my quick and easy
DIY Burlap Door Hanger Wreath
Pin it, make it, love it!