Hi there everyone!
Seems these months are just whipping by us. It was just Mother's day. Now Memorial day coming up and then Schools out for Summer!
Gosh, I remember screaming that song on top of my lungs at the end of the year. Not sure if my boys even know that tune HA! Shows my age I guess.
Today I am sharing some creative ways to give bake goods.
I don't know about you, but I do love sweets and treats.
In fact, sometimes a little too much and I have to reign myself and fork in from eating too many.
Every time, I visit our local grocer and walk by the bakery section, I of course stop to stare.
Stop, stare, try to listen to my inner voice saying you really don't need this.
But then the other inner voice says, oh but the kids really like these.
My inner voice also says, these would be great for bunco tonight.
Don't forget you have that BBQ to go to this weekend too..how simple and yummy are these treats to bring.
In the cart they go.
The convenience, the variety and the freshness of the smell just lures me in.
What I have found is bringing bake goods cutely packaged to a party, or as a hostess gift is really all you need sometimes.
There is not always time to slave in the kitchen. And you really don't have to.
"Give bakery because" is sponsored by Rich products, a leading provider to food service.
I found a few cute ideas for creative sweet treat giving and thought I would share.
It's gifting made delicious!
Taste of Home had some lovely creative ideas for every season, for every reason.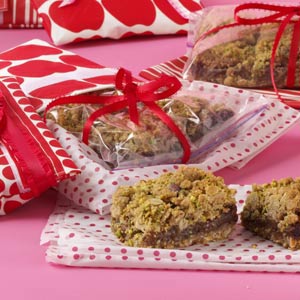 Orange cranberry cake with a diy cake platter
and because cuteness does count, you can diy
So remember the next time you have a sweet treat gift giving idea,
make it fun, sweet and extra special.
I remember on Valentines day I made a cute dollar tree cupcake/candy stand
from the dollar tree.
It was so simple and personal. Not to mention just a few dollars to make.
Cupcake Liner and Cello Bag Packaging
Baking Pan Packaging via Country Living
I am totally inspired to do something special for Father's day.
My husband loves sweet treats and why not surprise him?!
I certainly don't want to simply hand over this.
May taste great, but I am betting presented in a cute way, will taste all the better.
Have a great day and thanks for stopping over today.
I hope you found some inspiring and creative ways to give bake goods.
You may find more inspiring ways here on
http://www.pinterest.com/bakerybecause/
Hope you follow me around and subscribe here if you are not a regular.
Always up to something here.
XO