Good day to you all! Thanks for stopping by today.  I know you are all very busy bees and I appreciate you taking a second or two to visit. Today, I am sharing how to create a welcoming Harvest entryway.
Every home entryway needs a decorative touch. Entryway decoration is done best by those who decorate according to the seasons and holidays. Whether it be summer, fall, winter, spring, Easter, or Christmas, you can design entryway decorations specific to that season. It's always a good idea to not only coordinate your decorating with the seasons, but also to create a warm entryway as well.
You see this Harvest season it all started with a simple entry rug. We were in much need of a new one.  The old rug I recently replaced in our entry way was going on 8 years old.  It has seen many of feet and  was starting to show its wear and tear. My friends at lamps.com had such a variety to choose from it took me a while to narrow it down to just one.When all was said and done, it was the perfect choice.
Your entry Foyer reflects who you are, and offers a welcoming first impression for our guests.Actually, that starts before you even enter the foyer, with your outside entry.  You can see how I created a cozy, color Fall porch.
My husband and I have been hunting and gathering vintage and antique finds for years. We always feel what is old is new again, with new history to be made.
I have always wanted a vintage typewriter to go on my good will find typewriter table.  In fact, I did not even know that is what it was when I scored it.  I just knew at a $10.00 price tag it was old, and unique.
The colors in our home, are warm, yet vibrant.  I love color and mixing and matching.
The hues in our new rug are just perfect and will go all year round.
Surya – Arabesque Patterned Paisley Rug
Floral and paisley rugs can add a polished sophistication to your dwelling. Surya offers modernized fresh color palettes for these popular patterns that will make an incredible addition to your living area.
Did I mention free shipping too? The fantastic Arabesque rug by Surya is a favorite of Lamps.com. This rectangular 1'10" by 2'11" rug will add just the right amount of color to your living room, bedroom or foyer. Finding just the right rug for your home can be a challenge. Start by checking out the floral and paisley in ash gray. This will surely fit your decor, if not, keep browsing, you'll find what you're looking for in no time! Made from Polypropylene, Surya's high quality rug will last for years to come! Surya's area rugs are known for their quality and style, the Arabesque is no exception!  from Lamps.com!
•  Medium Pile
•  0.36 Inch Pile Height
•  Polypropylene Backing
•  No Shedding
  I love the quality, and the fact it comes with a wonderful rubber rug mat.  The mat was large and I simply cut it to size. No slipping and sliding in!
The rest of the Fall foyer just came together after that.
Although, this  vintage typewriter is more than likely non functioning, I can certainly pretend and added a Fall printable that I made last year.
Another Fall welcome!
Not all our home decor is old.  I love finding random seasonal decor at even the oddest of places.
Drug stores carry some cute stuff.  I believe that is where the burlap canvas was found and the pumpkin candle was a bhg score from Walmart a few years back.
Thank you for stopping over today.  You are welcome in our home anytime.
If you are not a regular, I sure would love to see you back again.
XO
You may check out my other fall decorating and craft and recipe ideas while you are here.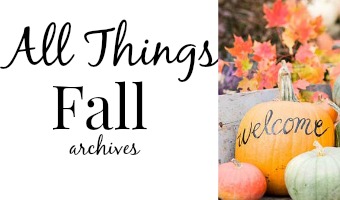 If you are new here, welcome! I am also very excited to share my new stencil line with you.

[envira-gallery id="32693″]
To view my stencil gallery projects you may check out my Debcreates.com page.