Hello everyone!
I'm Kelly, from The Essence of Home, and Debbiedoos invited me to her blog for a personal tour of my home.  I'm so excited to be able to participate alongside all the other great tours she has hosted!
My home is located in Cumming, GA.  I share my home with my husband and two sons and a spunky Boston Terrier!Our house sits on top of a hill and is surrounded by lots of trees that provide wonderful shade during the hot months of summer.
Welcome!
We use our front porch all the time.  There are planters attached to the porch railing that provide a great place for flowers and greenery to be enjoyed.
I love the casual cottage style of white slipcovers, neutral colors and farmhouse finds. I lean towards a more Swedish look in some of my rooms so it's very light and airy.  So let's go inside!
Foyer
Most of my furnishings have been collected over time.
I painted many pieces of furniture using  Sherwin Williams paint in Fawn Brindle. It's a nice soft grey color.
Sitting Room
My draperies are made of simple drop cloth material hung on clip rings.
I've used a few accent pieces in burlap.
Family Room
I love using white slipcovers on my furniture.  They can easily be washed in the washing machine when needed.  My coffee table was given to me from my mom.  It was custom built using old solid pine wood.
When we got a bigger TV for our cabinet, the armoire doors needed to be removed.  So, rather than tossing them aside, they were placed above the mantel to add architectural interest and a bit of gray against the white wall.
The chest of drawers are all antique and have been painted white and distressed. They provide wonderful additional storage.
Powder Room
Kitchen
I use a lot of farmhouse finds in my kitchen.
This black armoire hides our computer station.
I like to have my cookware and dishes readily accessible.
I removed the upper cabinet doors and painted the cabinets black to display my white dishes.
Simple clamp lights, above the cabinets, provide much needed task lighting while cooking.
I removed the cabinet doors below the sink and made a sink skirt out of drop cloth material.
Dining Room
I prefer slip covered chairs at my dining room table.  It softens the look of all the wood in the room.
I've used drop cloths as simple draperies in this room too. This room gets a lot of natural light.  My wall hutch is a great place to display some of my white dishes.
Master Bedroom
Master Bathroom
Hope you enjoyed the tour!
Thanks for stopping by.
~ Kelly ~
Thank you Kelly so very much for the home tour.
If you have not visited
If you are not a regular here at Debbie doo's please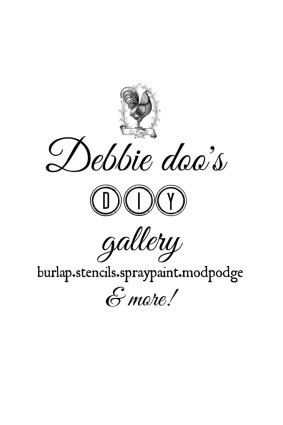 And if you love easy, tasty recipes…I have plenty of those.
I am also a huge Dollar tree fan and do lots of fun crafts per season.