Oh boy, brace yourself, it's about to get real around here.
Today I am sharing Closet solutions and a makeover from Ikea.
it's been a long time coming.
You have no idea how long and how much need Mike and I had for a closet makeover.
Problem is, and was, we don't have much of a closet. It was intended for ONE, I swear the builder goofed.
However, we lived with it for 7 years until I almost killed myself on a pair of my shoes.
We started pricing out closet solution to make due with the closet we have together.
It was outrageous and still did not seem it would solve much of our bumping elbows in there.
So a trip to Ikea was calling our names.
First let me show you our closet..
Stupid wire shelves that basically were not even set up efficiently.
Double tiered, and make no sense in my opinion..
and just a tad bit over
oh and yes, I like shoes. But again no place to put them. I had some shoe hangers as you can see, but again, not right.
Mikes section.
I know very bad, messy, lacks organization and we were just a hot mess in there.
The wire shelves when clothes are hung on top, you can't even see what is on the bottom.
Believe me, we have cleaned this out and it kept organized for about a week. Just no efficiency, and yes
there are first World bigger problems than this. But a girl has to have a neat and organized closet.
a bigger one too:)
First let me share we have had a little much needed overhaul in the bedroom.
We got rid of the dingy, dusty, dirty carpet and replaced it with
Pergo XP flooring.
Best thing we ever did.
I actually need a new comforter. This one is getting worn out. Mike is so hard on stuff, anyone else's husbands?
Now back to the closet solution from Ikea
Pax & Komplement
We basically created our own fit to our needs wardrobe.
This is only for Me, me,me!
I told Mike, I wanted lighting, shoe racks, drawers and places to hang my clothes.
So we went across and did the unit uniform.
When you visit Ikea there is room after room filled with closet solutions.
For Dorms, apartments,
large homes, small homes,
you name, they have everything to fit your needs.
Here's the funny part.
The directions are all pictures.
No words, no instructions, strictly visual.
Mike said, this project is not for beginners.
He did say though it was easy step by step and the unit is well made, holes all in the right spots and at the end all came together accordingly.
LOVE IT!
The color we chose is Cocoa
All neat, organized and I even tried to color code the clothing.
You can customize your unit to suit your needs. That is the beauty of it. You want more shoe racks, get them, you want shelves, baskets,
more drawers, whatever, make it your own.
The best part is, this was a whole lot cheaper than having our master closet redone.
Now Mike has his own space,
and I have mine:)
lights, camera, ACTION.
I love when I open it up the lights come on.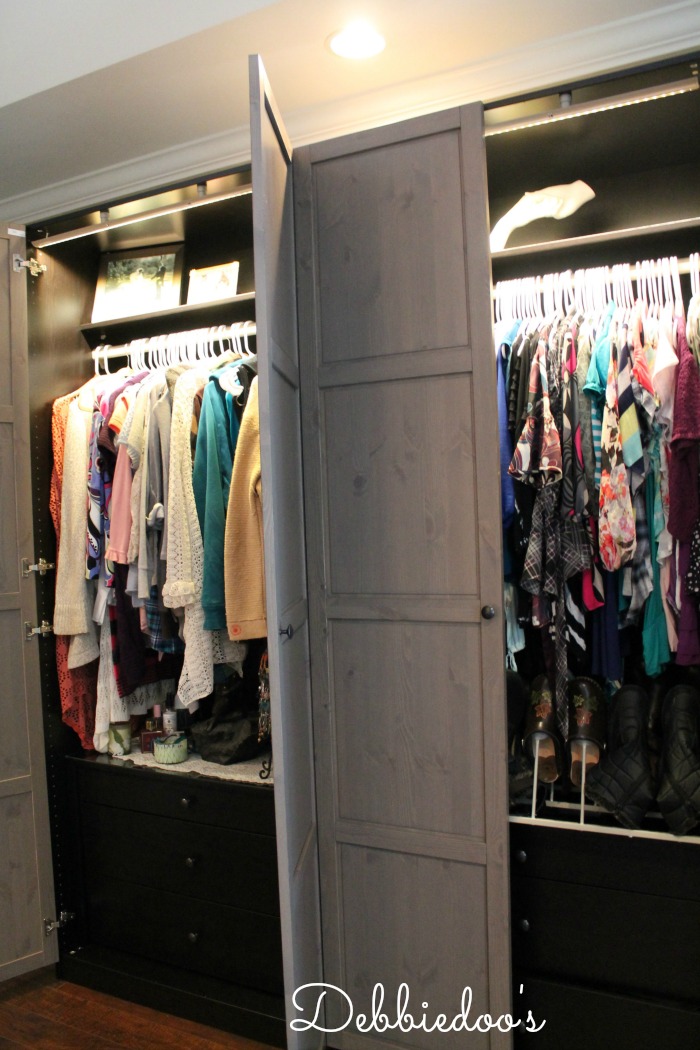 Sweaters with sweaters. jeans with jeans, tops with tops!
WHOOT…and I have my own space.
ALL MINE!
Almost forgot to show you the other side. We bought the matching dresser.
No more old painted furniture. Although, it did us well for 15 years it was time for an upgrade and some organization around here.
and that my friends is starting off the New year right!
So customize your wardrobe with KOMPLEMENT interior organizers that are tailor-made for you and all your clothes.
Here are some ore interior organizers for PAX
Ikea has many style and sizes that you can personalize to your needs.
Wire baskets are great too as you can see for sweaters and t-shirts
Modern with a semi see through door
This one seems to be for a very neat bachelor
This gal took her plain Ikea wardrobe to a whole new level.
It's just gorgeous how she stenciled it.
And that my friends is the end of the closet chaos we had going on.
Now I don't have to get aggravated every time I walk in there,
in fact, I hardly have to walk in there anymore except to put clothes in the hamper and take them out.
Thanks for stopping by today.
You can check out Ikea online and see if there is something that may fit your needs and Woes.
I was not compensated in any way to write and share this review.
Hope you follow me around!