Hi there everyone! Not sure what your thoughts and opinions are on ceiling fans in the bedroom. I see nowadays a lot of folks are going with the chande look. Which btw, I love that look too. However, we also love and need our ceiling fans. Why have a ceiling fan? For one ceiling fans save you money. Ceiling fans can save quite a bit of energy if summer users raise air conditioning thermostats. Running the AC in the summer can get very expensive and jack up your electric bill. Ceiling fans circulate the air creating a light breeze. We especially like this in the summer time. I hate being frigid from air conditioning. Ceiling fans definitely alleviate that.
Ceiling fans were around longer than AC units. Back in the day they were used on porches so you could enjoy the outdoor humid evenings. Ceiling fans are available in different finishes, styles and materials, so you can find the perfect accessory no matter what style of home decor you've selected. They also provide a source of lighting for the room. *this is a sponsored/paid post, however, all opinions are authentic and my own*. I chose
Build.com
for my shopping and viewing experience while researching for ceiling fans.
Build.com
is well-known for it's customer service and their on-site resources for people looking to improve their homes. On each product page, there are different sections with PDF instructions, installation videos, Q&A, reviews, and product specialist contact information help.
Our guest room is in the midst of an overhaul.
The first thing I needed to replace was the ceiling fan. It was outdated. Back a few years ago, I did however, jazz it up with my
diy drumshade for a ceiling fan.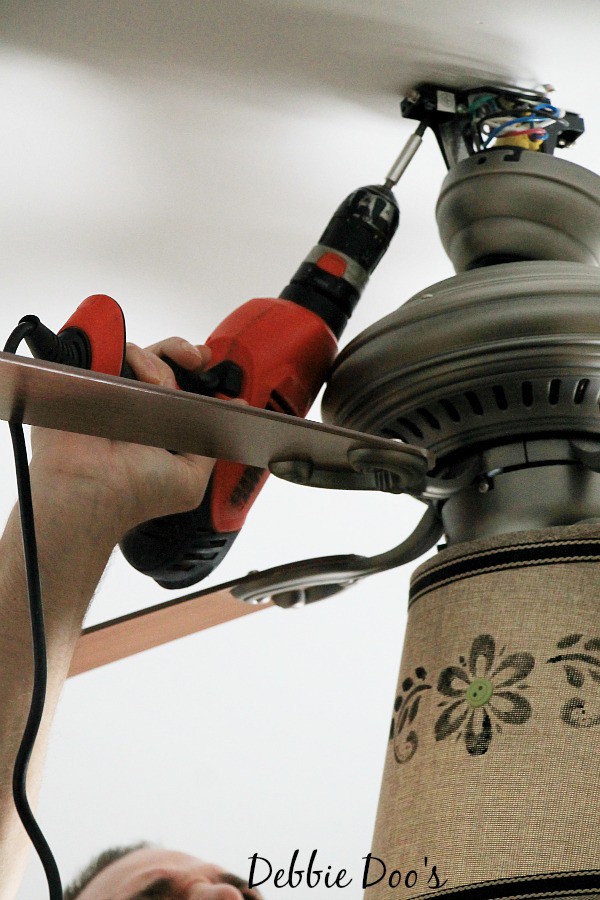 It did the trick for the past 8 years but it's time for a change. Plus as you can see from the above it was brushed silver and after replacing the floors in the bedrooms, it was not a nice compliment to the lovely flooring. I absolutely love the style and selection I found at
Build.com.
Vaxcel Lighting FN52997 Sebring 52″ 5 Blade Indoor Ceiling Fan with Reversible Motor, Chain, Light Kit, and Reversible Blades Included.
With so many choices and styles I had to narrow it down. I want this to be our forever fan. I chose the brushed bronze because it compliments our floors nicely. Build.com had a nice variety and a range of affordable prices. Ranging from as low as 64.99 and up!
Brushed cocoa Hunter fan
One of the nice things about shopping on
Build.com
is that you can get live help. Clearly, they want to make sure you're project goes as smoothly as possible. I love the live chat option and utilize it whenever I see it available. Simply hit Live chat and get connected to a live person! How remarkable these days. On
Build.com
they give product specifications, features, technologies and reviews. If a fan without lighting is more up your alley. They have plenty of those to choose from.
Hunter
52067
Hudson 42″ 5 Blade Ceiling Fan – Blades Included
I will be saving up for this mac daddy of a fan! I want this one for our master bedroom. I love the unique, vintage style to it. Sure would keep those hot summer nights a whole lot cooler!
MinkaAire
F802-ORB
Oil Rubbed Bronze 42″ 6 Blade Indoor Ceiling Fan with Blades and Light Kit Included
At
Build.com
you can find a variety of Kitchen, lighting, Hardware, appliances, Flooring and more. The site is very user friendly and did I mention you can actually speak to a human! Gosh, I love that. In reference to the installation of this fan, I would like to note, it was a two man job. I was the girl of course who helped the man! There were some tricky parts that he needed me to hold in place while he drilled. I felt at ease if we ran into an issue we could quickly get help with a chat away. Overall, though it is very well made, instructions were an ease to follow and to say the least, the fan looks gorgeous. I can't wait to get to the reconstructdoos in there now. One thing off the list. What's your thoughts on ceiling fans? Do you use them? Thanks for stopping over today. If you are not a regular, I sure would love to see you again. XO P.S. The guest room is complete and I am excited to share with you soon. Here is a sneak peek. See you back soon. Merry Christmas, Happy Holidays and all good wishes to you! UPDATE:
Counterclockwise Fan Direction for Cool Summer Savings. In the summer, ceiling fans should rotate counterclockwise to push cool air down to the floor. The cool air evaporates perspiration and creates a wind chill effect, which makes you feel cooler without affecting the room temperature.
Clockwise Fan Direction for Warm Winter Comfort. In the winter, ceiling fans should rotate clockwise at a low speed to pull cool air up. The gentle updraft pushes warm air, which naturally rises to the ceiling, down along the walls and back the floor.
GUEST ROOM FINAL REVEAL HERE