Hey, hey there!

Today I am sharing candy corn tier out of Styrofoam.
If you missed my first Styrofoam craft 
Splatted witch on wall, or my faux pallet
you can check that out too while you are here.
It popped in my head when I was painting my Halloween witch board with Black rit dye.
I thought I would try this, and to my surprise it worked out.
I simply filled up the sink a tad with water, added about a half cup of Sunshine orange rit dye, and soaked my foam circle for about 30 minutes, flipping it over on occasion.
I took it out to dry on the other side of the sink overnight.
Do you believe my younger son Jack had the nerve to say to me, 
"Mom you're taking over the house with your craft stuff"
Wellllllll! the nerve!
He sure had no problem eating the props!
This prop, is strictly for decoration only.
I did not let him eat the candy off the foam dyed board lol!
You could however have little mini cupcakes with liners though or wrapped candy as you see for eating.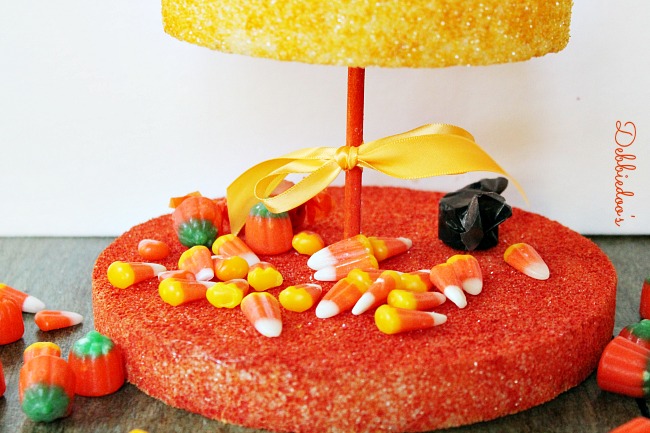 this is something in a million years I would have never thought to make.
Don't ask me why I made it now….
for fun I guess, and it does look cute for Halloween. Would also look great for a kids party. 
Different for sure!
And the funniest part about this craft, is I totally messed up the candy corn sequence. 
Oh well, craft fail!
Still cute though, if you do it right:)
Thanks for stopping over today!
If you want to check out some more fun ways to use Rit dye
you can click All things Rit dye.
You can follow me,
anywhere, anytime