Burlap Christmas stocking makeover
Hey there! I am far from over the fall season, trust me. Truth be told, I have shared all my decor with you already for the season. Not to mention all the crafts I have done so far as well.
What's next? Thanksgiving of course. But I don't have anything to share yet. Perhaps I will have a recipe or two by that time. Today though, I am sharing a burlap Christmas stocking makeover.
I have made over a few Christmas stockings in the past.  I dug through my archives and found a few to start.
These stockings I had stenciled numbers on them. Nothing major here, but enough to jazz them up a bit.
Dollar tree Recipe stocking idea HERE
Back a few months ago when I was gifted the burlap that I used for my gather here pillow I was also generously gifted these pretty red burlap stockings. The pretty lace trim as well was an extra. I knew the minute I saw these stockings that they were going to get some of my stencils rolled on them, or I should say dopped. #DIPDOPDAB..remember the technique, it will never fail you.
It was almost as though the stockings were made for them.
I used a pretty chalky color paint called romance, by Americana decor.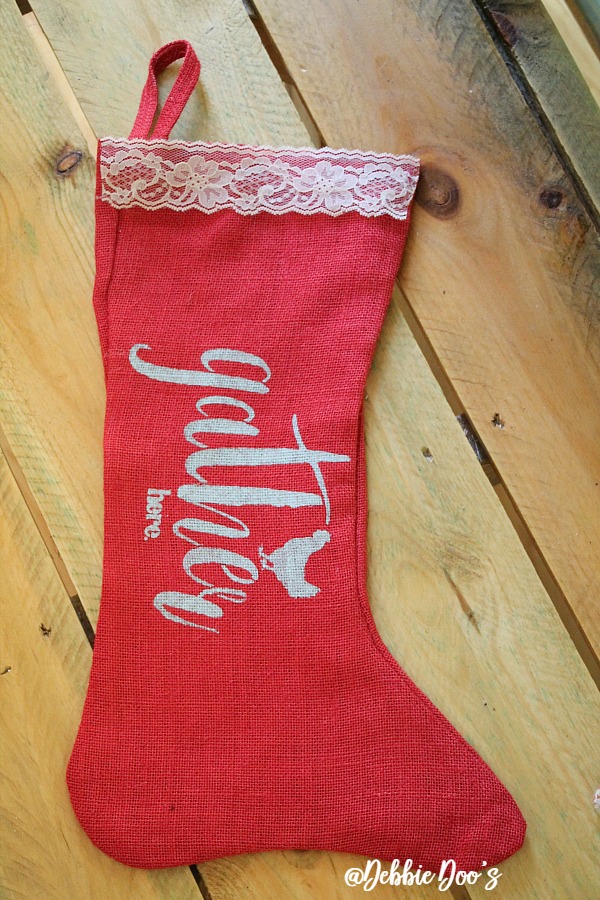 Then I had to try the rolling pin rooster stencil
That one as well was a perfect fit.
How cute this would look with some baking items stuffed inside. Like a rolling pin and whisk:) I can see that looking super cute. I actually had those items out an forgot to take a picture. Typical of me!
Pin it, save it, make it later:)
Although a tad early to be sharing Christmas, I know, I am not crazy about it either this early. However, it is a good idea to get some Christmas gift giving ideas a head start of a thought. I am not into last minute myself. That is way too stressful.
How about checking out the Dollar tree Christmas gallery of ideas
Thank you so much for visiting with me today.
If you are new here, I am also very excited to share my new stencil line with you.
Thank you for your visit today!
I share all things, thrifty home decor, crafts and a recipe or two on occasion.
If you would like to commit to becoming a subscriber, I would love for you to join me.