Boho Bedroom decorating
Hey there friends! I don't think I have shared our Boho bedroom yet at the condo. I do believe my inner hippie self reflects in our bedroom here. It's simple, affordable, thrifty and fun. OH and not matchy, matchy too much. I think that is the beauty of Boho. It's suppose to be fun, and sort of thrown together with things you love, different patterns that still flow.
We had fun putting this room together. It started with a dresser that Mike found off of Craigslist for $50.00. What a score. A lot of people would paint this piece and change out the hardware. We are not those people.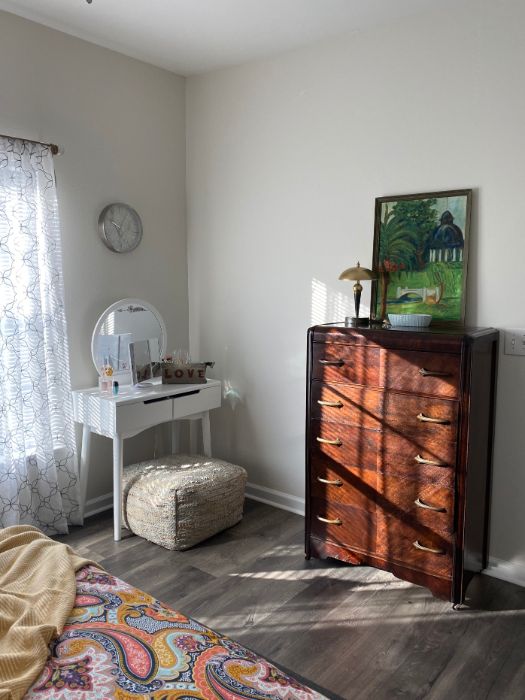 It's not in the best of shape, and opening up the drawers are a little sticky at times. Not a big deal to us. The drawers are deep and fit a lot of our second need clothing here.
The painting set on top of the dresser we scored at a Garage sale for $5.00. We have the other painting by the same woman in our Guest room HERE.
The master bathroom here is quite small, hence I needed a place to put on my face that I could see and be comfortable. I found a little makeup vanity that not only fit the space, but the "style" as well. I will leave you all the resources at the end of the post. (Bedding currently unavailable)
I found the tuft stool at Tuesday morning. The vanity does come with a small stool, but my butt didn't sit well on it HA! Perhaps I need to work on that. The tuft is comfortable and I have plenty of wiggle room. The sheers came from Walmart, and the little glass piece I hung, came from Kirklands found on clearance for $2.00.
Fuzzy fun pillow covers found on Amazon, and the top pillow found at Tuesday morning. We have a lovely Tuesday morning right up the street. I love going there just to walk around. It's a large one, packed full of home decor, fun snacks, and more.
The tin medallion came from Tuesday morning and the boho swag found on Amazon. I just wanted some simple texture on that wall, but not too much.
That's a coat rack, found at a thrift store. Obviously, we are not using it as intended. It's perfect for my jewelry, hand bags and belts. The piece above it, which is a candle holder, was gifted to me from a friend. We were going to use the candle holder on the back deck, but I liked it here. The little macrame owls came from Amazon.
Bed frame, night stand, and comforter set from Amazon. All of which I love.
Condo Before and After remodel HERE
Condo Before and After Remodel
Pin it, save it, reference it for later:)
Budget Boho Decorating
All pretty simple, yet fun to put together. Like I mentioned, it brings out my inner boho, fun self. Mike seemed to go with the flow on this with me.
Thanks for stopping by today. Hope you have a great day.
I will leave the resources down below.
Debbie Manno (Debbiedoo's) is a participant in the Amazon Services LLC Associates Program, an affiliate advertising program designed to provide a means for sites to earn advertising fees by advertising and linking to (Debbiedoo's) (amazon.com).