Creating a boho bedroom is all about harmonizing colors, textures, and personal elements to create a comfortable and creative space. If you're looking for inspiration, this article provides a good starting point for your next boho bedroom project.
Bed and bedding
The centerpiece of any bedroom is the bed. To create a boho look, use a simple, standard bed frame that won't overshadow the vibrant elements you will add down the line. Consider introducing an antique rug beneath the bed for color, texture, and a touch of old-world charm.
Regarding the bedding, select a boho comforter set that incorporates various colors and patterns. Since the boho style embraces the unconventional, don't be afraid to mix and match different styles and themes that don't seemingly go well together. Evidently, you can prepare several boho comforters to express different moods. Consider using fuzzy pillow covers to add warmth and depth to your bed setup.
As a final touch, add wall decorations above the bed. For example, a tin medallion adds a hint of metallic charm, which is topped with a boho swag for extra texture.
Nightstand
When selecting a nightstand, think eclectic. It could be a vintage piece, a rattan one, or a DIY project. The idea is to complement the overall boho aesthetic of the room. For a functional and chic nightstand, try placing a hanging candle holder nearby. The soft, warm glow of the candle will create a cozy ambiance for your boho bedroom.
Dresser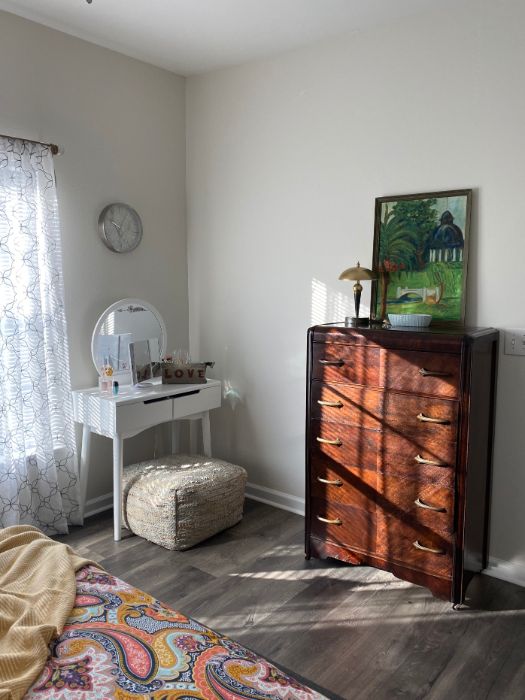 In a boho bedroom, even an old dresser can become a piece of art. This example uses an antique dresser that evokes nostalgia or a worn-in look. You could also try distressing or repainting your dresser. Add an artistic touch by placing a unique painting on top.
Makeup vanity
A makeup vanity in a boho room is both practical and stylish, especially when coupled with earthy elements, ornate mirrors, and vintage makeup tools. In this case, a tufted stool replaces the traditional vanity chair to add comfort and luxury while maintaining the casual boho style.
Window dressing
Boho style is about creating a light and airy space. Choose light, airy sheers for your windows to let in the natural light. In this example, a small glass piece hanging from the middle of the rod adds a whimsical touch.
Storage solutions
Storage can also double as decor in a boho bedroom. Use a small coat rack in a corner for hanging jewelry, bags, and belts. Then hang macrame owls and a candle holder decorated with burlap and macrame on the wall above the rack.
Final touches
Use personal items and mementos to make your boho bedroom truly yours while maintaining a balance between the eclectic elements for a cohesive look. Consider room lighting, such as fairy lights, vintage lamps, or Moroccan lanterns, to completely change the mood of your boho bedroom.
This boho bedroom was part of a larger project. Check out the entire condo boho remodel.