Hello all! This is just how out of it I am.
I had a post all ready, published it, and realized I had the same newbie pick as my one of my tag team members.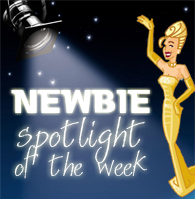 She did infact tell me her pick too.
No worries, plenty of talents amongst the newbies, so it was easy to go find another that caught my eye this week
Welcome
Now you have to admit, this is quite a bathroom transformation right?
You have to go take a look at how she did it all.  FANTASTIC!
This talented young lady is hot off the press!
I think she only has a few followers, so please hop on over
Welcome her, meet and greet and show her some LOVIN'!
Hop on over and see the other gals spotlight of the week!
Random thoughts from an incoherent mind