Welcome!
To our first edition of All things creative Valentine's edition.
9 Bloggers and I have decided once a month we would share All things Creative.
What do we exactly mean by that?
Well for example with Valentine's day coming up, we are going to share all our Valentines decor that we have shared in the past. I have my Valentine's mesh wreath, Valentine mantel, diy Valentine burlap banner,
a dollar tree Valentine tray, and a diy drop cloth Valentine pillow.
Each month will be a different theme, according to the season.
Some months we may have more than others, but we figured it was a good way to inspire and share what we have done in the past, and to share one another and reach a broader captive audience.
All 10 blogs will have the thumbnails that you can simply seek out what catches your eye and hop on over and check it out.
It sort of is a linky party, but with our own content.
This is NOT an open linky party.
We hope to inspire and see you back each First Tuesday of the month.
Welcome to the team!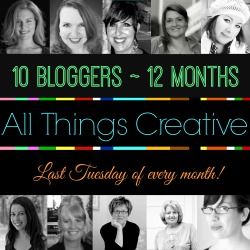 Now let's get this All things Creative Valentine's edition party under way!
Follow me around if you like!