"All that I am or ever hope to be, I owe to my angel Mother". I absolutely LOVE that quote by good ole Abe Lincoln. Obviously, he held a high regard for his Mother.
Well, I do too, and I am betting many, if not all of course feel the same. We are gifted just one Mother in life. Mom's pass down traits, history, talents, memories, cooking, I can go on and on. One of many talents and gifts my Mom was given was her love and care of gardening. Sadly, I don't have that gift, nor trait. Mom kept that all to herself. Passed down from her Mother. I do however, love flowers, and I actually don't mind gardening. I just don't have the green thumb to go with. About the only gardening I can do well is container and Urn gardening. At least I have a little something to look forward to doing each Spring and Summer. As many of you know who are regulars my Mom was very ill back in January. It truly will be a blessing to know she will be digging her hands in the dirt this Spring and Summer. I am sure I will share with you her beautiful gardens. You can see my Mom's garden from last summer. I am simply in awe of them.
Back to Urn and container gardening for me.
These Urns below, I have had for about 9 years. In fact, they were once black and I painted them a few years back with chalk paint. Held up pretty well considering they stay outside all year round.
It was time though for new ones. An upgrade if you will. You can never say I don't get my monies worth out of something.
Shockingly, even the ivy in them is atleast 5 years old. Every season I just cut it back and as luck would have it, it grows back beautiful. I guess Ivy is my thing. Ivy reproduces very rapidly, and is considered an invasive species. If you are planting ivy, you should make a commitment to keep it contained within your garden.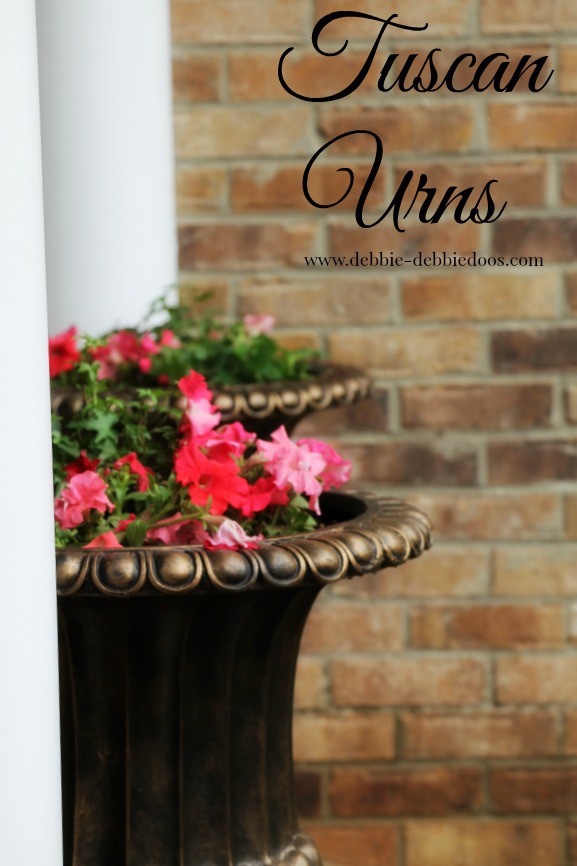 Petunia's I have very good luck with as well! I am assuming this has nothing to do with my natural ability. They must be tough plants to kill:) It's best to buy transplants and plant them in light, well-drained soil in full sun after the last spring frost. Petunias can grow in partial shade, but they will have fewer flowers. It's better if the plants have shelter from the wind.
As you can see I stuck with Petunia's and ivy in my gorgeous Urns. I will snap another picture in about a month and share with you how they are doing. They get full sun for about 4-6 hours a day.
Brought to you by Balsam Hill, I was lucky enough to receive these gorgeous Tuscan urns. I have coveted them for a very long time. I am not one though to splurge much on myself. Everything extra around here goes toward the kids. We all know how that is being a Parent. But you know what, Mom's deserve it sometimes don't you think?!

I created a fun little video for you sharing how my green thumb works for container and Urn gardening.
It'a about all this thumb can do. Enjoy.
This post was sponsored by Balsam Hill. However, all opinions are my own.
You can find these gorgeous Bronze colored Tuscan Urns on the Balsam Hill website.
Balsam Hill carries a variety of home decor aside from their seasonal drop dead gorgeous Christmas trees, and wreaths.
You may also find a little Question and Answer interview I shared with Balsam Hill here.
They far exceeded my expectations. Not only are they a perfect fit on our porch, they are so well made and constructed. I feel all grown up now with my nice new Urns. They certainly make a statement on our porch.
If you are not a regular here, I sure would love to see you back again.
XO