Hey there friends~
I am on a mission to try a lot of new things that are fast and easy. Pretty soon the kids will be out of school. That only means more eating and snack time around here.
I have shared with you from time to time, having two growing teenage boys in the house can take a toll on the pantry door.
The pantry door can't slam enough times in a day. Well, it can, trust me, it gets on your last nerve sometimes.
I decided I would try a 3 2 1 mug cake in the microwave and if it worked
these little rascals of mine would have easy access to make their own. I kept it in a rubber maid bowl in the pantry with the measuring spoon all inside.
You could keep individual servings in a ziplock bag for convenience. Plus if you are concerned with the kids making a mess all over the place the ziplock bags would contain it and make it easy on them.
I admit I was a bit skeptical on this one. How can a cake cook in a mug
in a microwave?
Well I am here to tell you, it can, it did, and the boys LOVED it.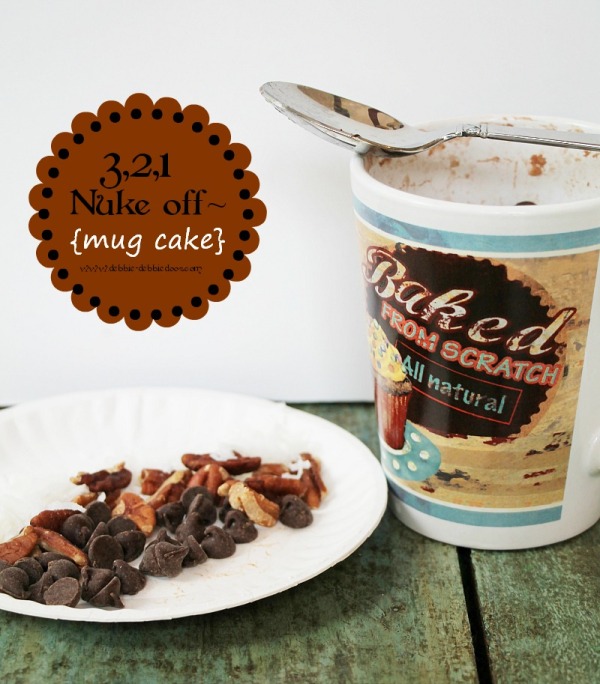 I found the cute mugs at the Dollar tree.
I bought a brownie mix as well from there to try with my mug cake.
Don't forget to check out my recipe archives while you are here.
You will find, dump cakes, bacon crackers, all kinds of yummy and very simple treats!
Here are deets in the recipe card.
The toppings are optional, although, I would recommend those chocolate chips as a must.
They were so good melted on top.
Just think about the variety you can try. Strawberry, vanilla, carrott..mmm the list goes on and on!
If you are not a regular here, I sure would love to see you back again!
I think these would even make cute gifts for the kids on a special day. You can buy the mug, and do some individual mug cake mixes for them.
Pin for later and give it a try.
3 2 1 Mug cake in the microwave
Ingredients
One box of Angel food cake mix

One box of chocolate cake mix

or brownie mix is what I used.

3

Tablespoons of mixed cakes

2

Tablespoons of water
Instructions
In a large bowl take your two cake mixes and mix them together. As noted I used a brownie mix which worked fine too.

In a mug scoop 3 tablespoons of cake mix and add 2 tablespoons of water. Mix well.

Microwave for one minute.

When you remove from microwave you can add toppings such as chocolate chips, coconut, nuts, whatever you desire. This was delicious and felt pretty guilt free yet satisfied the sweet tooth. Enjoy!
Notes
I keep my rubber maid bowl in the pantry with the measuring spoon inside and my boys can make their own. As mentioned my friend keeps hers in ziplocks to grab, pour, mix and nuke. YUMMY!