Good day everyone!
Today, I am sharing a spectacular Lake Martin Condo home tour in Alabama!
Welcome Debbie from Refresh Restyle.
********************************
Thank you so much Debbie for having me over today!
I have enjoyed so many of your awesome home tours and I am honored that you want to share mine.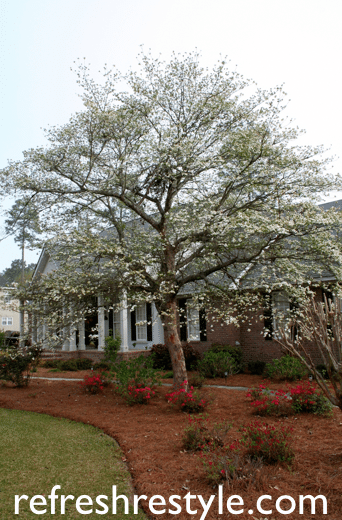 I debated about how to share my home with you guys. I live in Georgia, but in the summer I spend a lot of time in Alabama. We are there for a lot of special occasions, like Christmas, birthdays and weddings. We don't live near any family. The distance from them ranges from 6 hours to 10 hours away. When an opportunity to purchase a condo at Lake Martin came along, we jumped on it. It is 2 to 6 hours away from everyone. It's a place where we want to retire.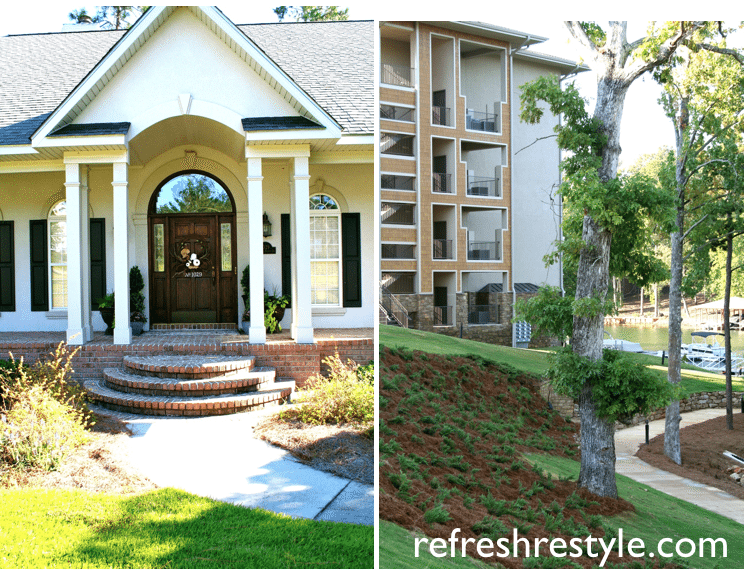 The photo on the left is where we live, the one on the right is where enjoy family.
Lake Martin is a 44,000 acre lake located in several counties in Alabama. It's the largest man made lake in United States and it's a special place for our family.
Welcome to our home away from home 🙂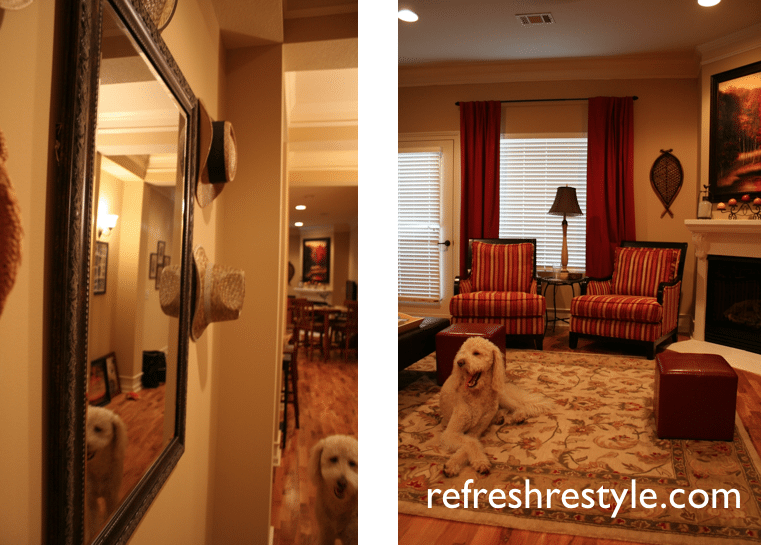 On the left is the entrance, the right is looking straight in to the living room.
The inside living space is small, there are 3 bedrooms, 2 full baths and laundry room.
The kitchen, dining and sitting area are basically all the same rooom.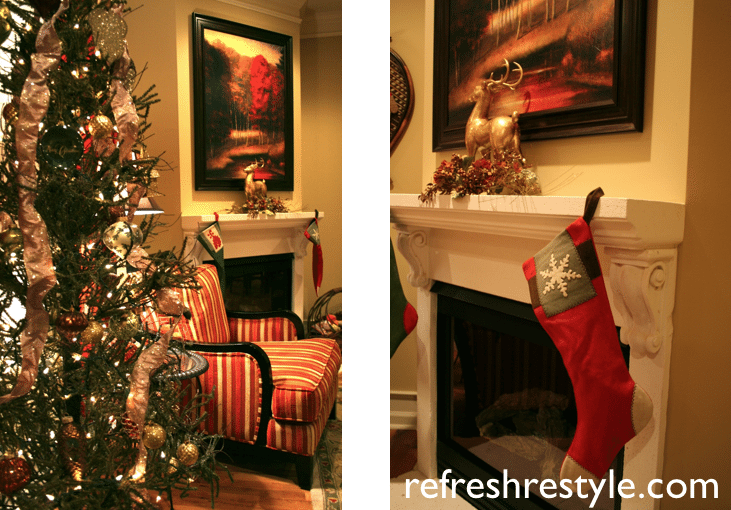 We meet for Christmas. My tree is so small, I store it in our bedroom closet.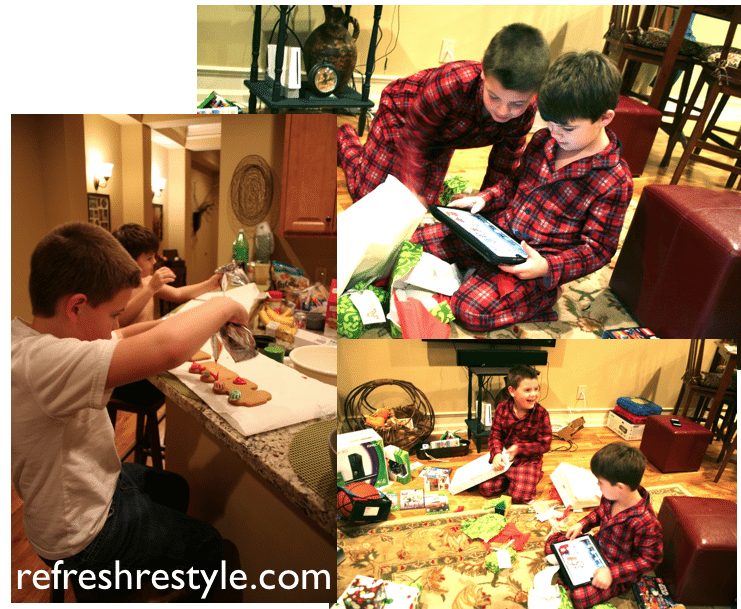 If I had to guess, 90% of the furnishing were bought from Craig's List, Good Will and other deeply discounted locations.
Barry tells people that I had a $1000 budget for the whole place. I haven't added it up, but that may be true.
Two of the bedrooms have hand me down furniture. The night stand and dresser in bedroom number one was my daughter's first bedroom suite. I have started collecting paint by number water scenes for this room. All of these were found on ebay. Lamp and sailboat are from Goodwill. Bedding from TJ Maxx and Wal-Mart.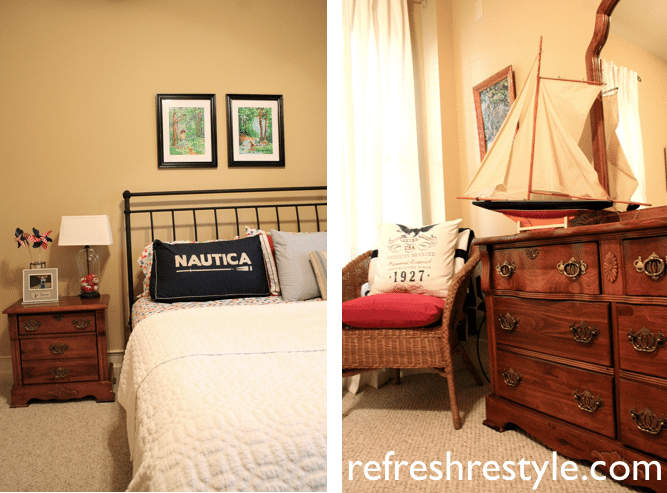 We made a conscious effort to make sure that we kept the place casual.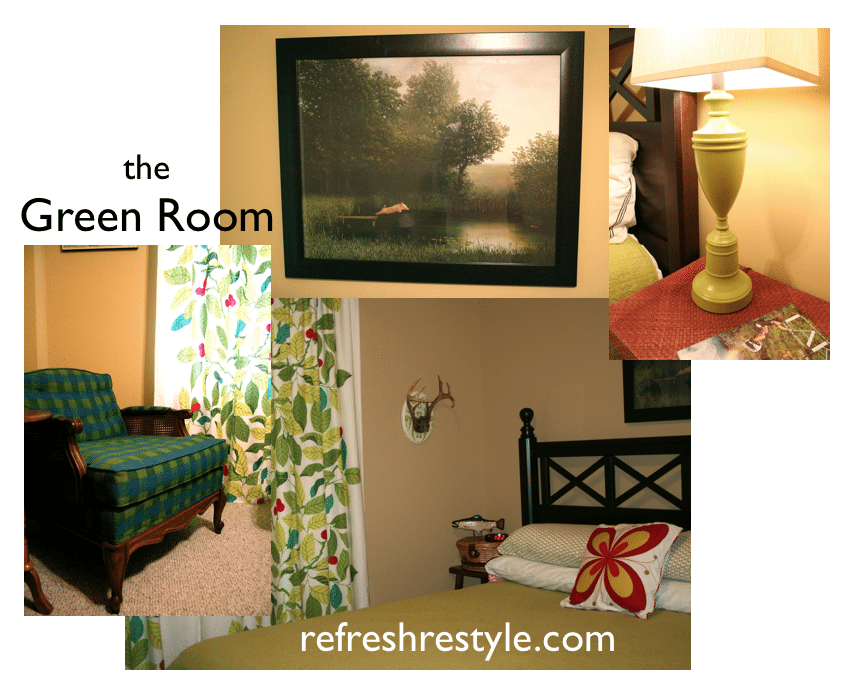 The green room started with that picture of the pig jumping in the lake. The final touch was the plaid chair that I found at a second hand store. The color is perfect.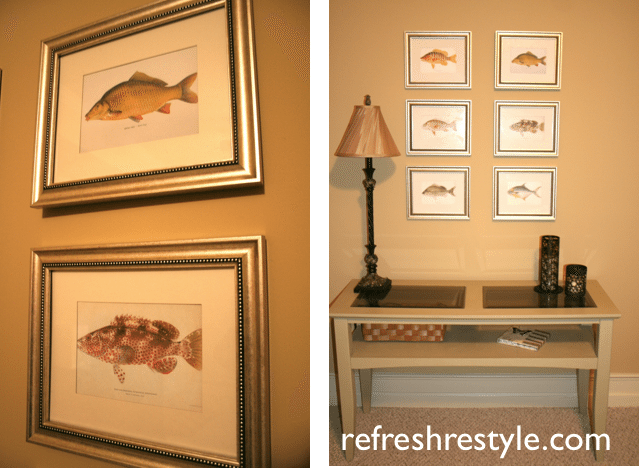 This is the only picture that I could find of our bedroom. This is the charging table that I created. Most of the time it's loaded down with computers and cell phones.
The picture below is our bedroom in Georgia, I know I have some from the lake, but I just could not find them.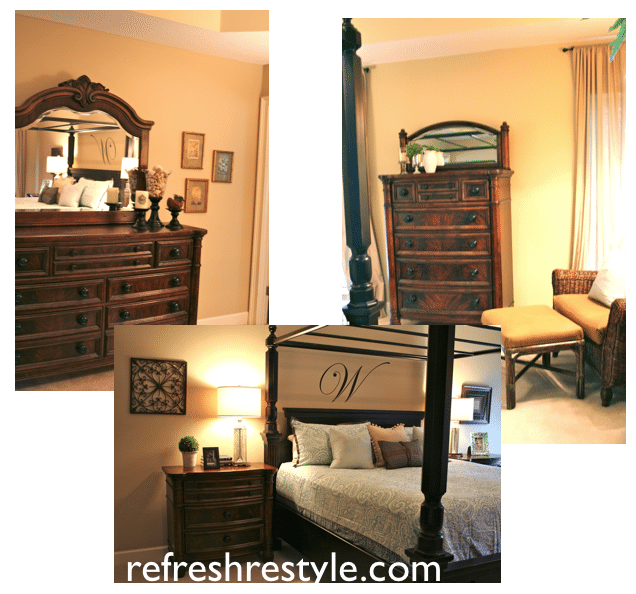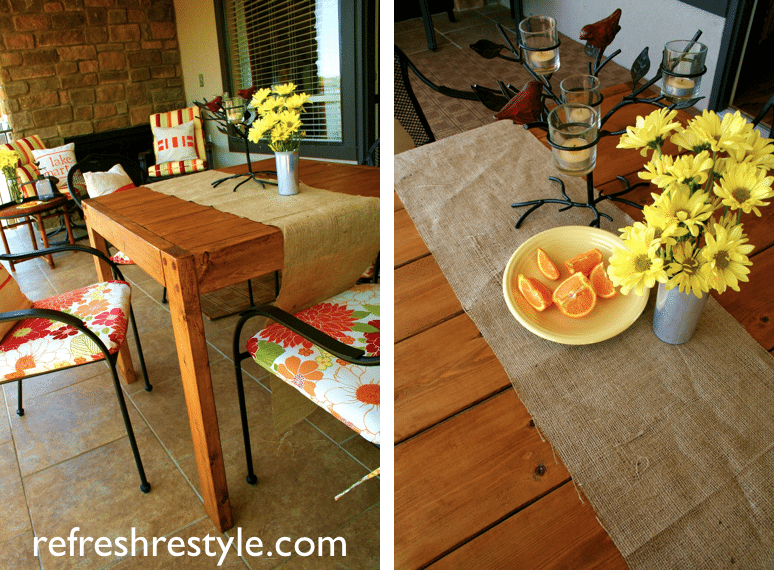 We spend a lot of time having meals on the balcony. This is the Anna White square farm table, built by us.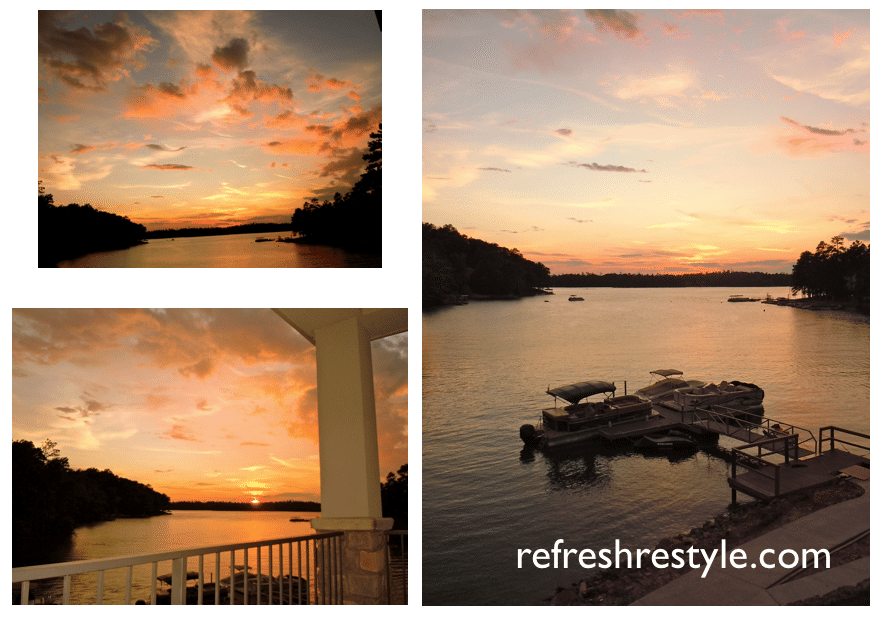 If you follow me on Facebook and you see one of these sunsets, you know we are here. This is the view from the balcony.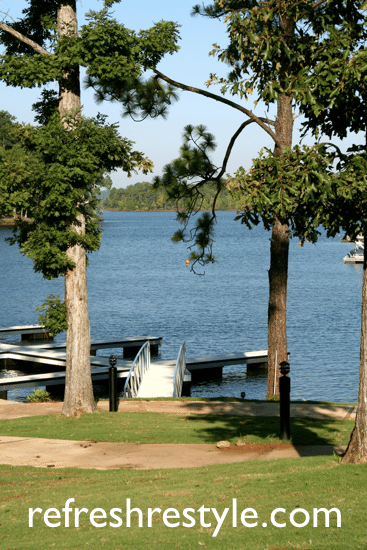 We share the view of "our" backyard, there's plenty for everyone.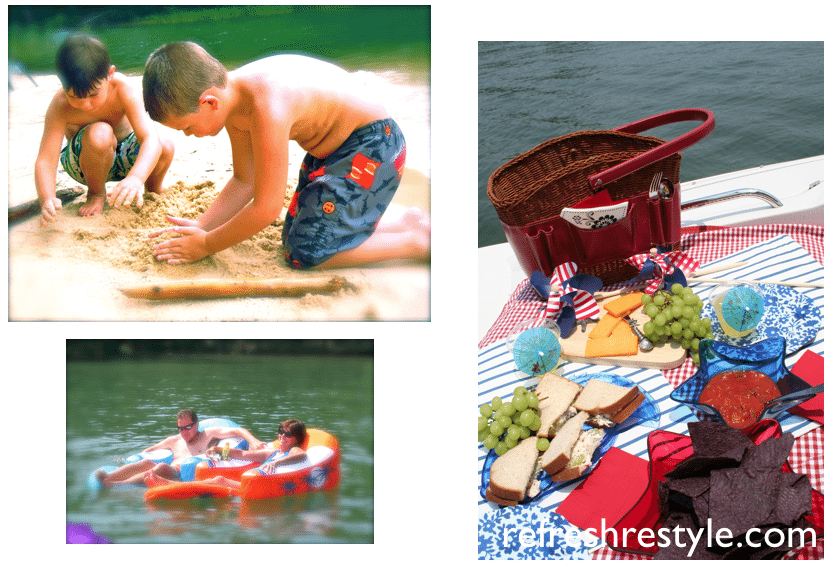 Our activity room, lounging room and dining room 🙂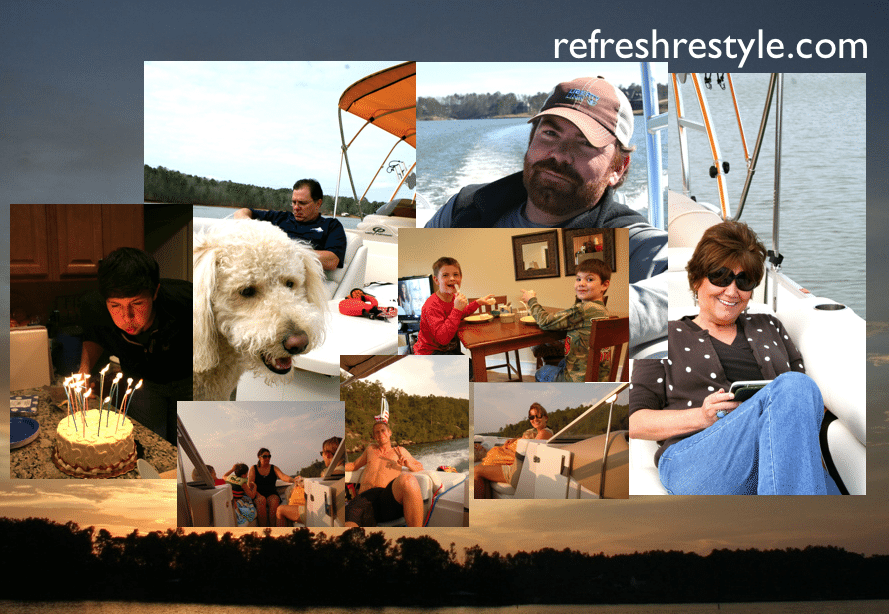 We don't spend a lot of time in those 1,500 square feet, we spend most of it in the lake.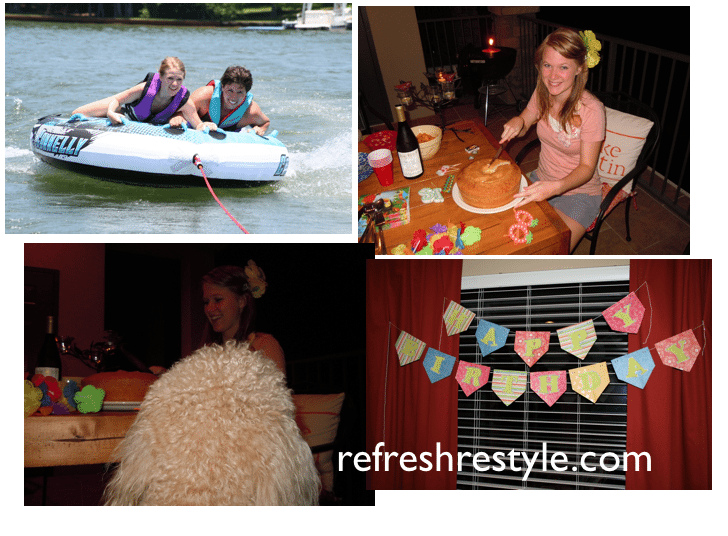 We are very blessed to be able to have a central location where we all can gather through out the year and celebrate life.
And see these beautiful sunsets most everyday: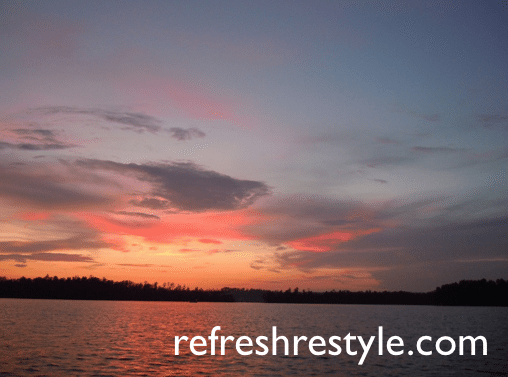 They say that home is where your heart is and my family is my heart.
I guess the condo feels more like my home most of the year.
I hope you enjoyed the tour and if you want to see where I am the rest of the time, just click here.
Come visit me anytime, Thanks again Debbie for having me!
Thank you Fresh Deb for sharing.
I would hop on over and say Hello if you don't:)
Come back later for the Pinterest Pinning party!
Now a weekly party here and over at Shannon's {Fox Hollow Cottage}