Honestly, I never knew what a fairy garden was Until my Mom had one.  What is a fairy garden? A fairy garden appeals to the whimsical side in gardeners.  These miniature little gardens are for people who believe that "wee little folks" live somewhere nearby and are just waiting for the right place in the yard to call home.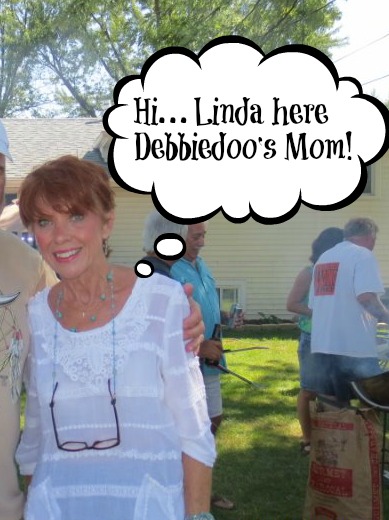 So nice to be here with you today at my daughter's blog.
I have had a passion for gardening since
I was in my early 20's.
My Mom always gardened, and did a beautiful job.  I remember the neighbors were always asking her advice and tips.
I would love to watch her and learned very much from doing so.
I started getting tips and tricks along the way and each year my gardens really transpired into someplace magical that I love to spend my summer days in.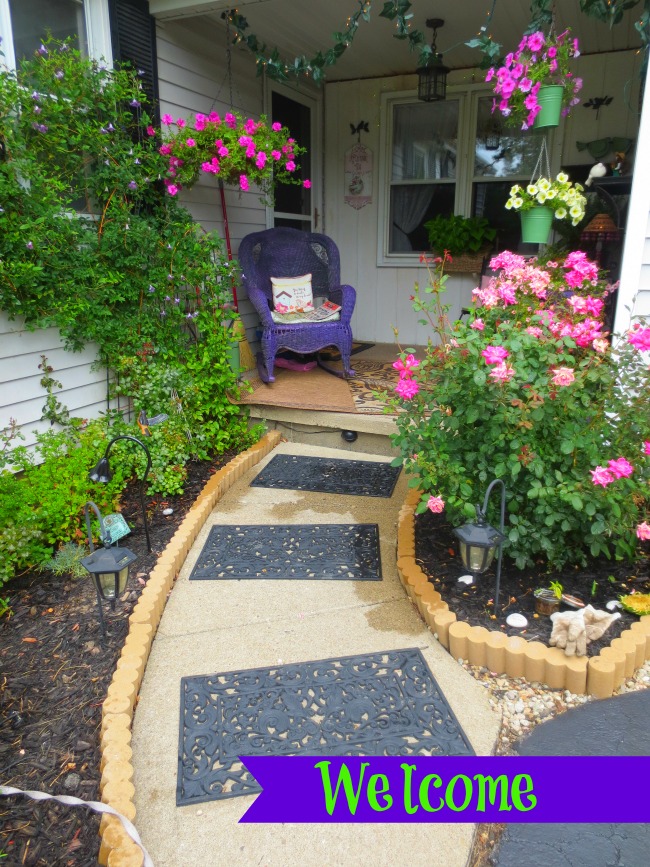 Welcome to my garden tour.
Every year the birds give me lots of sunflowers and  in return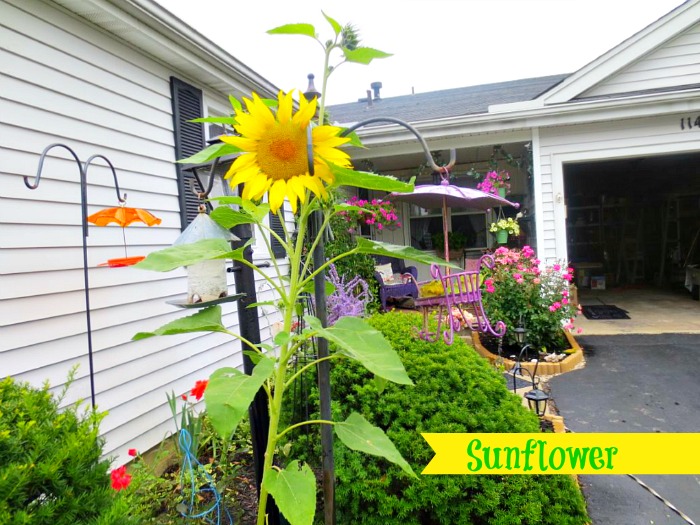 I give them the heads of the sunflowers when they are dying off.
Yellow finch's just love them.
This looked liked a field of sunflowers in the beginning of summer.
Around 8 of them to be exact.
I created this special place with my angels and the bird bath in front of our town home.
This is an elephant hosta and purple cornflowers.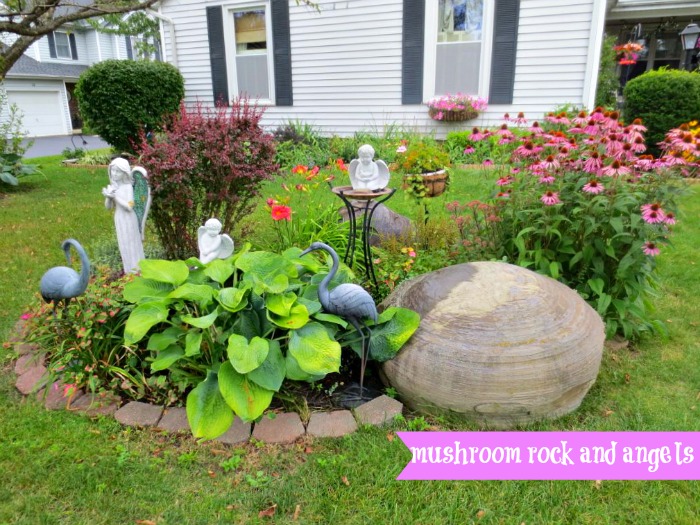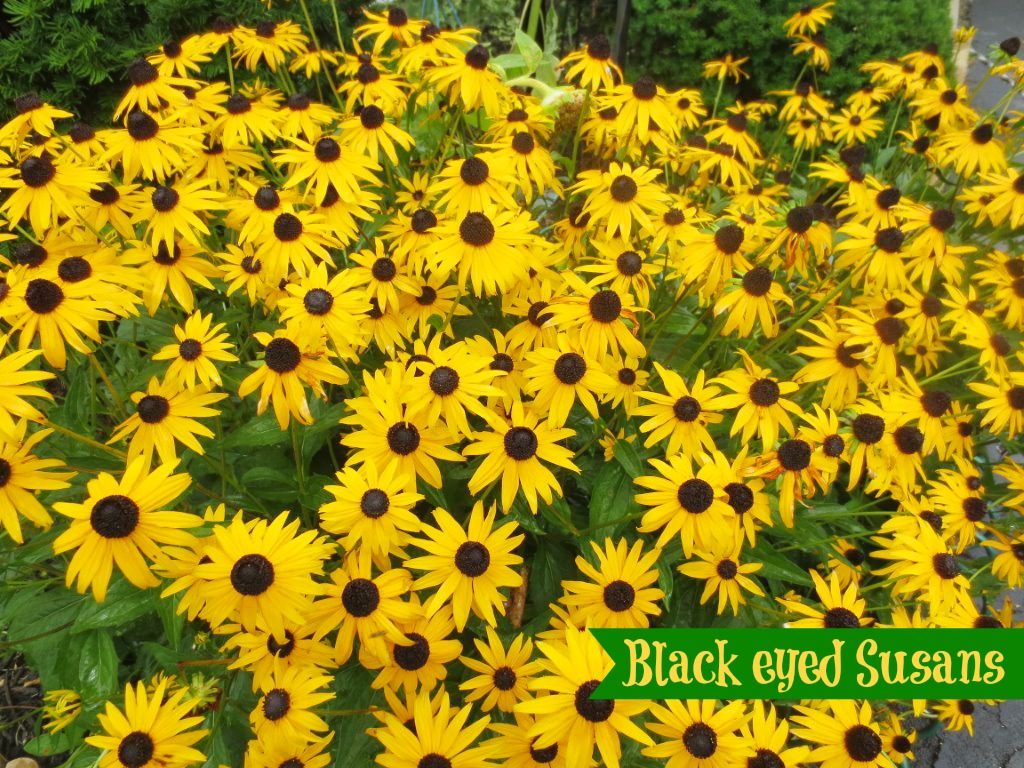 My black eyed susan's were abundant this year and multiplied like crazy.
They like full sun.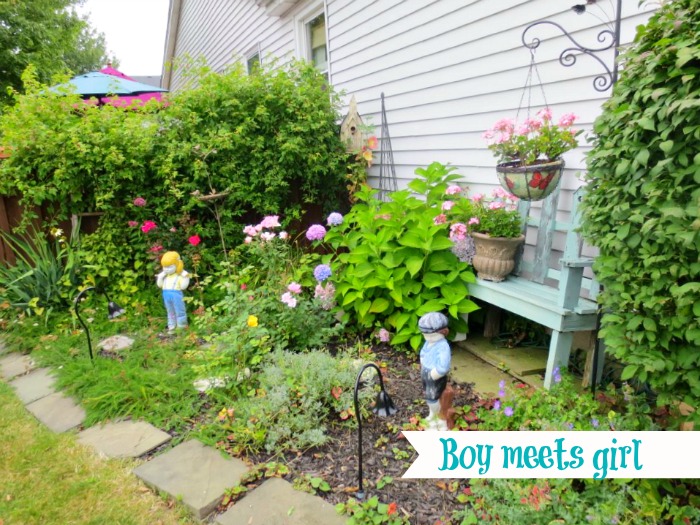 This area coming around the back of our town home has a cute little rustic bench that I found at a garden center years and years ago.
It has been painted lots of times, this last time is with Annie Sloan duck egg blue chalk paint.
Holding up pretty well.  And if you see far back in the corner the bird house which there is a family living there,
that too was painted with Annie Sloan old White chalk paint.
Growing on the fence is porcelain ivy.
In the summer it gets tiny little white flowers
and then in the Fall it gets little red berries that the birds also LOVE!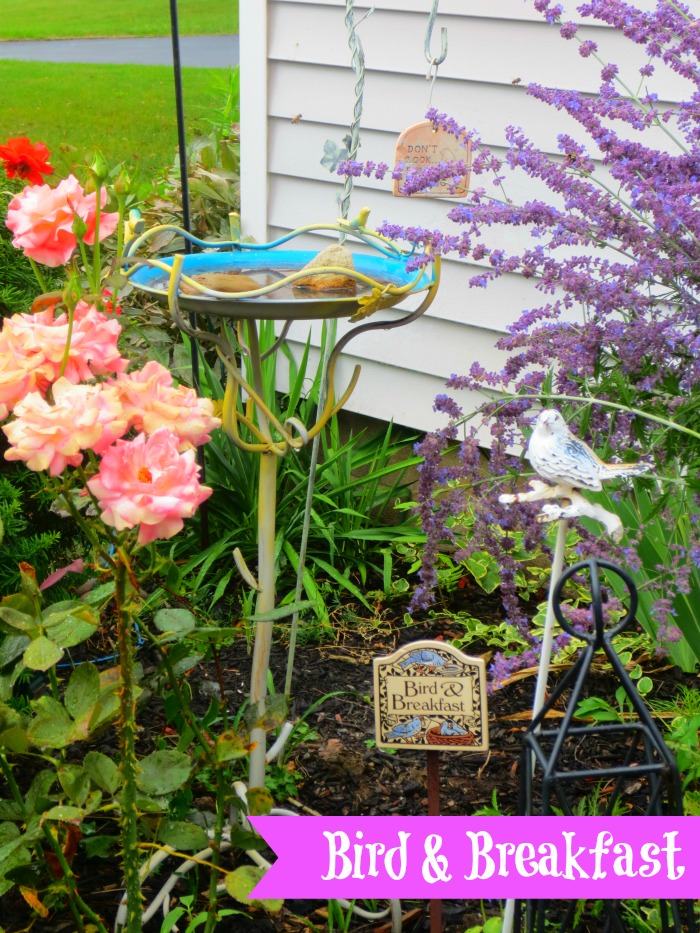 Everything is for the birds here!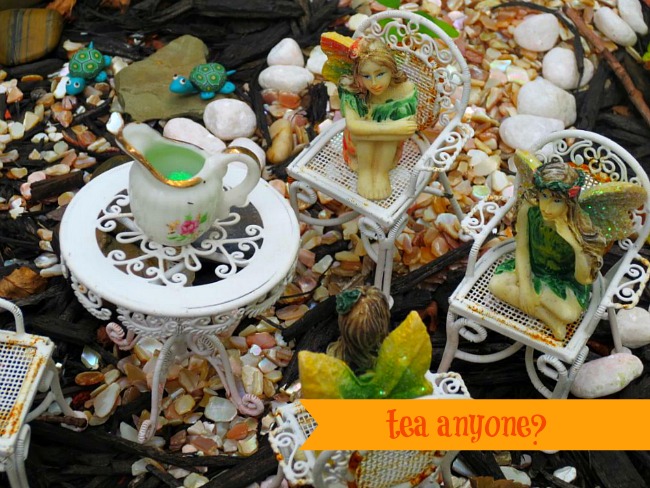 Now it is time for the fairy garden.
A little tea time. I collect all my little fairy garden people and furniture.
I find a lot on line
and I also use doll house furniture which you can find at any craft store.
All the little gravels are from Walmart and the Dollar store. It is a lot cheaper.
You can use little twigs too if you want to.  You can create side walks and pathways for your fairies.
And of course all the knomes and Leprechauns too are watching over the fairies.
And this little guy here in the back came all the way from Ireland just to join them.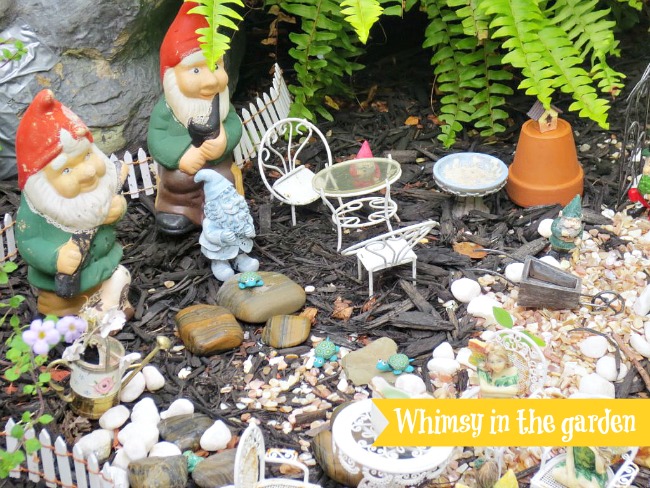 Thanks for taking the time to visit today.
It was a pleasure to be here and I look forward to the next time.
I really enjoy all your sweet comments over at Debbie's facebook page.
I will see you there and be happy to answer any questions on gardening you may have.
If you are not a regular here at my daughter's blog, I would love for you to stay.  Of course, I think she is pretty special and you will too once you get to know her.
Thank you so much for visiting with me today.
If you are new here, welcome! I am also very excited to share my new stencil line with you.

[envira-gallery id="32693″]
Thank you for your visit today!
To view my stencil gallery projects you may check out my Debcreates.com page.
I share all things, thrifty home decor, crafts and a recipe or two on occasion.
Sign up today and receive a few freebies. 12 months of seasonal printable art.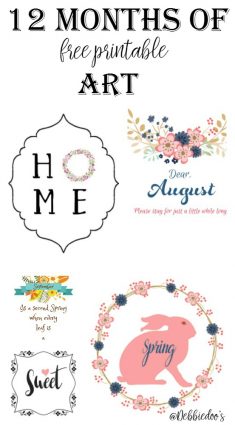 I have also created my own custom apron. "I work by the flour" logo on linen deep front pocket. My husband was the witty one with that slogan:)
Sold on Amazon Debbiedoo's custom apron
.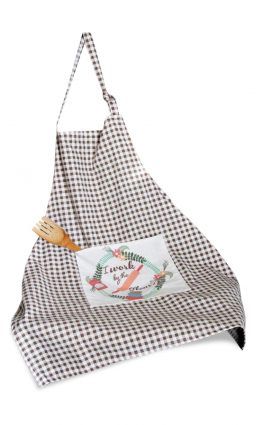 If you would like to commit to becoming a subscriber, I would love for you to join me.
She shares all things

heart

,

home

, and a recipe or two on occasion.