The largest city of the American Midwest, Chicago, Illinois, was founded in 1830 and quickly grew to become, as Carl Sandburg's 1916 poem put it, "Hog Butcher, Tool Maker, Stacker of Wheat, Player with Railroads and Freight Handler to the Nation." Established as a water transit hub, the city evolved into an industrial metropolis, processing and transporting the raw materials of its vast hinterland. Chicago inc. in 1837.
Today, Chicago is ranked the 3rd largest city in the U.S. with a metropolitan population of approximately 10 million people.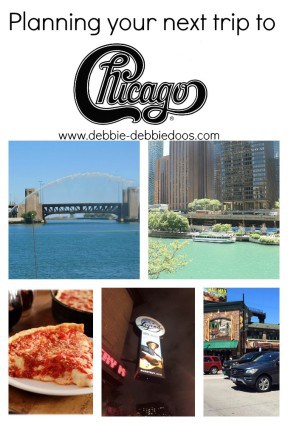 About 7 years ago we took a family vacation there with the boys and for years later it still was talked about as the most memorable time of their lives. When our older son Alex recently graduated it was his request in lieu of a party to go back to the city of Chicago.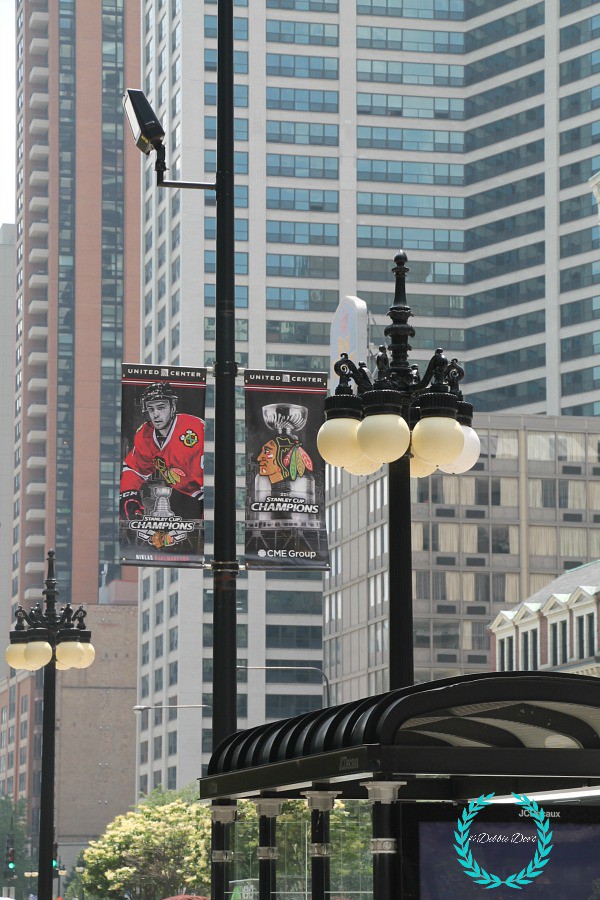 Of course the city was all the hype and in all their glory due to the recent Blackhawks win. We never did see the Stanley cup. Apparently, it traveled from place to place.
I am going to give you the low down on places to eat, sites to see, and how to get around. My husband seriously could have been a travel agent. He does his homework before going to any city and he put together the perfect itinerary for our family. Of course, there was very little down time, so put on your walking shoes.
First I am going to share with you the places we ate. I won't share all the food pictures though. It would be a little much.
We ate everything from Italian, to German and something in between. It was a good thing we walked a lot of it off.
Located in the Charming Lincoln Square neighborhood sat the
Chicago Brauhaus. Featured on Divers, diners and dives. In no way was this place a dive. Authentic German dishes and the most charming owner who took the time to meet and greet his guest.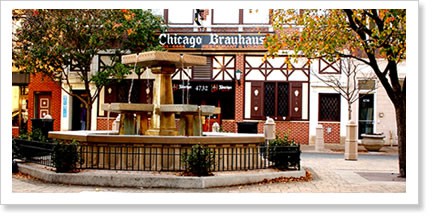 Next, and these are in no specific order btw. I am just sharing as I recall.
Portillo's Chicago hot dogs and more! We did do a dog comparison and Portillo's hands down was the best. They also have Italian beef and sausage on the menu.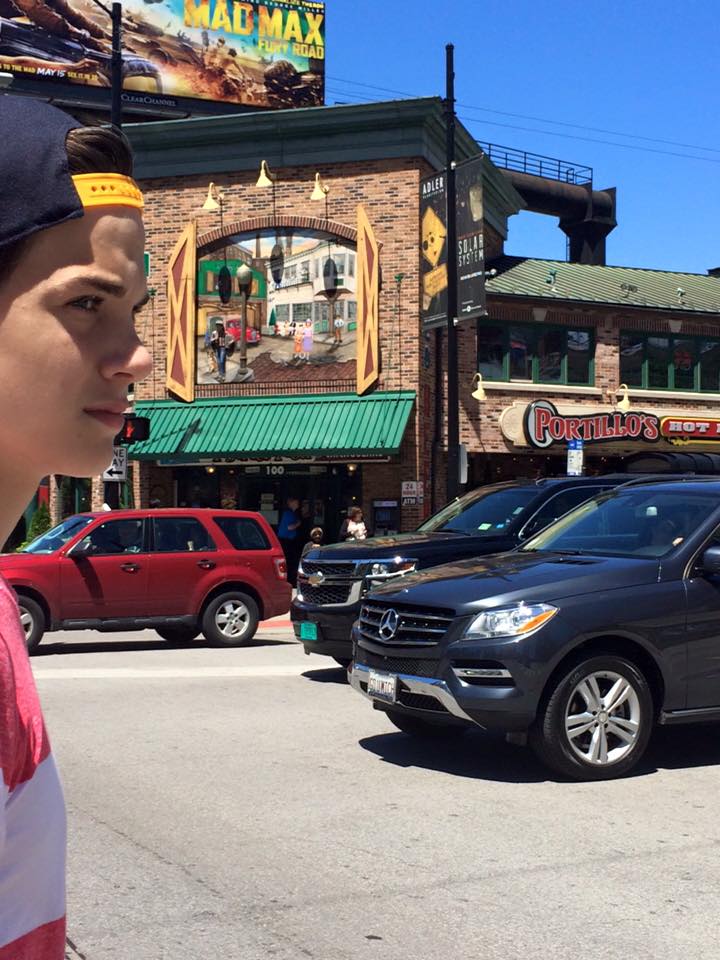 Next, Lou Malnati's Pizzeria
The best deep dish pizza ever to be on these lips! Not to mention they have a Chocolate cookie deep dish dessert. Be prepared to wait 30 minutes for your pizza. Well worth the wait though.
The next eatery was interesting. I felt like I was watching a show in the kitchen. They hollered and hustled unlike anything I have ever seen.
YOLK
Best coffee and breakfast I have ever had. My family agreed!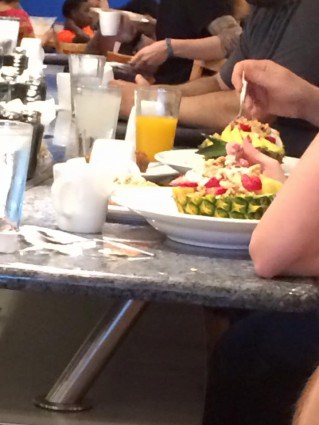 I don't think you can go wrong with anything on their menu.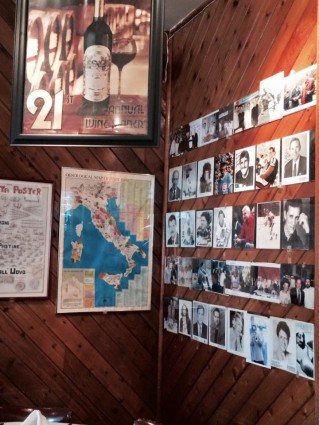 This Italian restaurant called Il Vicinato Ristorante was a 3 hour dining experience. I don't think typically it is that long. We made reservations prior, were seated quickly, however, when everything was said and done or I should say stuffed our faces, it was 3 hours later. We never complained though. The atmosphere, bread and wine were fabulous and we felt like we were at an Italian household just enjoying our visit. The food, was OFF the hook amazing. Being half Italian, I can honestly say it was the best Italian food we ever ate.
Enough about the food. Now onto some of the sites and attractions.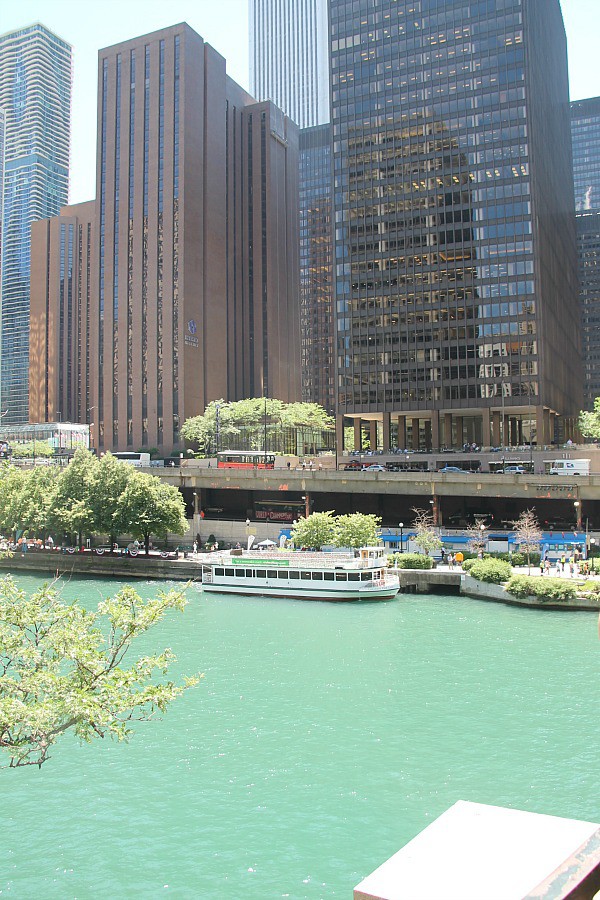 Of course we all know Chicago for it's tall buildings and architecture. I would highly recommend the Architectural boat tour. Tour guides interpret more than 50 buildings along the Chicago River, revealing how the city grew from a small back-country outpost into one of the world's most important crossroads in less than 100 years. It was about 90 minutes, packed full of history and beautiful buildings to see. We had the most glorious weather that day.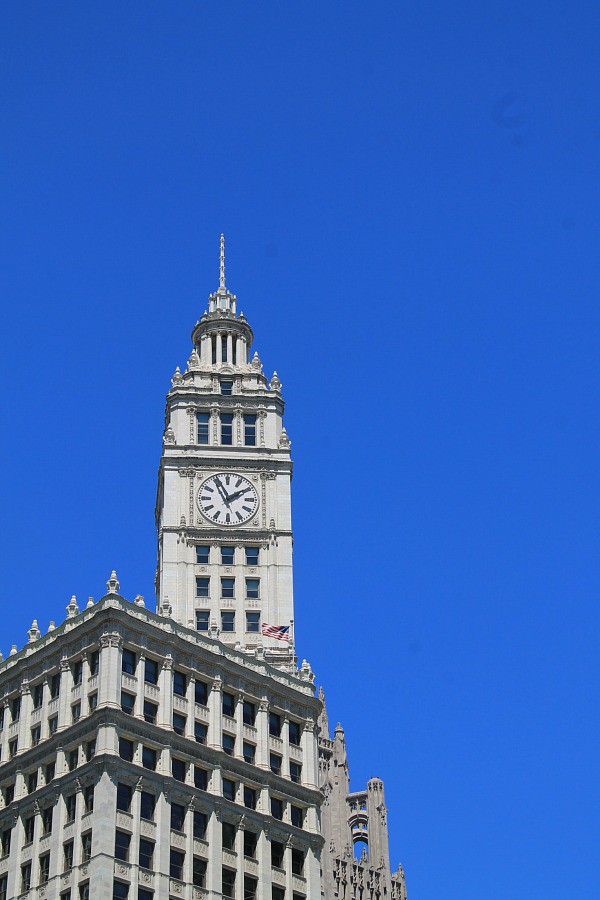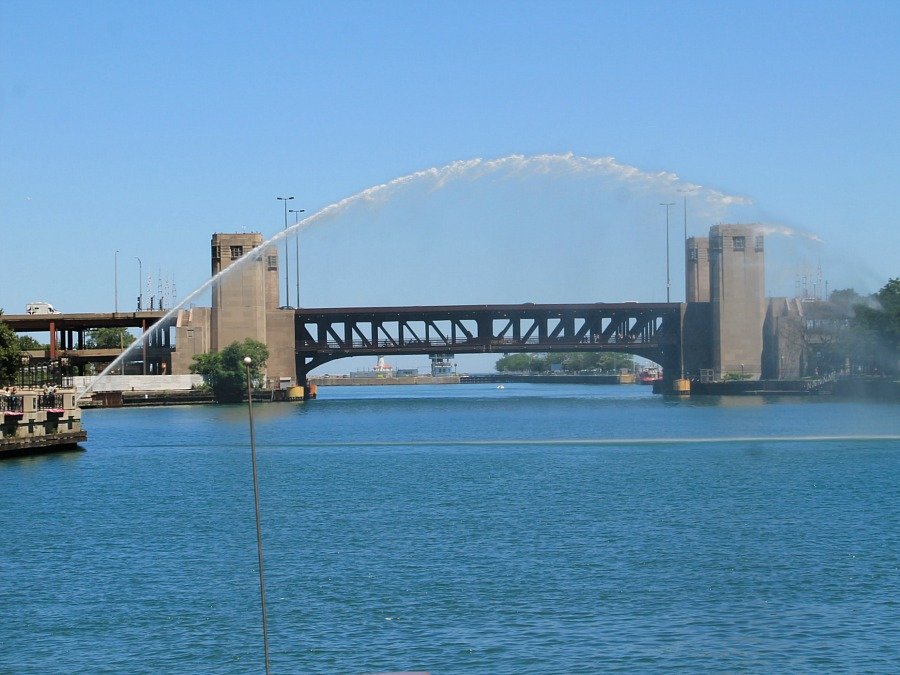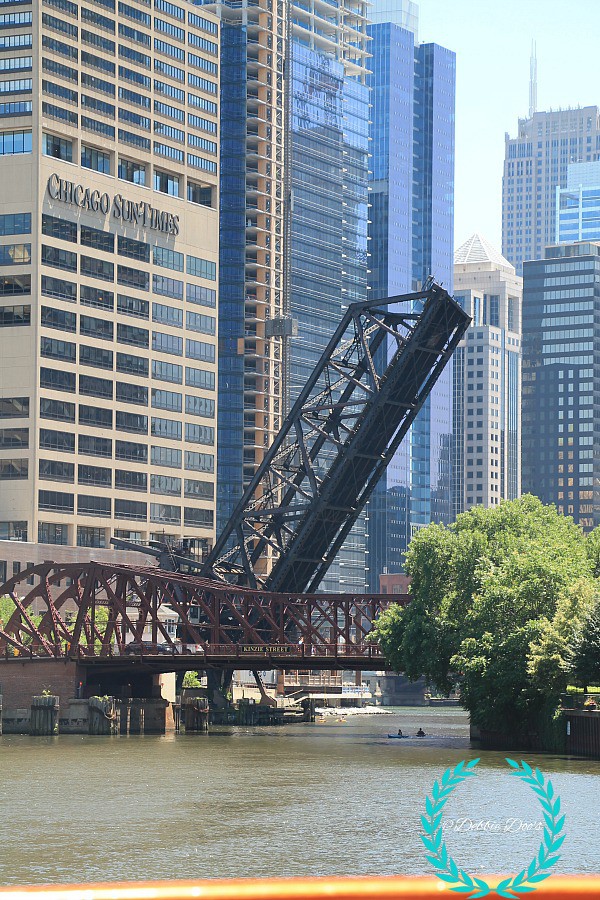 There is a story with this non functioning bridge. It just stays as shown and never was a functioning bridge after it was built.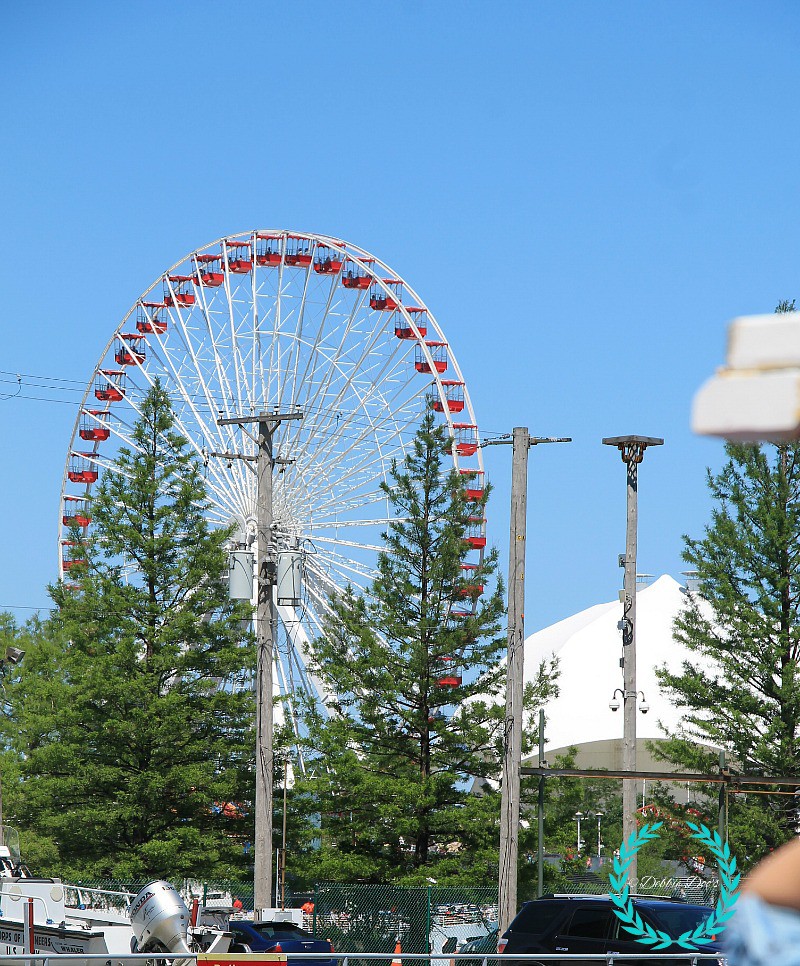 The Navy pier is a must on your itinerary. The pier was built in 1916 at a cost of $4.5 million. Right now they are under a lot of construction, however, there is still a lot to do. We decided to take the Windy sail ship tour. Another relaxing day.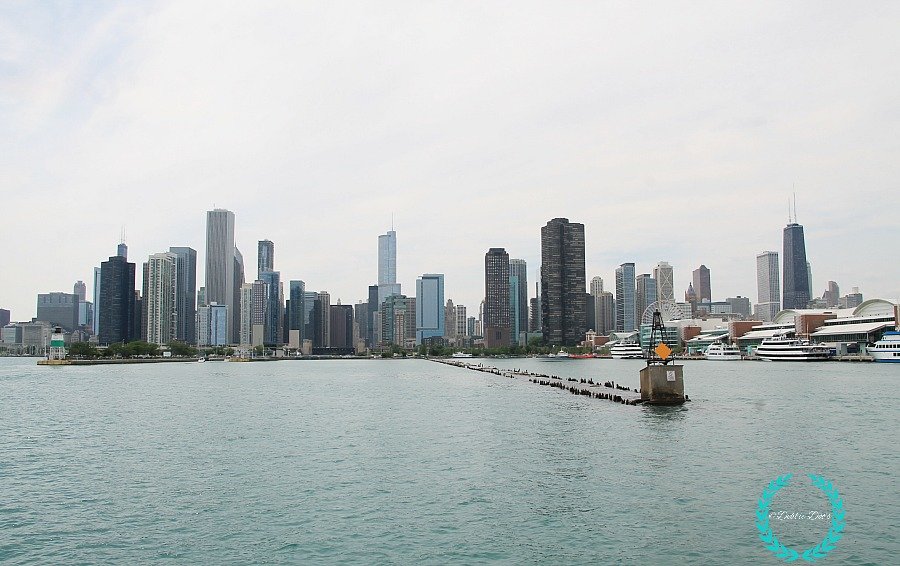 You certainly get to take in the beautiful panoramic view of the city. It almost looks fake when you see it from the ship. Navy Pier attractions include sightseeing tours from companies such as Seadog Ventures, Shoreline Sightseeing cruises and Water Taxi service, and the Tall Ship Windy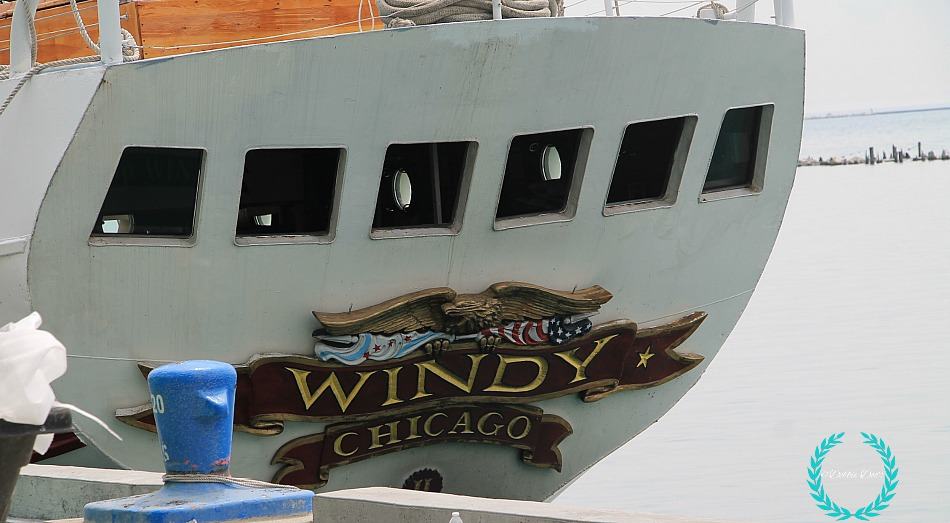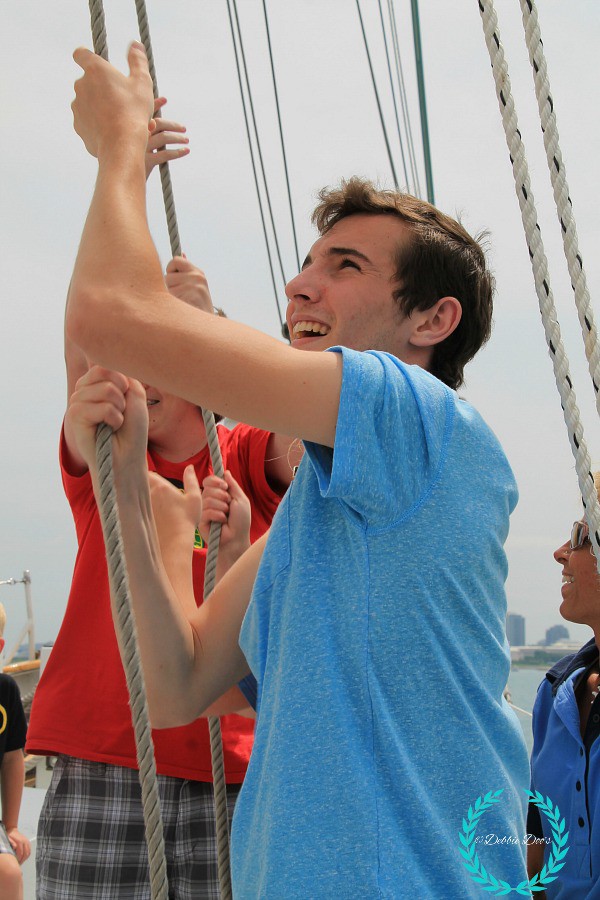 Alex volunteered to hoist up the sails. Then he and Jack went down to the lower deck to listen to the cheesy pirate and his stories. Alex enjoyed it more than I thought he would for his age. I think because the Pirate had little patience for the younger kids on the ship. I do believe at one point when a younger child raised his hand to ask a question the Pirate replied, "the tour is over". Then there was a point where the pirate called Jack a "nerd" I think this was just the Pirate's shtick to make people chuckle.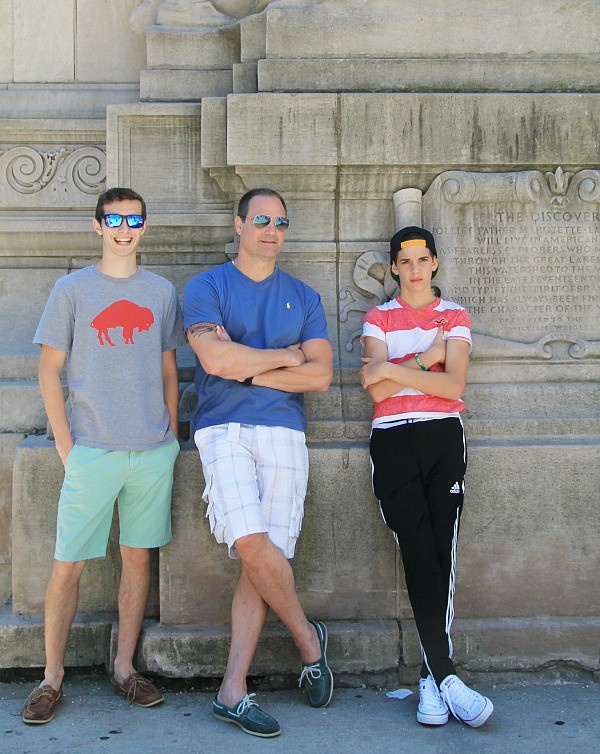 I promise, even Jack was having a ball this day. As you can see though, a little too "cool" for photo's.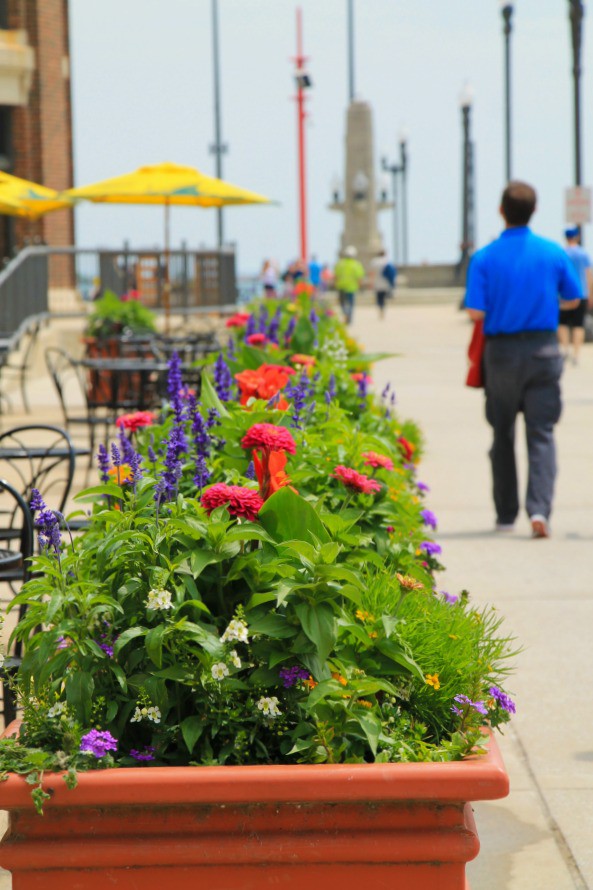 Lots of beautiful flowers and window boxes in the city and around this time of year. I said I wished mine looked as pretty.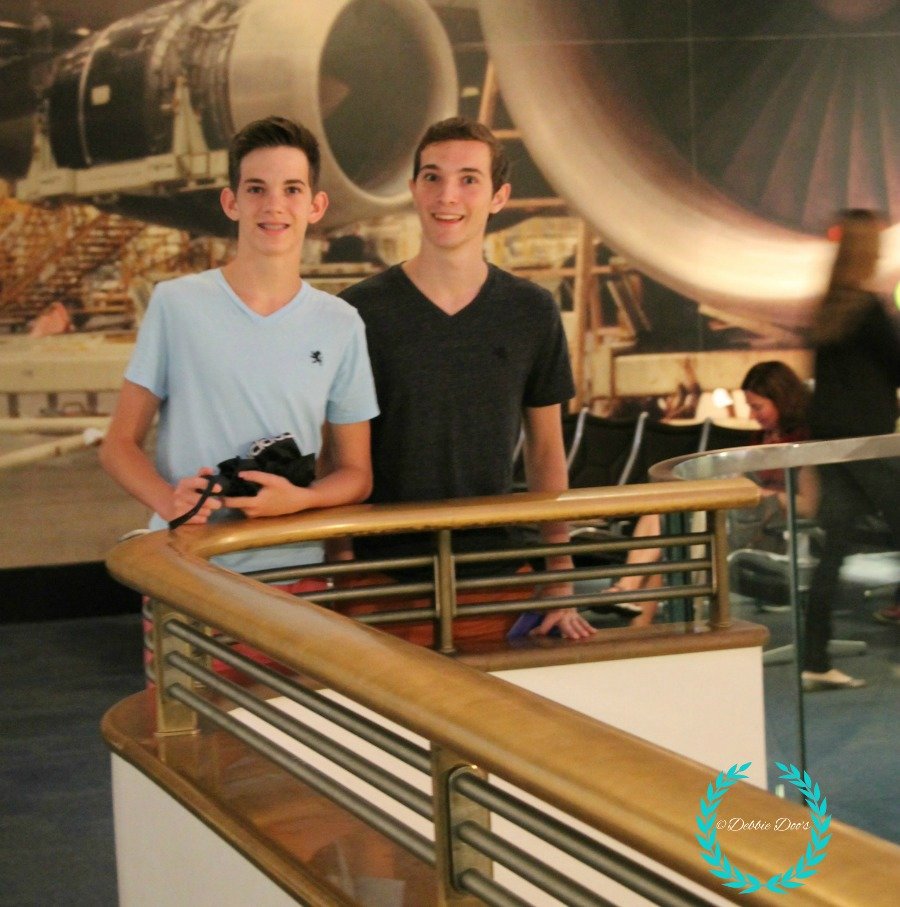 Then there was a day at the Science museum. We spent around 6 hours there. It was HUGE! It is the largest science museum in the western hemisphere. Very neat museum though and a lot of hands on things to do for all ages.
And as you can see in this picture, now Jack is serious, and Alex is the goofy one. I swear I can never get a normal picture of these two rascals.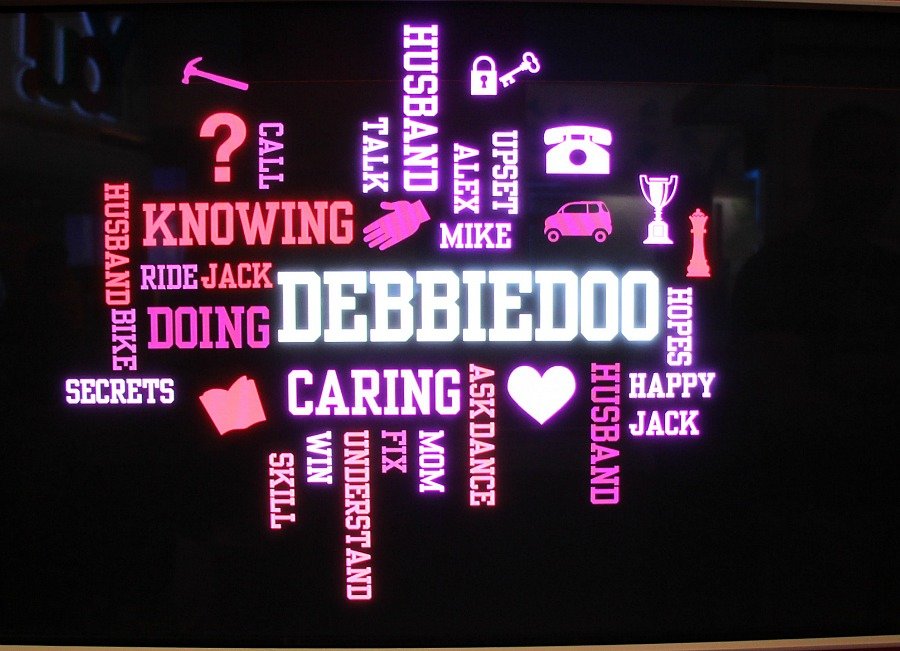 This was a hands on activity, that you put your name and families names and it has all these inspiration words. I thought it was neat.
Now onto some night life.
The legendary Buddy guy's blues legends. Classic blues club with up-and-coming & famous acts 7 nights a week plus New-Orleans-inspired grub. Oh what a fun night that was. In fact, Buddy guy himself was there. That is not usual for him. We lucked out and my BIL was able to get an autographed signed poster and chat with Buddy for a minute or two. The entertainment and music were amazing. I have never seen such energy. There was a performer named Holly who was 70 years old and she could sing I tell you! She was married to Ike Turner at one point and stated "He really was not that bad" LOL!
Our last night in the City Mike wanted us to go to Al Capone's old stomping grounds. The Green Mill now over 100 years old. The Green Mill Cocktail Lounge is the crown jewel of Chicago's Uptown neighborhood and is the best jazz club in the known universe. Green Mill is a place for people of all walks of life to relax, enjoy martinis or Schlitz, and listen to some of the best music around, from traditional jazz to swing orchestras. What a truly fun experience. My sister and I even had an older gentleman ask us to dance. We declined his kind offer. Why embarrass the guy?!:)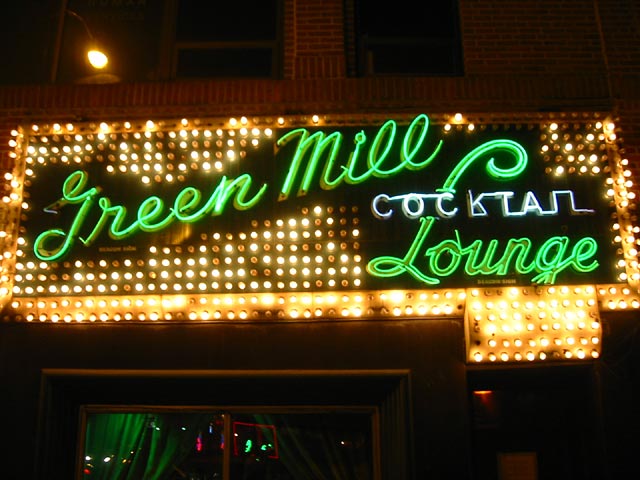 And to wrap up the vaca. The one evening while hanging out at Buddy Guy's, I was posting on instagram and a friend of mine mentioned U2 were coming to town. One thing our older son has reminded me on countless times is that he has never been to a concert. My wheels started turning right away and I went online to see if I could score us some tickets at a reasonable price. BINGO, I did. We decided it would be a surprise to the boys. It killed my sister and I to NO end to keep this surprise. Instead, we told the boys there were going to an all ages Jazz show.
When we got off the bus to the United Center, Alex was in awww over the people attending the "jazz show", then he looked up and saw U2 flashing in red lights on the United building.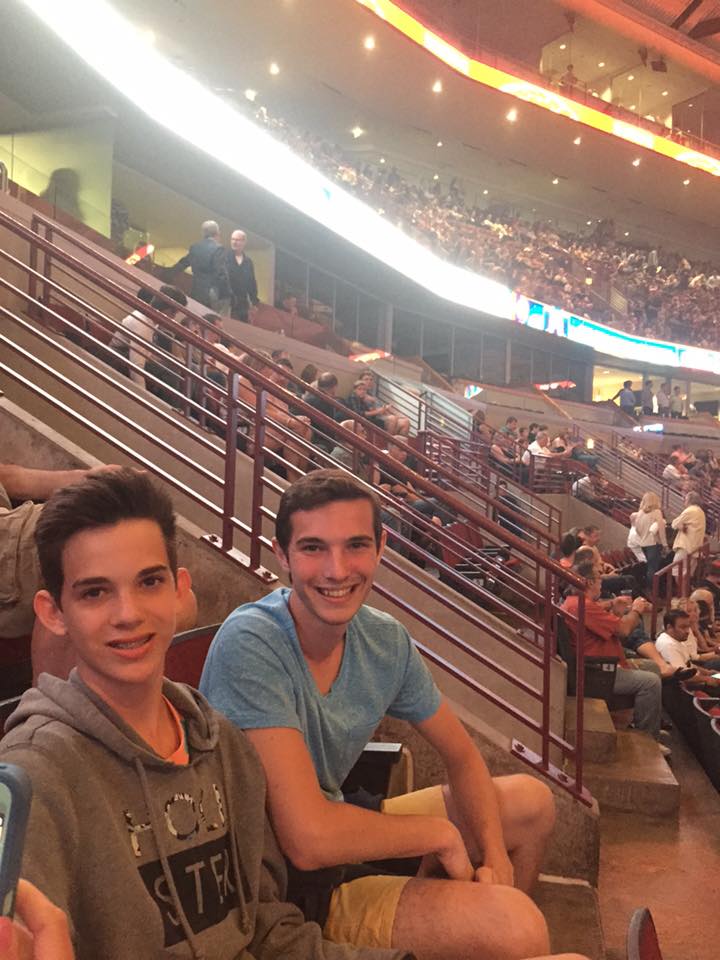 The boys were smiles from ear to ear. It was quite a show, and such an amazing experience for us all.
Jack even took away a little message from Bono himself. Bono from U2 is such a kind man with his words and actions. A true Humanitarian. He was very much inspired by his Mother Iris. After her passing when Bono was just 14 years old, it left a void in Bono as it naturally would. He did not have a good relationship with his Father. His father believed that dreams were nothing but disappointments. Bono went on to say that "the only thing holding you back, is yourself". Jack liked that, and so did I. I made a little printable for myself and for you so that we can all remember that!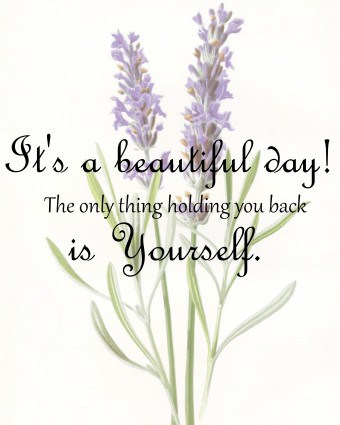 Thank you for letting me share our vacation and memories of lifetime here with you today.
Now for some tid bits and valuable information that can save you a bundle if you plan on visiting the city of Chicago.
First of all, you do NOT need to rent a car. Parking is expensive. Even at the hotels. Then you have to hope you find parking spots for each attraction or place you go.
We bought the Metro line passes at a local drug store (CVS) for $28.00 unlimited for the transit and bus system. That was for the week. Come to find out we could have even used them to and from the airport. We wound up using a shuttle for that. We didn't know this valuable tid bit before hand.
Attraction passes you can go online Go Chicago. We had the explorer pass and used it for the Science Museum, the Navy Pier and the Architectural boat ride. That was $73.00 per person. Huge savings!
I hope I helped with a few tips and sites to see. I would love to see you back here again.
I share all things, heart, home and a recipe or two on occasion.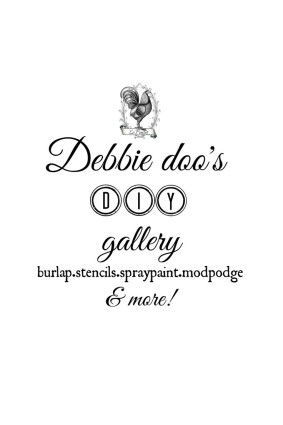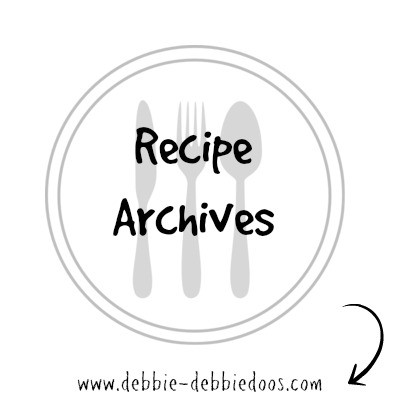 Have a wonderful and safe 4th of July!
xo